Austin Peay vs. Eastern Illinois
May 17th-19th, 2018 | 6:00pm, 6:00pm, 1:00pm
Clarksville, TN | Raymond C. Hand Park
Clarksville, TN – The Austin Peay State University Baseball team regular season ends this week when APSU hosts Eastern Illinois in a three-game Ohio Valley Conference set, Thursday-Saturday at Raymond C. Hand Park.
The three-game set, which can be seen on the OVC Digital Network, is scheduled to begin with a 6:00pm contests both Thursday and Friday.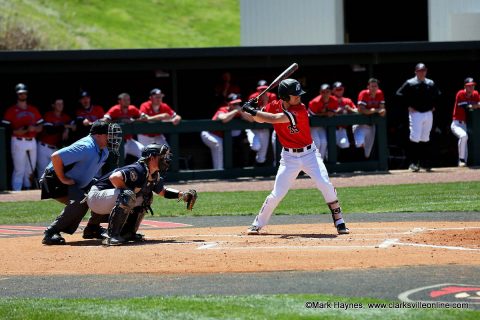 The Governors will recognize its eight seniors prior to the start of the 1:00pm, Saturday regular-season finale.
The Governors have won seven of their last 10 entering the regular season's final weekend, capped by a victory against No.5 Clemson, last Friday. Left fielder Kyle Wilson has been Austin Peay's big bat over those 10 games, leading the team with a .325 batting average and 10 RBI. Four other Govs have nine RBI during the stretch.
Be wary of Eastern Illinois though, as it comes into this weekend's series needing a series win to secure a spot in next week's OVC Baseball Championship field. The Panthers have won their last two OVC series and have claimed a game in six of their nine series played. Catcher Hunter Morris has paced EIU this season with 11 home runs, 48 RBI and a .316 batting average.
Tourney Scenario
Austin Peay secured a berth in the 2018 OVC tournament with its series victory against UT Martin. The Governors at least must match the results both Southeast Missouri (at Eastern Kentucky) and Morehead State (hosting Tennessee Tech) post this weekend to secure the No. 2 seed in the tournament.
First Hacks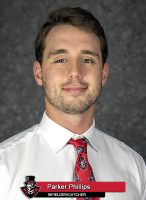 The Govs have recorded six or more walks 23 times this season and they rank 11th nationally with 282 base on balls (5.42 per game). Austin Peay also is ranked among the nation's Top 20 in both doubles per game (15th, 2.19), total home runs (21st, 60) and scoring (13th, 7.3 runs per game) entering the weekend.
First baseman Parker Phillips has been on a tear in the season's second half, leading APSU with a .392 batting average, 14 home runs and 32 RBI since April 1st; he is ranked among Division I's Top 20 in home runs (5th, 18) and RBI (20th, 57).
Second baseman Garrett Giovannelli has reached base in 49 of the 51 games he has played this season; he is ranked among Division I's leaders in both total doubles (10th, 21) and runs scored (17th, 56).
Third baseman
Garrett Kueber
has a hit and a RBI in six of the seven games since his return to the lineup, May 5th, and has posted a .414 on-base percentage. Shortstop
Bobby Head
has been the Govs starting shortstop over the last 15 games; he hit his first collegiate home run at Clemson, May 11th, and led the Govs in hits (4) and RBI (3) during the series.
Center fielder Imani Willis has six hits in May, three of those going for extra bases, and has two of his four sac bunts during the month. Outfielder Kyle Wilson has reached base safely in 22 straight games dating back to April 6 and is batting .306 (26-85) with 16 RBI, nine doubles and three home runs during the streak.
Right fielder Nick Walker has a home run in six of his last 15 games; he also saw a 21-game reached safely streak end in Game 2 of the Clemson series but bounced back with two hits and a walk in the finale.
Catchers David Martinez and Alex Sala have split starts behind the plate since the start of OVC play (March 9th). Sala has started 25 games (2 at DH) and has four home runs and 18 RBI as a starter. Martinez has 25 starts (1 at DH) and has two home runs and 12 RBI as a starter.
First baseman John McDonald has been the starting designated hitter in six of the Govs last eight games and has batted .385 (6-13) with a home run and three RBI in those starts.
The 2018 Govs offense is a collectively young group with only 15 years of Division I experience between the 20 available position players entering the season.
Toeing The Rubber
The Governors 7-3 mark over the last 10 games has been aided by a stout performance from its pitching staff. The Govs have used 10 pitchers in the last 10 games who have combined to post a 3.74 ERA with 78 strikeouts while limiting opponents to a .234 batting average.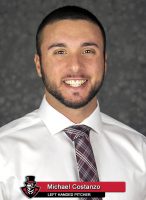 Lefties Michael Costanzo and Jacques Pucheu have become a formidable 1-2 punch for the Governors this season. The duo have started the first two games of every weekend series this season.
Costanzo has opened every series in 2018 and compiled an 9-1 record and 4.10 ERA with 92 strikeouts; he ranks seventh nationally in wins and 47th nationally in strikeouts. Pucheu has been an equal partner in weekend play at the No. 2 spot, posting a 7-2 record, 3.94 ERA and striking out 91; he ranks 62nd nationally in wins and 47th in strikeouts.
Right-hander Brandon Vial will make his sixth consecutive start (ninth this season) as the Govs No. 3. In his five starts since returning to the weekend rotation he has two quality starts and will look for his third after seeing his start at Clemson cut short for precautionary reasons.
Weekend Promotions
The Governors have two final weekend promotions for the 2018 series. Friday's contest is Military Appreciation Day at The Hand and will be followed by the final Fireworks Friday presented by Fuse Fireworks.
Prior to the regular-season finale, the Governors baseball team will recognize the eight seniors on their 2018 team so fans should plan to be in their seats prior to 12:50pm, Saturday for the pregame ceremony.
Ticket Information
Single-game tickets and 15-game flex packages for Austin Peay baseball are available by calling the Governors Athletics Ticket office at 931.221.PEAY [7329] or online at LetsGoPeay.com/SportTix
The Suite Life
Fans interested in more information or renting an Austin Peay-themed boxLIFE suite for the season, a weekend or a game should complete the online form available at LetsGoPeay.com or contact Mike Minyard, Associate Athletics Director at minyardm@apsu.edu. Suites may be rented each weekend series ($1,000 per weekend) or on a single-game basis.