Clarksville Police Department

Clarksville, TN – Clarksville Police report that there were three vehicles set on fire in the same neighborhood community in an hour and a half time frame.
The vehicles were set on fire June 11th,2018 between 12:15am and 1:45am at Friar Drive, Storybook Drive, and Short Street. There was a 2004 Chevrolet Avalanche, 2006 Nissan Titan, and 2000 Chevrolet Malibu set on fire.
Each vehicle had varying degrees of damage.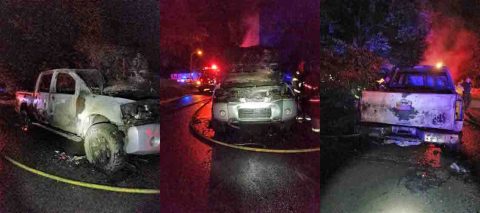 There were no injuries or homes damaged as a result of the fires.
There was a four door white vehicle spotted in the area of one of the fires, but it has not yet been determined whether there was any actual involvement in the arsons by the occupants.
Clarksville Police would ask anyone that lives in the neighborhood with surveillance video to check for vehicles in the area during the time of the arsons. Anyone with information can contact Detective Parrish, 931.648.0656, ext. 5356, TIPSLINE 931.645.8477, or submit a tip anonymously at P3tips.com/591