Downtown @ Sundown Concert Series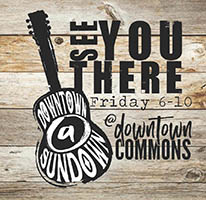 Clarksville, TN – Downtown Commons recently hosted the second installment of Downtown @ Sundown, Clarksville's newest outdoor concert series, with hundreds of people coming out to enjoy live music by country music duo, Trailer Choir.
Trailer Choir features vocalists Marc Fortney and Vinny Hickerson who gained a wide audience in 2007 when they were signed to Toby Keith's record label, Show Dog Nashville. The band has had a number of their songs make it onto the Billboard Hot Country Songs charts.
Opening for Friday's headliner were Aaron Lessard, and Chris Turner. Bringing in big-name musical acts is one of the goals of Two Rivers Company, the management team that oversees Downtown Commons.
"This is our second show," TRC Executive Director Norman Quirion said. "We're just getting underway tonight and we've already got 300 – 400 people out here. The main act doesn't come on stage until 8:00pm, so we hope to pack this entire commons."
Streets around the commons were closed off as well, allowing for crowd overflow, and for a variety of vendors to set up around the event, creating a street fair atmosphere. Journey's Eye Studio, and Sacer & Savive, were among the vendors in Strawberry Alley selling their unique items. Smokin' Brats and Kona Ice were also set up, selling some of their tasty treats.
"This is a beautiful place, a safe place, and it has something for everybody," Quirion said. "So, it's doing exactly what it's designed to do. We have many events planned throughout the summer and fall, and then of course, this winter we have the ice skating rink coming back.
"We are taking our time to make sure that every event we put on is a quality event, and is put on the right way. We're not trying to rush the process. Our goal is for Downtown Commons to offer something for everyone."
Photo Gallery