City of Clarksville teams up with Major League Baseball, Conference of Mayors
Clarksville, TN – Clarksville Mayor Kim McMillan hosted more than 100 Clarksville youths in the Mayor's Play Ball program June 22nd, 2018 at Heritage Park as part of her continued support of "Play Ball Summer," a U.S. Conference of Mayors initiative that promotes baseball and softball as great pathway to an active and healthy lifestyle.
"The goal of Play Ball Summer is to promote baseball and provide a pathway into it for those looking to get involved in our National Pastime," Mayor McMillan said. "Today's event was successful in doing just that. I had youngsters tell me this was the first time they ever tried to hit a baseball, and it was great to see their excitement when they connected with the ball."
The Mayor's Play Ball event offered kids ages 5-18 the chance to hit several balls at Heritage Park's baseball and softball fields. Each participant had three chances to hit a pitched ball, or to hit off a tee.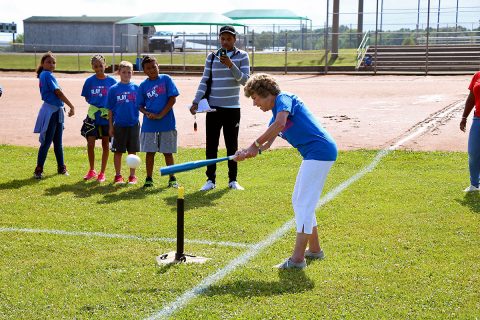 Due to the rain, participants were unable to run the bases, but were able to run in the outfield.
In conjunction with the City's Summer Youth Program, 140 children attended the event and received a free T-shirt and a beverage.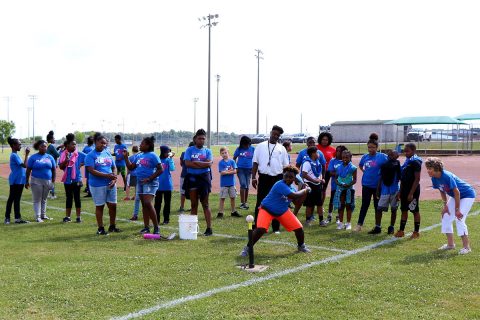 "The initiative is to get kids outside, teach them to play ball, and to keep them active," said Tina Boysha, Clarksville Parks and Recreation athletic superintendent. "I think it's very important to get our youths out and introduce them to the game of baseball, in addition to teaching them active and healthy lifestyles."
With the help of mayors across the country, "Play Ball" events energize communities and generate support for baseball and softball. Information is available at www.PLAYBALL.org, which provides parents, coaches and young players with information on how to get involved with Play Ball activities.