Tennessee Department of Agriculture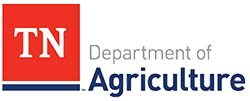 Nashville, TN – The Tennessee Department of Agriculture says that now through August is prime fruit picking time in Tennessee. Blueberries are already available at many farms and farmers markets, beginning a summer-long parade of fruits. Expect varieties of raspberries, blackberries, and peaches in the coming weeks.
Even apples, which are mostly associated with autumn, have early varieties that will be ready to harvest by mid-August.
Use the free Pick TN mobile app or visit www.picktnproducts.org to find local berry patches, orchards, and farmers markets with local fruits and other farm-direct products.
Pre-picked berries and tree fruits are available for purchase, or consider picking your own, with a delicious reward for the effort.
Always call or check a farm's website and social media to verify hours, picking conditions, and availability before making a trip. Berries do not ripen after picking, so be sure to only harvest berries that are fully ripe and pull free easily.
Berries remain fresh after picking and are easy to freeze and use later. Many delicious recipes incorporate frozen fruits, allowing you to enjoy your harvest well past peak growing season.
You will find more tips for a successful farm visit, converting farm measures to kitchen measures, recipes, and proper storage and preservation for your farm fresh fruits online at www.picktnproducts.org.
Pick Tennessee is the Tennessee Department of Agriculture's service to connect consumers to farmers and farm products. Find local pick-your-own berry farms, farmers markets, and more information about Tennessee farm products online, on the Pick TN mobile app, and on Facebook, Twitter, and Instagram.