Written by Pfc. Lynnwood Thomas
40th Public Affairs Detachment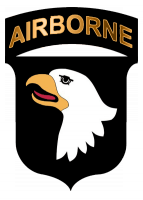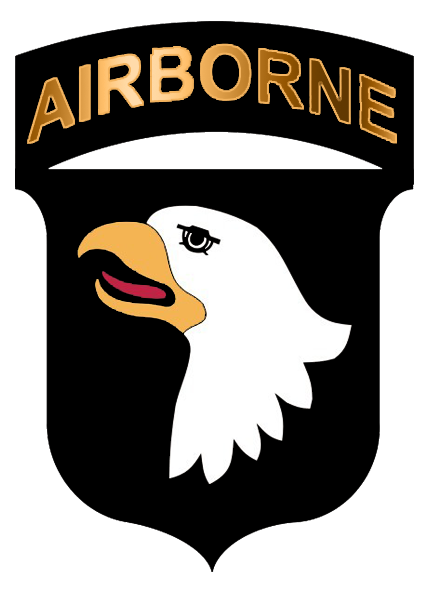 Fort Campbell, KY – Soldiers of the 101st Airborne Division and their Families recently volunteered to clean, remove rust and paint three howitzers during a restoration event at the Brig. Gen. Don F. Pratt Memorial Museum.
Soldiers worked toward team building, boost morale and learn about 101st Airborne Division. history. It also was an opportunity for volunteers to gain community service hours toward their military outstanding volunteer service medal.
Specialist Madilynn Dumas, a chemical specialist with Headquarters Support Company, 101st Headquarters and Headquarters Battalion, 101st Airborne Division, said she enjoys giving back to her community by volunteering her time in different places.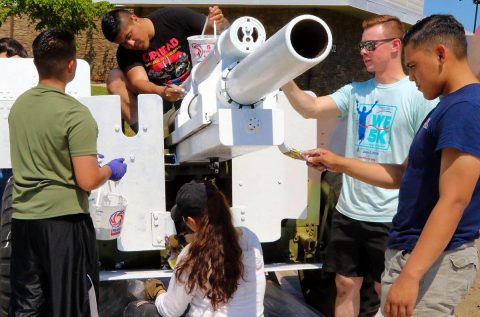 "It's kind of neat to see where the 101st came from, especially when you serve here," Dumas said.
Volunteer Pfc. Quadry L. Wilson, a geospatial engineer with 101st Airborne Division Artillery Brigade, frequents the museum at least once a week to learn about the division's history and was happy to give back by assisting the museum.
"Once I graduated from air assault school this was the first place I came to," Wilson said. "It meant so much more to me at that point because I felt like I was a part of history."
Soldiers and other volunteers cleaned the howitzers using brushes, picks and sandpaper, carefully removing dirt and rust. After that, the howitzers were pressure washed, then primed and painted.
Dumas said she volunteers for the benefit of the people she lends her time to.
"It just feels good to help," she said.
Wilson is glad to be at a point in his life where he can give back to the community. John O'Brien, director of the Pratt, led the volunteers in restoring the howitzers. He started by giving a brief history of the weapons and sharing their significance to the division.
"The three howitzers, a 105mm M3 Airborne howitzer [here since 1960], a 155mm M114 [here since 1974], and a 105mm M101 [here since 1986] are only a piece of a larger collection on display around the DIVARTY footprint," O'Brien said.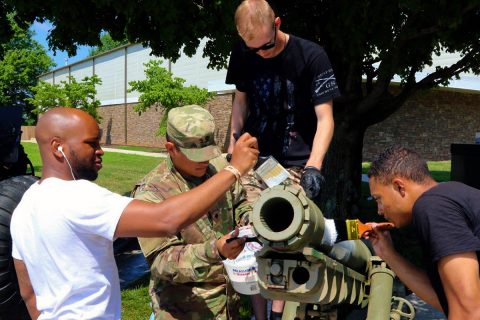 "Seeing Soldiers come in contact with the material used by those who came before them produces a good feeling, but the better feeling comes from hearing a Soldier identifying with our history," O'Brien said. "A phrase like, 'this howitzer is what we fought with in Vietnam,' means that the Family connection with those Soldiers who came before us has solidified in that Soldier's spirit. That is a profoundly satisfying feeling."