Leadership Middle Tennessee
Nashville, TN – Leadership Middle Tennessee, Inc. (LMT), the regional leadership organization that encompasses a 10-county collective of community leaders in Middle Tennessee, is pleased to announce the 2018-2019 officers and newly appointed board members, each serving a two-year term, effective immediately.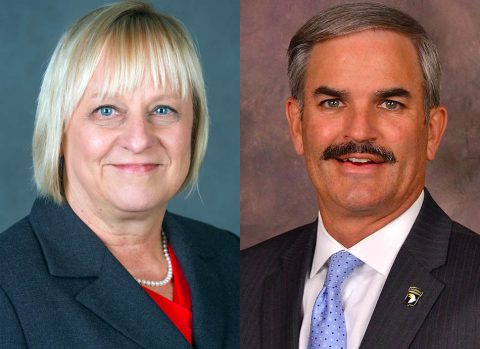 For more information, visit www.leadmt.org
"This board is made up of a diverse group of alumni from different industries and communities across Middle Tennessee," Leadership Middle Tennessee President Lee Rucks said.
"I'm excited for another year of leadership development as we come together to improve our region from the community level." stated Rucks.
Leadership Middle Tennessee Officers
Chair: Jill Bartee-Ayers, Batson Nolan PLC
Chair Elect: Kurt Winstead, Rudy, Wood, and Winstead, PLLC
Secretary: Reggie Mudd, Mudd Properties
Treasurer: Gina Scott,Pinnacle Financial Partners
Immediate Past Board Chair: Paul Stumb, Cumberland University
Chair Emeritus: Jack B. Turner, Jack B. Turner & Associates
President: Lee S. Rucks
Leadership Middle Tennessee Board of Directors
Carol Clark, Montgomery Co. (Class of 2010) – Executive Assistant, Austin Peay State University
Carol Hudler, Davidson Co. (Class of 2018) – President and CEO, Cumberland Region Tomorrow
Casey Mahoney, Dickson Co. (Class of 2018) – Director of Customer Interface, TN Dept. of Environment and Conservation
Charlie Koon, Montgomery Co. (Class of 2012) – VP, F&M Bank Clarksville
Ed Cope, Robertson Co. (Class of 2015) – Realtor, RE/MAX
Laurel Graefe,Davidson Co. (Class of 2018) – Assistant Vice President/Deputy Regional Executive, Federal Reserve Bank Nashville
Mary Roskilly, Davidson Co. (Class of 2017) – Owner/Principal, Tuck-Hinton Architects
Susan Dye, Sumner Co. (Class of 2017) – General Manager, Unipres USA
Will Radford,Davidson Co. (Class of 2017) – Managing Partner, AMPM Solutions Inc.
About Leadership Middle Tennessee

Leadership Middle Tennessee was founded in 1999, as an initiative of Partnership 2000, to contribute to future planned and sustainable economic and community growth and development in the ten-county area through the participation of community, non-profit, government and business leaders.
The program highlights historic and contemporary perspectives on relevant regional themes and features presentations by leading experts and key community leaders. Sessions employ a mix of interactive presentations, facilitated dialogue, behind-the-scenes visits and more. Session topics include Education and Workforce Development, Housing, Ft. Campbell, Agriculture, Healthcare, Quality of Life, Technology, Manufacturing, Public Policy and Politics, Transportation, Historic Preservation, Sports and Leisure, Tourism, Natural Resources and Environmental Issues.
Leadership Middle Tennessee is a 501(c)3 non-profit organization overseen by a regional board comprised of the Leadership Middle Tennessee alums, business, and community leaders. The LMT office is located at 1 Cumberland Square, Lebanon, Tennessee 37087.