Unemployment Rates Increase in all Tennessee Counties during June 2018

Nashville, TN – The unemployment rate for each of Tennessee's 95 counties increased in June 2018, according to data released today by Tennessee Department of Labor and Workforce Development (TDLWD) Commissioner Burns Phillips.
Montgomery County's unemployment rate for June was 4.6 percent which is up 1.3 percent from May's 3.3 percent.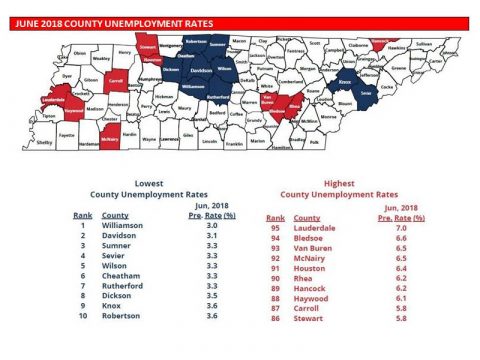 Unlike the statewide unemployment rate, county unemployment rates are not seasonally adjusted to account for seasonal fluctuations such as yearly school closings.
"These increases in county unemployment rates are something we typically see in June," said Phillips. "In fact, we've experienced this uptick every June since the state started keeping records in 1976."
The county rates incorporate seasonal workers who are temporarily unemployed. Between May and June of this year, education service jobs were down by 38,000. These are custodians, bus drivers, and other school support staff who are not working during the summer months.
June is also typically the month when recent high school and college graduates enter the workforce and have yet to find employment, adding to the jobless count across the state.
Williamson County continued to have Tennessee's lowest unemployment in June with a rate of 3.0 percent, which represents a 0.9 of a percentage point increase from its May 2018 rate. The current rate for Williamson County is 0.1 of a percentage point lower than it was in June 2017.
Davidson County experienced the state's second lowest unemployment figure with a rate of 3.1 percent, up from of 2.2 percent the previous month.
Lauderdale County had the most unemployed residents in Tennessee during June. Its jobless rate of 7.0 percent is up 1.7 percent when compared to May. Bledsoe County had the second highest unemployment in the state last month. At 6.6 percent, unemployment in the county grew by 1.7 percent from the previous month's figure.
"These increases, while something we'd rather not experience, are right on par with last June," Burns explained. "When you look at the year-to-year comparisons for many counties, the rates are the same as they were this time last year."
Tennessee had a seasonally adjusted statewide unemployment rate of 3.5 percent in June, which mirrored the rate from the previous month. Nationally, the seasonally adjusted unemployment rate experienced a slight increase to 4.0 percent, up 0.2 of a percentage point from May's revised unemployment rate of 3.8 percent.
Tennesseans who are searching for employment will find a variety of valuable resources on the state's workforce website.
A complete analysis of Tennessee's county unemployment data for June 2018 is available here.