APSU Sports Information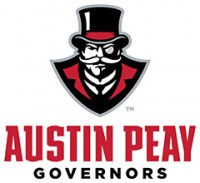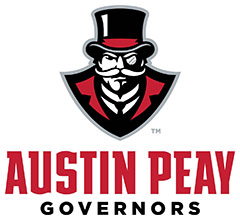 Brentwood, TN – A program-record 123 Austin Peay State University student-athletes have been named to the 2017-18 Ohio Valley Conference Commissioner's Honor Roll, released Wednesday by the conference office.
Student-athletes must have achieved a 3.25 grade-point average, were eligible and on the team throughout the competitive season in their chosen NCAA-sponsored sport(s) and used a season of competition in that sport.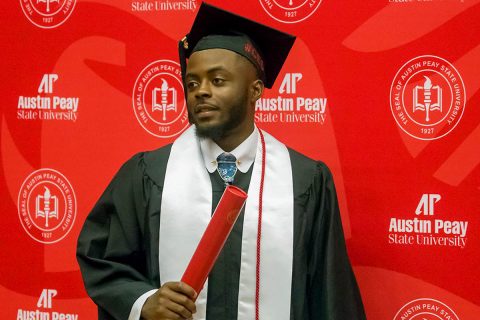 Austin Peay's numbers include 13 athletes who competed in multiple sports during the season and are counted just once in the department's total.
Among league schools, Austin Peay led or tied for the league-high in recipients from the baseball, softball, men's tennis and indoor volleyball programs. Austin Peay's 123 honorees were among the record 1,346 student-athletes honored by the OVC for their work during the 2017-18 academic year.
The 123 Governors recognized, and listed below, represents more than 40 percent of all Austin Peay athletes who competed during the 2017-18 academic year. It follows an academic year that saw APSU athletes post back-to-back semester GPAs of 3.0 or better—the first time since 2008-09 the Govs posted back-to-back 3.0 semesters.
*-Indicates competition in multiple sports
Baseball (18)
Harley Gollert
Bobby Head
Jaxon Herchenbach
Tyler Hubbard
Garrett Kueber
David Martinez
John McDonald
Brett Newberg
Jacques Pucheu
Max Remy
Josh Rye
Josh Shrouder
Cody Spurgeon
Tyler Thompson
Brandon Vial
Nick Walker
Ross Walker
Kyle Wilson
Men's Basketball (4)
Zach Glotta
Tre' Ivory
Acoydan McCarthy
Chris Porter-Bunton
Women's Basketball (1)
Falon Baker
Men's Cross Country (2)
Daniel Davis
Wesley Gray
Women's Cross Country (5)
Sarah Carpenter*
Alura Endres*
Keleah Shell*
Sophia Wilson*
Sarah-Emily Woodward*
Football (15)
Kyle Anderton
Elijah Brown
Max Ewoldt
Jarrett Giacchino
Michael Hoover
Coreon Jackson
Benedict Louis
Jeremiah Oatsvall
Jule Pace
Trey Pruitt
Ryan Rockensuess
Hunter Schmeisser
Ethan Self
Ahmaad Tanner
Patrick Walker
Men's Golf (5)
Michael Busse
Jay Fox
Austin Lancaster
Alex Vegh
Garrett Whitfield
Women's Golf (6)
Riley Cooper
Ashton Goodley
Taylor Goodley
AnnaMichelle Moore
Andrea Presilla
Meghann Stamps
Soccer (14)
Brice Bement
Jade Dauriat
Ann Peyton Diffenbaugh
McKenzie Dixon
Melody Fisher
Morgan Jackson
Katie Kenward
Claire Larose
Pamela Penaloza
Kirstin Robertson
Gybson Roth
Renee Semaan
Jennifer Smith
Shelby Stewart
Softball (18)
Kacy Acree
Matti Byrd
Drew Dudley
Victoria Eccleston
Kelsey Gray
Kelsey Gross
Cassidy Hale
Emily Harkleroad
Brett Jackson
Katie Keen
Carly Mattson
Emily Moore
Brooke Pfefferle
Morgan Rackel
Bailey Shorter
Katelyn Smith
Hannah Thompson
Kendall Vedder
Men's Tennis (7)
Evan Bottorff
Aleh Drobysh
Christian Edison
Timo Kiesslich
Jacob Lorino
Almantas Ozelis
Chad Woodham
Women's Tennis (6)
Ana Albertson
Brittney Covington
Helena Kuppig
Fabienne Schmidt
Claudia Yanes Garcia
Lidia Yanes Garcia
Track and Field (16)
Savannah Amato
Diamond Battle
Morgan Bradley
Sarah Carpenter*
Alura Endres*
Nia Gibbs-Francis
Denia Hill-Tate
Dascha Hix
Allana Johnson
Gretchen Rosch
Keleah Shell*
Tymeitha Tolbert
Lennex Walker
Rebecca Wheeler
Sophia Wilson*
Sarah-Emily Woodward*
Volleyball (14)
Mimi Arrington
Logan Carger
Cecily Gable*
Ginny Gerig*
Nina Korfhage*
Brooke Moore*
Jenna Panning*
Ashley Slay*
Kristen Stucker
Kaylee Taff*
Cori Theiss*
Haley Turner*
Caroline Waite*
Christina White
Beach Volleyball (10)
Cecily Gable*
Ginny Gerig*
Nina Korfhage*
Brooke Moore*
Jenna Panning*
Ashley Slay*
Kaylee Taff*
Cori Theiss*
Haley Turner*
Caroline Waite*