APSU Sports Information
Clarksville, TN – Austin Peay State University (APSU)'s volleyball team swept a five-set exhibition against Trevecca, Tuesday afternoon, August 21st, 2018 at the Dunn Center.
The entire roster for both teams saw action during the extended exhibition. Each of the Governors 15 players saw at least three sets of action.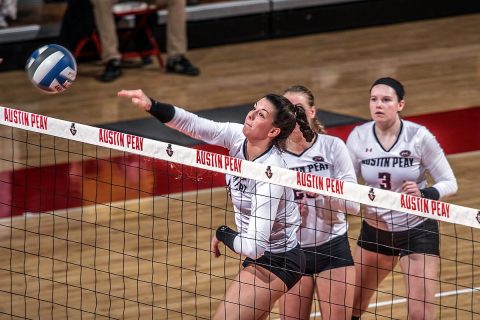 Sophomore Chloe Stitt paced the Governors with 15 kills in four sets of action. Senior Cecily Gable chipped in 13 kills and junior Jenna Panning tacked on a 10-kill outing. Sophomore Brooke Moore posted an errorless outing, recording five kills on five attempts in three sets.
Senior setter Kristen Stucker notched 43 assists in three sets of action and had three kills. Sophomore setter Caroline Waite took over in the match's second half and finished with 23 assists and two kills.
Austin Peay's servers put forth a strong showing throughout the contest, finishing with 14 service aces. Nina Korfhage finished with four aces while freshmen Jaymenson Kinley posted three aces.
Senior Kaylee Taff did a little of everything in the exhibition, posting nine kills, two service aces, a team-high four blocks and three digs. She finished with 13.5 points, second on the team behind Stitt and tied with Gable.
Austin Peay posted 78 team digs in the contest with 14 of its 15 players recording a dig. Starting libero Ginny Gerig led the way with 18 digs in four sets while backup libero Jaymenson Kinley had 12 digs in three sets.
Taylor Mott Mullings
Feelings on Team's Play in The Exhibition
"We really don't know who our starters are at this point. There are a couple of people who will obviously be out there but everybody else we were still trying to figure it out. I felt everyone did a great job, even in the last set when we fell behind early and found a way to battle back. Overall I was pleased with what I saw today."
Thoughts on her First Look at the Freshmen
"I believe having the scrimmage is a good thing for the sport. But it was really good for our freshmen to step out there and not have their first match really count. You could tell they were nervous at first but they got the nerves out. Saw some really good things from Jaymenson in serve receive and defensively. Karli (Graham) played well at the net and Claire (Darland) did some good things when she was out there."
What She'll Carry Forward into the Season Opener
"I think this was good for us to see players in different positions. I think it gives us some more options going into the opener. I feel we're a little bit deeper than I thought we were – trying Jenna on the outside and Cecily on the right side and even Claire on the right side. I was able to see us with more depth just by trying out some of those combinations."