UT Athletics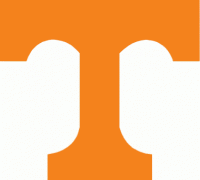 Knoxville, TN – Tennessee football head coach Jeremy Pruitt cannot wait to step on the field at Bank of America Stadium and face No. 17/20 West Virginia on Saturday at 3:30pm.

The first-year head coach has been on the jobs for nine months, and his closest thing to coaching game action was the Vols' annual DISH Orange & White Game in the spring.

UT began official game week preparation for the season-opening Belk College Kickoff on Monday at the Anderson Training Center.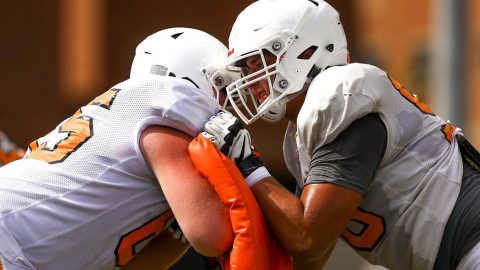 "I can think back to my earliest memories of being with a football program when my dad was a high school coach," Pruitt said. "I was just a manager on the team, but I can remember the excitement and anxiety of the first week of the season. You work so hard in January and February all the way through spring training and summer conditioning. Then its game week, and you do all that for one guaranteed opportunity. As a coaching staff, everybody in our program is excited, and I am sure people are all over the country."

The Mountaineers finished 7-6 a year ago, but they are receiving plenty of preseason hype. West Virginia is led by redshirt senior quarterback Will Grier, who tossed for 3,490 yards and 34 touchdowns a year ago after transferring from Florida.

WVU head coach Dana Holgorsen has always employed an explosive offensive attack. The Mountaineers will rely on returning receivers David Sills (18 touchdowns in 2017) and Gary Jennings (97 catches) as well as four returning starters on the offensive line.

"Defensively, we will have our hands full trying to slow these guys down," Pruitt said. Make no mistake, Pruitt will do everything he can to slow West Virginia down.

Competitiveness comes second nature to the coach.

"My emotions are probably the same way before I tee off on the golf course," Pruitt said. "If you're going to play, you're going to win. That's why we do what we do. I'm excited to have an opportunity to see what our team is going to be like because it really doesn't matter what has been done in the past anywhere. You hit the reset button each year, and what you have put on the field as a coach is really who you are right now. This is a really great challenge for us, our staff and everybody associated with our program. We are really looking forward to it."
Six UT Vols Return to Home State
Led by senior defensive tackle Shy Tuttle (Midway, NC), six Vols from North Carolina will play a collegiate game in their home state for the first time at the Carolina Panthers' Bank of America Stadium.
"I mean it's pretty cool … I'm from North Carolina, a bunch of my family and friends are going to be there so I'm excited," Tuttle said.
Vols joining Tuttle from Tar Heel State include: Keller Chryst (Charlotte), Elijah Medford (Burlington), Marquill Osborne (Cornelius), Matthew Butler (Raleigh) and Joe Keeler (Tryon).
The last time the Vols played in North Carolina was 57 years ago. Tennessee fell to North Carolina, 22-21, on November 4th, 1961 in Chapel Hill, NC.
On where the team is with their mental toughness:
"Like you say, Coach [Jeremy Pruitt] has talked about a lot of mental toughness and that's exactly what we're going to have to have. West Virginia is a great team. There's going to be ups and downs throughout and we'll have to keep mentally – we have to be focused so we can overcome."
On how this will be an improved team over the year:
"The way we approach things, I feel like we approach them a lot more seriously and that we're ready for it. You know, like, we're actually ready when we come in and wanting to get better and work."
On what he's seen from both quarterbacks:
"Well both of them – obviously, they both want to start and they've both done a tremendous job. They bring the other quarterbacks. The other quarterbacks help them and overall we all help each other really so I think whichever one starts is going to be confident."
Redshirt junior tight end Eli Wolf
On managing the football and trying to keep it away from West Virginia's offense:
"Yeah, West Virginia has a very explosive offensive and obviously we always want the ball in our hands. I haven't talked with anybody much about what our plan is for that, but when we have that, we have to take care of that."
On whether or not he wants to know who the quarterback will be before gameday:
"The starter doesn't matter to me. I'm just going to play my style of football and whoever it is, is going to be great for us. We have a lot of confidence in those guys."
On what he's seen from the quarterbacks this week
:
"From all our quarterbacks, I've seen them working hard and getting coached hard and taking that coaching to the field. I think they're going to be ready when their numbers are called."
On when Tennessee started diving into West Virginia prep:
"West Virginia prep has been – it's vague when we really just dove into it but we're obviously strapping down hard with it being game week and trying to get to know the ins and outs of their scheme defensively, so we can play at our best."
Senior defensive tackle Shy Tuttle
On what it feels like to get ready to go into this first game healthy:
"Yeah, for sure. I'm excited to get to play in the first game of the season. It's the first time since my freshman year so I'm excited. I'm sure the team is too."
On how much going to Charlotte, NC adds to how he's feeling right now:
"I mean it's pretty cool, you know. I'm from North Carolina, a bunch of my family and friends are going to be there so I'm excited."

On if he senses more intensity out of head coach Jeremy Pruitt with it being game week:
"Well, since he got here he's always been intense. He's pretty much kept the same intensity since the spring so no, I haven't seen a change. He's always intense."

On what he remembers of Will Grier, if anything, and what he's seen on the film:
"He was pretty good back then and he's only gotten older so I'm sure he's – he's a good quarterback. I'm excited to play him."
On finally being game week:
"Yeah, it is really exciting. Everybody in the program is excited. It's been a long offseason, we've worked hard, and we're just trying to get ready."

On Pruitt's intensity:
"Every week is going to be the same regardless. Consistency is something we proud ourselves on. We're going to practice hard regardless of who we are playing, whether it's a bye week, or regardless of the opponent that week, we're going to practice hard that's what we do."

On Bryce Thompson and Alontae Taylor:
"It has been everybody in the defensive back room honestly. We're all trying to get better. We're all working hard to get better on the field, film room, and just trying to get better every day."

On answering younger players energy:
"That's with anybody in the program. We're all competitive, so if one person makes a play, we all try to be the next person to make the play to spark up energy especially on defense. We like to feed off each other."

On facing WVU offense:
"They are a good offense. They do a lot of things well, running, passing. Regardless of who it is we are going to prepare as hard as we can and practice as hard as we can.
On the excitement of game week:
"I think we're excited to play this weekend. We can't be excited enough.

On West Virginia's 'explosive' offense and if that will make Saturday more fun:
Yeah, they're a really good offense, and as the competitor I think it does make it more fun. It's a bigger challenge for us and we've just got to make sure we execute our game plan.

On having played at neutral site games for the past two years and how it has helped prepare the team for this weekend:
"Yeah I think it's pretty cool playing at a neutral site. In some regard, guys get to go back home to North Carolina and I think it's going to be a pretty exciting game."

On what impresses him about West Virginia:
"I think their whole offense is really good; they've got a decent offensive line and a nice quarterback, so I think if we do our job and prepare like we're supposed to, we'll be just fine."

On the excitement of freshmen potentially getting play time early on:
"It is exciting because they came in with the right mindset and ready to attack."