Written by Maria Yager
Blanchfield Army Community Hospital Public Affairs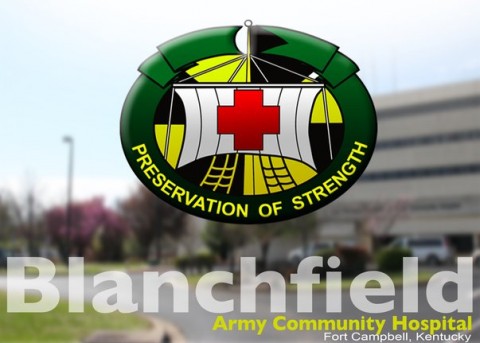 Fort Campbell, KY – Four Fort Campbell Soldiers were inducted to the Sergeant Audie Murphy Club during a ceremony at the USO on post September 7th, 2018.
Blanchfield Army Community Hospital non-commissioned officers, Sgt. 1st Class Victoria Romero and Sgt. 1st Class Gregory Rios; Fort Campbell Dental Health Activity NCO Staff Sgt. Javier Velez; and 101st Airborne Division Artillery Brigade NCO Sgt. 1st Class James Rowland, were awarded a plaque and the coveted SAMC medallion during their induction.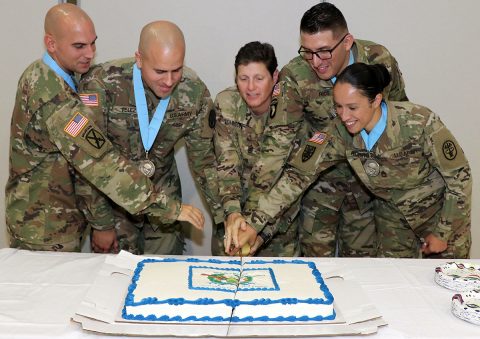 "I know that you all sacrificed countless hours studying, giving up family and personal time. You attended numerous mock boards and command boards before earning your right to appear before your final board. You were put to the test utilizing skills and character against a variety of real life situations. All of this hard work has gotten you to where you are today, at your induction ceremony," said guest speaker, Command Sgt. Maj. Michele Johnson, senior enlisted leader for the 531st Hospital Center, Fort Campbell, Kentucky.
"While this is a momentous day, it is just the tip of the iceberg. While the medallion is placed around your neck, your climb to leadership does not end. It should serve as a reminder each day to live up to the name Audie Murphy, in your own way," Johnson stated.
The Sergeant Audie Murphy Club recognizes NCOs who significantly contribute to the development of a professional NCO Corps and a combat ready Army. Candidates endure a lengthy four-part selection board process where board members look at the number of Soldiers the NCO supervises and accomplishments under the NCO's leadership, military and civilian education and community service.
Awardees exemplify leadership, characterized by personal concern for the needs, training, development and welfare of Soldiers as well as concern for the families of Soldiers. Members are selected based on demonstrated leadership, professionalism and overall general military knowledge. Members conduct charity work for the homeless, help the elderly, assist the handicapped, and work to provide a better life for everyone in the community.
"It is a great honor to finally be inducted into the prestigious Sergeant Audie Murphy Club. This is something I've strived to accomplish for a long time and it's my biggest military accomplishment to date. I'm proud to be a member and look forward to doing my part to build the Fort Campbell chapter with the associated units and the surrounding community," said inductee, Sgt. 1st Class James Rowland, a master gunner for DIVARTY.
In addition to the written and oral board, candidates had to complete a 12-mile ruck march, physical fitness test, tactical weapons qualification and demonstrate proficiency in warrior tasks and battle drills with their nomination to signify their personal combat readiness.
"Being selected to join SAMC is an honor. The journey isn't over once you're inducted, it's just beginning," said SAMC inductee Sgt. 1st Class Victoria Romero, BACH NCO in charge of the ENT/Audiology Clinic. Romero said she is proud to show her soldiers that they should never stop challenging themselves and that hard work can be its own reward.
Club guidance states that each sergeant is responsible for the training and welfare of their Soldiers, constantly displaying a positive attitude at work and is an upstanding citizen.
NCOs seeking to join the Sergeant Audie Murphy Club must serve as leaders of character, competence and commitment and be an example for subordinates, peers and superiors alike. The board also evaluates how the NCO may have handled disciplining of Soldiers in adverse cases such as Absent Without Leave, Driving While Intoxicated and Uniform Code of Military Justice violations.
In the final phase of the selection board, candidates must complete a written exam, essay, and oral board. U.S. Army Medical Command Soldiers can learn more about the SAMC in MEDCOM Regulation 215-2.