Austin Peay State University

Clarksville, TN – On Friday, September 14th, 2018 Tennessee Governor Bill Haslam, who will leave office when his term ends later this fall, visited Austin Peay State University, and he asked the school's Board of Trustees what he should tell his successor about the University. Don Jenkins, a trustee, immediately mentioned Austin Peay's military focus.
"This is a very military-friendly town, but it's an incredibly military-friendly college," he said.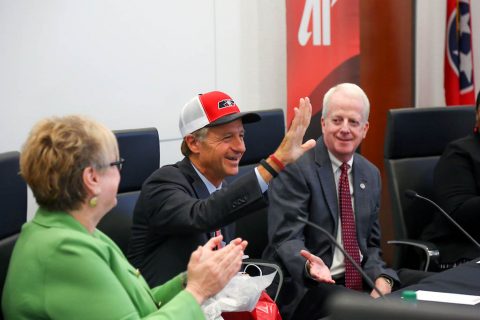 A few minutes later, the board unanimously voted to convert one of Austin Peay's College Street properties (the former Jenkins and Wynne Lincoln-Mercury Building) into a Military Family Resource Center.
The repurposed building will have the potential to house several of the University's existing academic and support programs in one location, including the Military Student Center, Veterans Upward Bound, the U.S. Department of Veteran Affairs' VetSuccess on Campus office, and Military-focused satellite offices for Career Services, Admissions, the Registrar and Student Financial Aid.
The center is being developed to "provide seamless support to students completing a variety of activities, such as applying for admission, accessing financial aid, selecting a program of study, registering for courses, progressing toward graduation, and securing employment after graduation."
"We take this responsibility to the military seriously," Alisa White, APSU president, said. "And if you're counting stars, between Gen. (Robin) Mealer and Gen. (Gary) Luck, I've got five on the board. And then with Gen. (Ron) Bailey (APSU vice president for external affairs) and Gen. (Scott) Brower (APSU military adviser in residence) on my leadership team, I have four stars. So we have nine stars."
"That's a little intimidating," Haslam joked.
During the meeting, Mike Krause, executive director of the Tennessee Higher Education Commission, also briefed the board on Austin Peay State University's impressive efforts regarding student success. Since Tennessee moved to an outcomes-based funding formula in 2010, shifting the focus from financially rewarding colleges for the number of students they enroll to funding institutions for actually awarding degrees and certificates, Austin Peay has led the state.
"Austin Peay's state funding has gone up 28 percent in the last five years," Krause said. "That empirical information tells a more powerful story than any speech, the numbers don't lie, and that is Austin Peay has done something very dramatic with student success."
This sentiment was echoed earlier this month when Dan Bauman, a journalist with the Chronicle of Higher Education in Washington, D.C., tweeted findings from the Tennessee Comptroller's Office.
"Wow," Bauman tweeted. "Austin Peay State University, relative to other institutions. 'The 52 percent cumulative growth for APSU represents approximately $13.3 million in additional operating funding since 2010-11.'"
Haslam also praised Austin Peay's "incredible increase in enrollment" at a time when other universities are struggling, and the governor called Austin Peay's record 1,000 graduate students "a huge milestone."
The board presented the governor with a gift bag of University memorabilia, including a hat with the APSU athletic mark on it. Haslam joked with the board that all the "Be a Gov" signs on campus encouraged him.
"I might just hang out here," he said.
To view an archived video of the meeting, which should be available soon, or for more information on agenda items, visit www.apsu.edu/president/board-of-trustees