Clarksville Police Department

Clarksville, TN – The Clarksville Police Department along with the Montgomery County Sheriff's Office, Montgomery County EMS, and Clarksville Fire Rescue have teamed up to feature someone's future pet currently housed at Montgomery County Animal Care and Control, 616 North Spring Street, Clarksville.
You can become the proud owner of a new furry friend. CPD's featured pets are named Cole and Wolfy.
When they become yours, you can select a name of your own choosing.
Clarksville Police Officer Samantha Kellett selected the two pooches that caught her attention and she wanted showcased.
Cole is a male Bassett Hound/Catahoula Leopard Dog, 8 years old. He came in as a stray and needs his ears checked. He wants to make friends and everyone, and is very loving.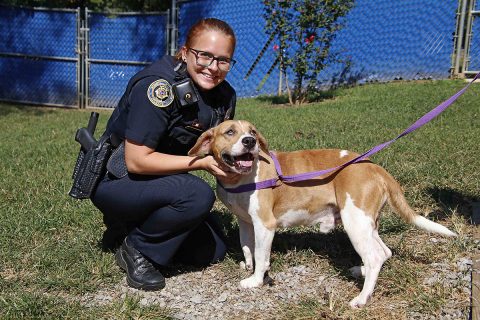 Wolfy is a chocolate colored Labrador Retriever/Shepherd, 1 year old. He was found as a stray and is described as a sweet boy.
Both of these fellows are looking for homes.
Visit or give Montgomery County Animal Care and Control at 931.645.5750. If these two don't suit your taste, there are many others to choose from.
Photo Gallery