Clarksville Police Department

Clarksville, TN – The Clarksville Police Department says there may be some interruption in traffic flow during the Wounded Warrior Bike Ride on September 28th, 2018. The Wounded Warriors will be escorted by law enforcement during the ride.
The bike ride will leave from Gate 1 at Fort Campbell around 6:30am to Jack Miller Boulevard, to Outlaw Field, onto Tiny Town Road heading to Trenton Road, and following Trenton Road into Kentucky.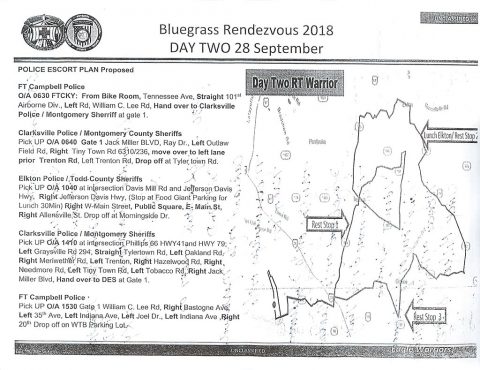 The length of the ride is expected to be over an hour. For safety purposes motor vehicle traffic traveling in the same direction as the riders will not be able to pass the group of riders.
The return trip of the riders will take place around 2:30pm and begin at Tylertown Road, to Oakland Road, to Merriweather Road onto Trenton Road, to Hazelwood Road, to Needmore Road and then on to Tiny Town Road, to Tiny Town Road, to Jack Miller Boulevard and returning to Fort Campbell.
If you will be traveling the roads involved, please be prepared for delays in travel. It may be a good time to consider and alternate traffic.
Thank you.