Austin Peay State University (APSU)

Clarksville, TN – For the first time ever, Austin Peay State University's GeoClub won the top two honors of the GeoConclave, a competition that tests the academic and physical talents of six regional universities' geology students.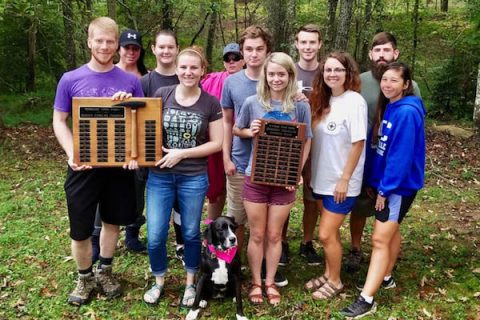 In a competition that includes geode bowling (yes, the bowling of geodes) and rock hammer throwing (yes, the throwing of rock hammers), that's pretty darned cool.
Eleven GeoClub members attended the event September 25th at Fall Creek Falls State Park and won GeoConclave overall champions and the 35th Annual Rock Bowl.
Other universities at the event were Murray State, Middle Tennessee State University, Tennessee Tech, the University of Tennessee at Martin and the University of Tennessee, Knoxville.
"We've never won both trophies at the same time (during the 35 years)," Jennifer Stephens, president of the GeoClub, said. "We couldn't believe it. We felt really confident going into the Rock Bowl, winning those events, but I didn't really believe it until I heard.
"We just wrecked everyone's world."
'We Didn't Even Study'
Previously drawn graffiti lined the walls and door of the GeoClub's cabin at Fall Creek Falls, and club members added their own mark before leaving this year's competition.
"APSU – GeoConclave Champs 2018," the scrawl reads, and in smaller letters below, "We didn't even study."
The biggest competition at the conclave is the Rock Bowl, an elimination-style tournament that pits school against school in a battle of geologic knowledge.
Austin Peay State University beat Murray State in Round 1, Tennessee Tech in Round 2 and MTSU in the finals.
Is Chicken Hotter Than Magma?
Other academic contests included hydrogeology, geologic mapping, mineral identification, pace and compass, rock identification and fossil identification.
And the physical competitions were, yep, geode bowling and rock hammer throwing.
Another competition happened during lunch, when two students from each school competed in "Pressure and Temperature," sponsored by the American Institute of Professional Geologists.
"One student had to eat hot chicken as fast as they could, and the other student had to answer questions on metamorphic petrology (the study of rocks and how they form)," Stephens said.
Stephens and teammate John Butkevicius won third place.
"John is not a fan of hot chicken, but he did it," Stephens said.
Austin Peay State University Geoclub's Mountainous Results
Hydrogeology: Jennifer Stephens, first place.
Mineral Identification: Jennifer Stephens, first place.
Pace & Compass: John Butkevicius, first place.
Rock Identification: Brittany Welch, second place.
Fossil Identification: John Butkevicius, second place.
Women's Rock Hammer Throw, Accuracy: Jeanette Williams, first place.
Women's Geode Roll, Distance: Dawn Grice, first place.
Men's Geode Roll, Distance: Chad Bolding, first place.
Men's Geode Roll, Accuracy: Chad Bolding, first place.
GeoConclave Overall Champions: Austin Peay.
GeoConclave Rock Bowl Champions: Austin Peay.
Video
To Learn More
To find out more about the Austin Peay State University GeoClub, go to https://apsu.campuslabs.com/engage/organization/geo-club