APSU Sports Information

Clarksville, TN – Day two of the 2018 F&M Bank APSU Intercollegiate dawned with a dreary drizzle, but Austin Peay State University (APSU) women's golf team shook off the downpour to hold onto third-place at Clarksville Country Club, Tuesday.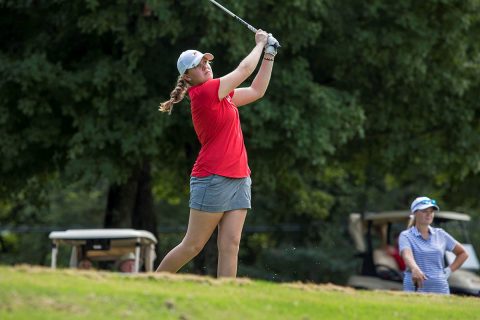 The Govs shot 918 (311-299-308) over the 54-hole event, fending off a late charge from Findlay to maintain top-three standing. Murray State took the team title with an 893, with ULM (905) 12 shots behind. Findlay (924) and Belmont (938) finished out the top-five of the event.
Despite weather playing havoc for both days of the event, Austin Peay State University head coach Amy McCollum was pleased with her squad's resilience and ability to fight through the adversarial conditions.
"Obviously, it wasn't the nicest weather we've ever had for this event but I thought we did a good job playing disciplined and taking what was available to us on the course," McCollum said. "In events where you have to adjust your schedule and stay flexible, focus can sometimes be an issue and I thought we did a great job staying on track."
Freshman Taylor Dedmen fought her way into the top-10 with a final-round 75, including a one-over 38 on the back-nine.
She finished at 228 (79-74-75), averaging 4.93 strokes on par-5 attempts for the tournament to lead the Govs and tie for third overall.
One shot behind Dedmen was senior Taylor Goodley, who placed 13th with a 229 (80-73-76), tying Dedmen with a team-best 35 pars and shooting an even 3.00 on par-3 holes in her final home tournament. The Eldorado, Illinois native averaged a slightly-above sixth-place finish in her four home competitions as a Governor (second, third, eighth, 13th).
Her sister Ashton Goodley made a compelling case for a return to the lineup, equaling Dedmen's final-round 75 and placing 17th as an individual. She sank four birdies on the day, including one of six on the 351-yard par-4 Hole No. 1 during the entire tournament. Goodley's front-nine, even-par 35 was the best by a Gov on Tuesday.
In her first home event, freshman Shelby Darnell secured a top-20 finish with a final-round 79; she finished at 232 (77-76-79) and tied Dedmen with a team-high five birdies, while senior Reagan Greene once more provided a steadying lineup presence at 233 (78-76-79), finishing 22nd overall.
Junior Meghann Stamps' 235 (77-80-78) tied her for 26th and ensured that all five members of the Governors lineup finished comfortably inside the top-30, while sophomore Andrea Presilla closed out her second appearance in the home tournament at 258 (87-88-83).
The Austin Peay State University Govs will take a break—their first since the season-opening GolfWeek Challenge—before returning to action for the fall's penultimate event in Monroe, Louisiana for the Fred Marx Intercollegiate, October 15th-16th, 2018.