APSU Sports Information
Clarksville, TN – Sophomore Brooke Moore posted 16 kills and Austin Peay State University's (APSU) volleyball team never trailed in a three-set sweep (25-14, 25-17) of Eastern Illinois, Friday night, in Ohio Valley Conference action at the Winfield Dunn Center.
Austin Peay (15-2, 5-0 OVC) remained unbeaten in league play after a match that saw it win all three sets in wire-to-wire fashion.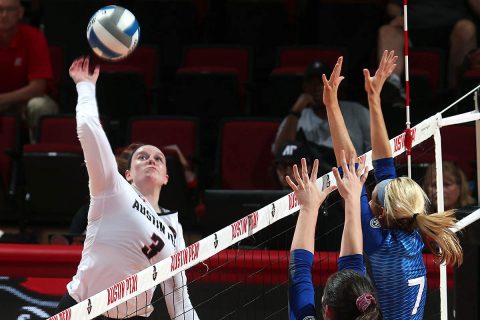 Moore's 16-kill outing provided the bulk of the Governors 48-kill offensive performance.
Meanwhile, Austin Peay's defense again put on a show with an impressive 81 digs, junior Ginny Gerig paving the way with a 21-dig outing.
Eastern Illinois (6-14, 1-4 OVC) could not get its offense on track in the first two sets. The Panthers were held to nine kills in the first frame followed by eight kills in the second. Eastern Illinois would challenge the Govs in the third with 16 kills, but it was too little too late. Laurel Bailey led the Panthers with 10 kills.
The Governors close their four-match homestand with a 1:00pm, Saturday contest against SIU Edwardsville.
Set-By-Set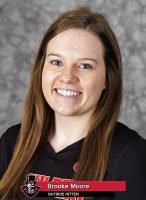 SET 1, Govs Win 25-14
Austin Peay opened the match quickly, using back-to-back 3-1 runs to build an early 6-2 lead. The Govs broke the set open with Ginny Gerig at the service line, scoring seven points off her serve to open up a 20-8 lead.
Brooke Moore had five kills in the set with Jenna Panning and Cecily Gable each adding four kills. However, it was the APSU defense that dominated, posting 30 digs in the frame.
SET 2, Govs Win 25-17
The Governors again opened the second strongly, using a 4-1 opening burst to gain early control. Eastern Illinois would keep the set close until an 11-3 Governors run broke the set open again.
Ginny Gerig capped the run with two service aces in a 3-0 run that gave APSU a 19-9 advantage they did not relinquish. Moore went errorless on 11 swings in the second, scoring six of the Govs 12 kills.
SET 3, Govs Win 25-22
Moore was the Govs first server in the third and promptly helped Austin Peay build a 4-0 lead. Austin Peay extended its lead quickly to eight points at 11-3. The Governors would begin substituting liberally late in the set and the Panthers took advantage slowly narrowing the deficit.
Austin Peay would get to match point at 24-16 after a block by Kaylee Taff and Chloe Stitt. However, EIU would fend off six consecutive match points and closed with a pair of points at 24-22. After another APSU substitution, Stitt found the mark with a kill to end the match.
APSU Govs, Notably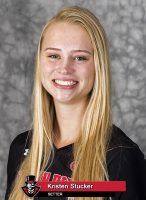 Stucker Nearly There
Stucker ended the night nearly third in career assists at Austin Peay, finishing with 4,114 career helpers. She is only 10 assists shy of moving into third and past Jamie deTurck (4,123 assists, 2001-04). Her 12-dig outing also pushed her to 956 career digs as she looks to become only the fourth setter with 1,000 assists and 1,000 digs in a career.
Moore On Fire
Moore's finished with 16 kills for a second-consecutive match – both three-set victories for the Governors. It also was her 12th consecutive double-digit kill outing, dating back to a September 1st contest against Stetson. The outside hitter has hit better than .200 in 10 of those matches and in each of the last four contests. Moore also posted her seventh double-double this season thanks to a 12-dig outing.
Another 5-0 OVC Start
For a second consecutive year, Austin Peay has started OVC play with a 5-0 record. However, the 2017 Governors saw their OVC-opening win streak come to an end in their sixth OVC contest – a four-set loss to Eastern Kentucky. Meanwhile, the 2018 edition has the opportunity to post the program's best OVC start if it can post a win against SIUE.