Austin Peay State University (APSU)

Clarksville, TN – This fall, the Austin Peay State University (APSU) Department of Languages and Literature will take a look at cinema's zanier side during its Slapstick Film Festival.
Every year the department, which offers a film studies minor, presents a free film genre series that introduces students and community members to masterworks in different film categories.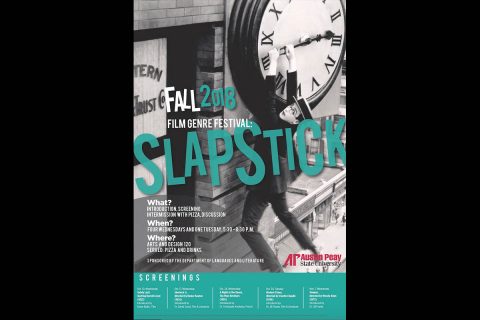 Last year, the series focused on science fiction films, while this year audiences will enjoy humorous works by such legends as Buster Keaton, Charlie Chaplin and the Marx Brothers.
The Slapstick Festival begins at 5:30pm on Wednesday, October 10th, 2018 in room 120 of the APSU Art + Design building with a screening of "Safety Last!," Harold Lloyd's classic silent comedy.
"As a piece of comic architecture, it's impeccable," the late Orson Welles said.
"Safety Last!" is on the American Film Institute's Top 100 lists for Best Comedy, Best Thrills and Best of 100 Years. Lloyd plays a charming boy-next-door who encounters the myriad mishaps common to the slapstick genre. One of the movie's most memorable scenes features Lloyd dangling from a skyscraper.
"Ninety years later, the structure of 'Safety Last!,' Lloyd's fourth full-length feature, is instantly recognizable to the modern viewer," Ed Park, former editor of the Village Voice's Literary Suppliment, wrote. "It's still the template for the contemporary action flick, in which the story sets up a spectacular chase or fight sequence at the end."
The festival will present films at 5:30pm every Wednesday in October, and one Tuesday in November, in the APSU Art + Design building, with an intermission for pizza and beverages. Austin Peay faculty members will also present information and lead discussions on the films.
The festival's schedule includes:
October 10th, "Safety Last!," Harold Lloyd
October 17th, "Sherlock Jr.," Buster Keaton
October 24th, "A Night at the Opera," the Marx Brothers
October 30th, "Modern Times," Charlie Chaplin
November 7th, "Sleeper," Woody Allen
For information on the Austin Peay State University film festival, visit www.apsu.edu/langlit/specialevents/filmfestival.php