APSU Sports Information

Chattanooga, TN – Austin Peay State University (APSU) women's tennis team fought valiantly as the second day of the ITA Ohio Valley Regionals came to a close, Friday, at the Champions Club.
The duo of Fabienne Schmidt and Tatiana Lopez got the Govs off to a great start, defeating Memphis's Josephine Cao and Claire Sullivan in a tiebreaker to advance to the Round of 16 in the main doubles draw.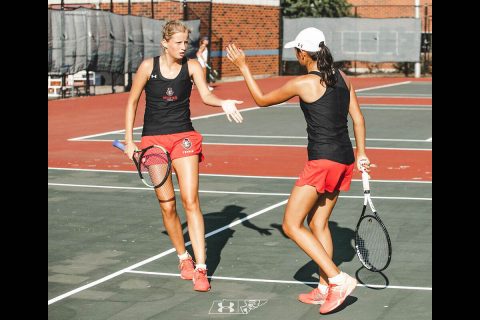 However, the pair had a huge task ahead of them in their next match, as they faced off against the No. 1 overall team of Ariadna Riley and Kaitlin Staines of Tennessee, falling 8-4.
The Govs picked up two wins in singles play as well. Danielle Morris is also won in the Flight B Singles main draw as she came back from a set down to defeat Kaitlin Ruether in three sets (5-7, 7-5, 6-4) to advance to the Round of 16, but fell in her next match to Lipscomb's Liza Diachenko.
After dropping her opening match, Helena Kuppig rebounded to win her first round match in the Flight A consolation draw, winning over Caroline Hall of Chattanooga, 7-6(3), 6-0.
The Govs resume play tomorrow morning as the business end of the tournament begins.
Results
Flight A Doubles Main Draw
Second Round
Fabienne Schmidt/Tatiana Lopez (APSU) def. Josephine Cao/Claire Sullivan (MEM) 8-7(5)
Round of 16
Ariadna Riley/Kaitlin Staines (UT) def. Fabienne Schmidt/Tatiana Lopez (APSU) 8-4
Flight A Singles Main Draw
Second Round
Margita Sunjic (Northern Kentucky) def. Tatiana Lopez (APSU) 7-6, 6-4
Diana Tkachenko (Kentucky) def. Fabienne Schmidt (APSU) 6-1, 7-5
Flight B Singles Main Draw
Second Round
Danielle Morris (APSU) def. Kaitlin Ruether (Xavier) 5-7, 7-5, 6-4
Lily Holmes (UTC) def. Ana Albertson (APSU) 6-3, 6-4
Round of 16
Liza Diachenko (LIP) def. Danielle Morris (APSU) 1-6, 7-5, 6-4
Flight A Singles Consolation Draw
First Round
Helena Kuppig (APSU) def. Caroline Hall (UTC) 7-6(3), 6-0