Roxy Regional Theatre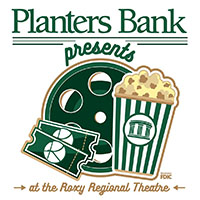 Clarksville, TN – Join the Roxy Regional Theatre on the corner of Franklin Street and First Street in Historic Downtown Clarksville this weekend for a classic suspense film when Planters Bank Presents… Alfred Hitchcock's acclaimed thriller "North By Northwest" on our big screen this Sunday, October 14th, 2018 at 2:00pm.
Cary Grant stars as a Madison Avenue advertising exec who is mistaken for someone else and kidnapped by a group of international spies, headed by James Mason. Eva Marie Saint plays the beautiful blond who helps him to evade the authorities, but even she is not what she seems.
Travel on a thrilling adventure from New York to the top of Mount Rushmore in this monumental Hitchcock classic highlighted by the famed crop-duster sequence. Rating: NR / Running time: 136 minutes / Release year: 1959 / Director: Alfred Hitchcock / Cast: Cary Grant, Eva Marie Saint, James Mason, Leo G. Carroll, Jessie Royce Landis
Admission is $5.00 (cash or check only), and tickets are available at the box office between 9:00am and 2:00pm, Monday through Friday. Any remaining tickets will be available beginning an hour prior to showtime. Advance ticket purchases are strongly encouraged. Popcorn, assorted candy and bottled water will be available as concessions.
While you are here on Sunday, be sure to pick up your tickets for the next installment in our Planters Bank Presents… Film Series, Disney's fantasy comedy "Frankenweenie", showing Sunday, October 21st at 2:00pm.
In the coming weeks, you can also look for other such favorites as "Hotel Transylvania", "Pretty Woman", "Babes In Toyland", "The Polar Express", Disney's "A Christmas Carol" and "It's A Wonderful Life".
For our complete schedule of films and more information, please visit www.roxyregionaltheatre.org/filmseries
Like us on Facebook at www.facebook.com/PlantersBankPresents
Sections
Events
Topics
A Christmas Carol, Alfred Hitchcock, Babes in Toyland, Clarksville TN, Disney, Downtown Clarksville, First Street, Frankenweenie, Franklin Street, Hotel Transylvania, It's a Wonderful Life, North By Northwest, Planters Bank, Planters Bank Presents, Pretty Woman, Roxy Regional Theatre, The Polar Express