APSU Sports Information
Clarksville, TN – Austin Peay State University's (APSU) volleyball team used six blocks en route to winning the fifth set and recording its first victory against Western Kentucky since 1997 (24-26, 25-23, 25-16, 15-25, 15-10), Tuesday night in nonconference action at the Dunn Center.
After the first four sets were a dead heat, Austin Peay (18-3) took control of the fifth as sophomore Brooke Moore [1] supplied a pair of blocks in a three-point span to give APSU an 8-5 lead at the changeover.
Western Kentucky tried to battle back and closed within a point when the Govs secured three of its final four points on blocks – senior Kristen Stucker [2] and freshman Karli Graham [3] combining for all the match-ending work.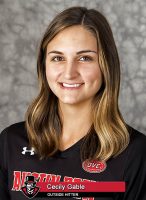 After hitting better than .230 in each of the first four sets, Western Kentucky (14-8) saw its attack stymied in the fifth, scoring only six kills against seven attack errors (minus-.048 attack percentage).
The Governors claimed their victory through its special teams, posting 12 blocks and 10 service aces in the five set victory.
Western Kentucky had nine blocks and seven service aces but also committed 17 service errors in the contest.
Senior Cecily Gable [4] led Austin Peay's offense with 13 kills.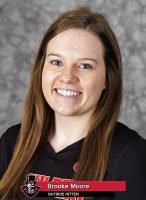 Stucker had an impressive night all around the court, posting three kills, five blocks, two service aces, and 13 digs along with 40 assists.
Junior Ginny Gerig [5] paced the service attack with five aces along with 14 digs.
Rachel Anderson led Western Kentucky with 17 kills and six blocks. Sophina Cerino added 13 kills and a pair of blocks.
Austin Peay returns to Ohio Valley Conference action with a 6:00pm, Friday contest against Jacksonville State.
Set-By-Set
SET 1, Hilltoppers Win 26-24

The opening frame was the most back-and-forth of the five sets with APSU and WKU battling through five ties and four lead changes.
Austin Peay opened with a 6-2 burst and led by six points at 10-4 following a Logan Carger [7] and Brooke Moore [1] block.
Western Kentucky would roar back late with a 7-0 run that gave it a 23-22 lead.
Austin Peay State University would score the next two points on a kill by Logan Carger [7] and a WKU error to get to set point, 24-23, but could not close the frame. The Hilltoppers scored the final three points on a kill, block, and an ace to claim the set.
SET 2, Govs Win 25-23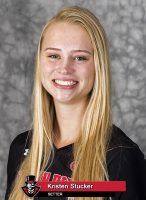 Austin Peay scored the first four points of the second set and would not surrender that lead, though it would have to fend off six different Hilltoppers runs.
WKU would tie the set for the final time at 20-20 after a Darby Music ace, but APSU would use a Jenna Panning [8] kill and a block by Kristen Stucker [2] and Kaylee Taff [9] to regain control.
WKU would get back within a point at 24-23 after a Rachel Anderson kill, but Cecily Gable [4] responded with a kill to win the set.
SET 3, Govs Win 25-16
The third set was tied exactly once – a 1-1 tie – before the Govs would rattle off four consecutive points.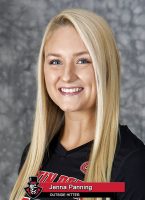 Ginny Gerig [5] supplied two of those points on service aces and a third serve forced a miscue that Carger turned into a kill for a 5-1 lead. A third Gerig ace later in the frame gave Austin Peay a 17-9 lead that it would carry to the set's end.
SET 4, Hilltoppers Win 25-15
Western Kentucky returned the favor with a wire-to-wire win in the fourth. The Hilltoppers scored the first four points and eight of the first nine to take a lead it would not surrender.
Austin Peay would mount a small threat early, winning five of seven to close within four points at 10-6, but could not close the gap.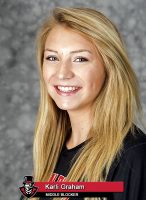 SET 5, Govs Win 15-10
Three ties and one lead change came in the first 10 points of the fifth set.
Trailing 5-3, Austin Peay would score five consecutive points with Brooke Moore [1] providing two solo blocks and a kill as the Govs broke out to an 8-5 lead at the changeover.
Western Kentucky closed back within a point at 11-10 with its only block of the set. But Karli Graham [3] and Kristen Stucker [2] blocked back-to-back WKU attacks for a 13-10 lead and Stucker ended the match with a solo block of her own.
APSU Govs, Notably
Govs End Toppers Long Streaks

Austin Peay's five-set win was its first against Western Kentucky since November 13th, 1997, in Clarksville.
It ended the Hilltoppers 14-match win streak in the series. During that 14-match win streak, the Governors won just four sets, the last time they won a set prior to Tuesday night was September 13th, 2014 – they ended a streak of 13 consecutive sets lost with their Set 2 win.
Stucker Joins Two Career Clubs
Stucker's 13-dig outing helped her reach a pair of career milestones. She became the 21st Govs player to record 1,000 career digs, joining teammate Ginny Gerig [5] who reached the milestone earlier this season.
In addition, she became only the fifth setter to record 1,000 assists and 1,000 digs in a career – the setter's Double Grand Club – and the first to do so since Cami Fields (2011-14).
Gerig Aces Toppers
Ginny Gerig [5] finished with a career-high five aces – each of the five coming in the Govs set three victory.
The quintet of aces pushed her to 93 career service aces – only 18 Govs players have recorded 100 aces in their career, a mark she needs just seven to reach as a junior.