Clarksville Police Department

Clarksville, TN – On Thursday, October 18th, 2018 at 9:00pm, Clarksville Police Officers were called to the Wendy's located at 2800 Wilma Rudolph Boulevard about a motor vehicle crash, in which a Mercury C6S ran into the drive thru and the driver ran from the vehicle.
A short distance away, officers located a man meeting the description of the man who ran from the vehicle.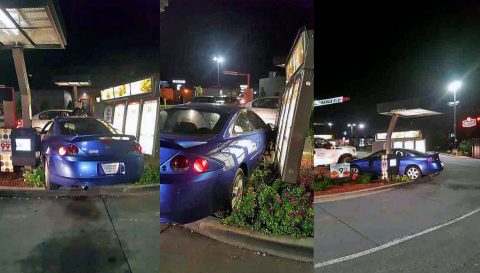 Witnesses corroborated the man later identified as Michael Patterson, 41 was the person who left the vehicle after the crash.
Patterson exhibited signs of being intoxicated, but was not willing to complete sobriety tests. It was also discovered the Mercury was allegedly stolen out of Oak Grove, Kentucky but warrants had not been secured for the theft.
Additionally, Patterson had a revoked TN license and multiple active warrants outstanding warrants from Tennessee and Kentucky.
Michael Shane Patterson, 41, who has a lengthy criminal history, was booked into the Montgomery County Jail and charged with: Driving Under the Influence, Violation of Implied Consent, Leaving the Scene of an Accident, No Insurance, Driving on a Revoked License, Fugitive-Wanted by Other State, Vandalism, and Contraband in A Penal Institution. His bond is set at $290,000.