Blanchfield Army Community Hospital (BACH)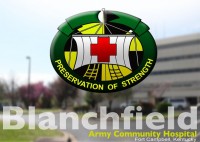 Fort Campbell, KY – U.S. Army Surgeon General Lt. Gen. Nadja West, the highest ranking woman to graduate from West Point, is slated to host two Town Halls October 30th, 2018 at Fort Campbell. Blanchfield Army Community Hospital staff and Fort Campbell TRICARE beneficiaries are invited to attend the in-person Town Hall from noon until 1:00pm at Wilson Theater October 30th.
In addition, Fort Campbell TRICARE beneficiaries are invited to participate in a virtual Town Hall from 5:00pm to 6:00pm October 30th.
Beneficiaries are encouraged to begin asking questions now on BACH's Facebook page on the scheduled live post on Facebook.
West will address beneficiary questions through live video October 30th from 5:00pm to 6:00pm on BACH's Facebook page. Any questions unanswered during the Facebook Live Town Hall will continue to be addressed after the event.
West is the 44th Surgeon General of the United States Army and Commanding General, U.S. Army Medical Command. West graduated from the U.S. Military Academy in Engineering before going on to Washington University School of Medicine to earn her Doctorate of Medicine Degree. She completed two separate residencies, one in family medicine and the second in dermatology.
Among her many assignments in Army Medicine, she also served at Blanchfield Army Hospital as a staff family physician and then the officer in charge of the Aviation Medicine Clinic. While there she also participated in a medical mission with the 5th Special Forces Group.