Clarksville Transit System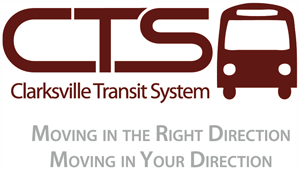 Clarksville, TN – Clarksville Transit System's Spooky Special will be back for another two-day Spooky Tour this week.
The Halloween-adorned bus will run the streets of Clarksville, offering free rides on Tuesday, October 30th and Wednesday, October 31st.
The Spooky Special, or the Spooky Bus as some call it, is a Clarksville Transit System Halloween tradition that started 29 years ago to help residents get acquainted with the transportation service and to thank consistent passengers.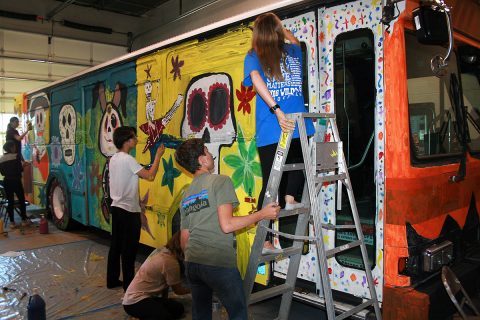 Clarksville Academy art students have painted the bus with special Halloween-oriented designs for the past 26 years. Academy art instructor Nick Williamson, who as a student years ago helped paint the Spooky Bus, led a group of 18 students Monday who painted the bus using a "Day of the Dead" theme.
"It's a very colorful design this year, and we hope it's a little scary," Williamson said. "The art students are always excited to take part in this tradition."
Rides on the Spooky Special are free, and it will run on a variety of routes October 30th and on Halloween. All of the trips originate from the Transit Center at 200 Legion Street.
Here is the Clarksville Transit System schedule for the Spooky Special
Tuesday, October 30th
Clarksville Academy, 7:00am-9:40am
111 Fort Campbell, 10:00am to noon.
311 Cunningham Loop, noon to 1:00pm
411 Peachers Mill Road, 1:00pm-2:00pm
512 Hilldale, 2:00pm-4:00pm
611 Madison Street 4:00pm-5:00pm
813 Hospital/101 Express, 5:00pm-7:00pm
711 Governors Square Mall, 7:00pm-9:00pm
Wednesday, October 31st
211 Tiny Town Road, 6:30am-8:30am
313 Cunningham Loop, 8:30am-9:30am
613 Madison Street 9:30am-10:30am
712 Governors Square Mall, 10:30am-11:30am
212 Tiny Town Road, 11:30am to 1:30pm
111 Fort Campbell, 2:00pm-4:00pm
311 Cunningham Loop, 4:00pm-5:00pm
411 Peachers Mill Road, 5:00pm-6:00pm
511 Hilldale, 7:00pm-9:00pm