UT Vols Athletics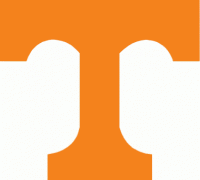 Knoxville, TN – The Tennessee Vols Football team used a balanced offensive attack and stifling defense to take down #11/12/12 Kentucky, 24-7, on Saturday night, November 10th for the Volunteers' 17th-straight victory over the Wildcats at Neyland Stadium.
"We challenged our players this week that we wanted to have the most rushing yards, and I think we did," head coach Jeremy Pruitt said. "I thought for the first time, we had a little bit of physicality for the entire game. It wasn't perfect, but it was definitely very positive. I know those guys are enjoying that in the locker room. I thought defensively, we kept them from creating explosive plays. We kind of made them one dimensional and it's a lot easier to guard the pass if you make them one dimensional."
The Vols, who led 17-0 at the half, put 24 points on the scoreboard against a defense ranked eighth nationally with just 15.3 points allowed per contest. They also surrendered their fewest points to an SEC opponent since October 18th, 2008, when UT won 34-3 versus Mississippi State.
The triumph was UT's second over a ranked foe this season, following a 30-24 road win over #21/21 Auburn on October 13th. The Vols improved to 5-5 overall and 2-4 in the SEC. UK, meanwhile, dropped to 7-3 overall and 5-3 in league play as a crowd of 95,258 looked on.
Pruitt became the only head coach of the 14 current SEC head coaches to have two wins over ranked opponents in his first regular season as a head coach. Pruitt also is the first Tennessee head coach with multiple wins over a ranked team in his first season since
Phillip Fulmer
in 1993.
Redshirt sophomore quarterback
Jarrett Guarantano
completed 12 of 20 passes for 197 yards and two scores on the evening and broke a UT record along the way. On an incomplete pass attempt to redshirt junior wide receiver
Jauan Jennings
with 1:48 left in the third quarter, Guarantano threw his 144th-consecutive pass without an interception, breaking the previous Vols record of 143, set by Casey Clausen in 2003. Guarantano's streak now stands at 146.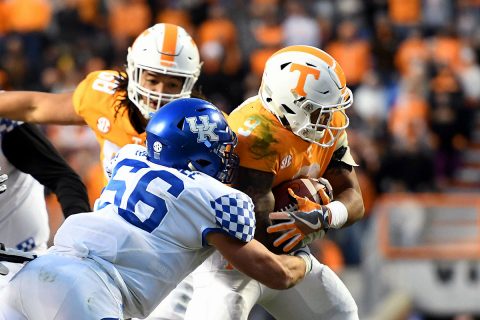 UT rolled up 215 yards on the ground against a defense that was surrendering only 133.2 per contest. Only Georgia (331) had more yards on the ground against the Wildcats this season. Sophomore running back Ty Chandler led the Vol rushing attack, carrying the ball 16 times for a game-high 89 yards. Classmate Tim Jordan added 63 yards and a score on 15 attempts, while sophomore wide receiver Jordan Murphy added 59 yards on one rush.

Defensively, the Vols held Kentucky to its second-lowest rushing total of the season at 77 yards on 35 carries. The Cats had been averaging 199.6 per game on the ground. Highly-touted running back Bennie Snell was kept in check, gaining only 81 yards on 20 carries.

UK managed 185 yards through the air, but Tennessee's defenders were disruptive to the Cats' passing game all night long. The Vols recorded five sacks for minus 40 yards, with redshirt junior linebacker Darrell Taylor tallying a career-high four for 33 yards in losses and sophomore linebacker Deandre Johnson recording one for minus seven. Taylor's four-sack effort was only the third in UT history, with Reggie White and Corey Miller also accomplishing that feat.

Junior corner Marquill Osborne contributed a pair of second-half interceptions to end Kentucky drives. Freshman corner Bryce Thompson had three pass break-ups, while sophomore safety Theo Jackson had two. Junior linebacker Daniel Bituli led all defenders with eight tackles, including six solos. Taylor and senior safety Micah Abernathy added seven stops each.

After neither team could move the ball on their first possession, the Vols got on the scoreboard the second time around. An 18-yard Marquez Callaway punt return and a 38-yard pass from Jarrett Guarantano to Jordan Murphy served as catalysts. Sophomore placekicker Brent Cimaglia provided the finishing touch, booting a 19-yard field goal to cap an eight-play, 55-yard drive that put the Big Orange on top, 3-0, with 5:09 remaining in the first quarter.

After UK went 42 yards in 15 plays on its next series, UT's defense stiffened and forced a field goal try. Chance Poore's 51-yard attempt sailed wide right, and the Vols retained their three-point advantage early in the second quarter.

Tennessee pushed its lead to 10-0 with 2:05 left in the second stanza, as Jordan rumbled in from three yards out and Cimaglia added the PAT. UT's six-play, 81-yard drive was aided by a 29-yard rush from Chandler as well as Guarantano completions of 11 and 34 yards to Jennings and Jordan, respectively.

The Vols managed to find the checkerboard one more time in the first half. After forcing a UK punt, Tennessee had exactly one minute with which to work, starting at its own 28. The Big Orange used every second of it, striking for their second touchdown of the half as Callaway out-leaped a crowd of defenders and teammates in the end zone for a 39-yard reception from Guarantano as time expired. Cimaglia added the PAT to make it 17-0 at the break after Callaway's first receiving TD of the season.

UT pushed its lead to 24-0 midway through the third period. Murphy carried the ball 59 yards on a reverse, and Jordan rumbled up the middle for 11 yards, helping move the Vols deep into Kentucky territory. Guarantano finished the eight-play, 85-yard drive, finding junior tight end Dominick Wood-Anderson all alone in the back of the end zone for a two-yard scoring strike. Cimaglia tacked on the extra point.

The Wildcats finally got on the scoreboard with 1:56 remaining in the third period. UK marched 60 yards in 2:04, completing a five-play drive with a 19-yard toss from Terry Wilson to tight end C.J. Conrad. Poore added the PAT to make it 24-7, Vols.


Kentucky put itself in position to make it a two-possession contest, lining up for a 30-yard field goal with 11:58 remaining in the game. The Wildcats fell to 0-for-2 on field goal attempts for the night, however, as senior nose tackle
Shy Tuttle
burst up the middle to block Poore's kick and preserve UT's 17-point lead.
The Cats tried to capitalize on UT's first turnover of the evening, with Chris Oats pouncing on a Chandler fumble at the UT 48 with 10:04 remaining. Three plays later, however, Taylor recorded his third sack of the game, dropping Snell for a loss of seven yards and recovering the loose ball at the UT 36 to end the threat.
Osborne thwarted another UK scoring threat with 4:52 remaining, picking off Wilson and returning the ball 12 yards to the UT 26. His interception came two plays after Taylor recorded his fourth sack of the night, dropping Wilson for a 13-yard loss.
The Vols play their final home game of the season next Saturday, as they welcome the Missouri Tigers to Neyland Stadium. Kickoff is slated for 2:30pm CT on CBS.