Planters Bank Presents "The Polar Express" at the Roxy Regional Theatre, December 2nd
Roxy Regional Theatre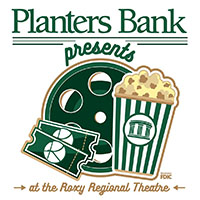 Clarksville, TN – All Aboard! This Sunday at the Roxy Regional Theatre, journey beyond your imagination and believe the magic this holiday season. Planters Bank Presents… "The Polar Express" on our big screen this Sunday, December 2nd, 2018 at 2:00pm.
Tom Hanks stars in this enchanting holiday tale of a young boy who doubts that Santa Claus truly exists. On one special Christmas Eve, as the boy skeptically waits for the sound of sleigh bells, a magical train appears outside his home and the conductor invites him aboard.
What lies ahead is an extraordinary adventure of self-discovery through which the young boy learns that for those who believe, the wonders of life never fade.
Rating: G / Running time: 100 minutes / Release year: 2004 / Director: Robert Zemeckis / Cast: Tom Hanks, Nona Gaye, Peter Scolari, Leslie Zemeckis, Michael Jeter
Admission is $5.00 (cash or check only), and tickets are available at the box office between 9:00am and 2:00pm, Monday through Friday. Any remaining tickets will be available beginning an hour prior to showtime. Advance ticket purchases are strongly encouraged. Popcorn, assorted candy and bottled water will be available as concessions.
While you are here on Sunday, be sure to pick up your tickets for the next installment in our Planters Bank Presents… Holiday Film Series, Disney's "A Christmas Carol", starring Jim Carrey as Ebenezer Scrooge and showing on our big screen on Sunday, December 9th at 6:00pm. (Please note the later start time, due to Red River Breeze's annual holiday concert the same afternoon.)
For our complete schedule of films and more information, please visit www.roxyregionaltheatre.org/filmseries [1]
Like us on Facebook at www.facebook.com/PlantersBankPresents [2]
The Roxy Regional Theatre is located at 100 Franklin Street in Downtown Clarksville Tennessee.