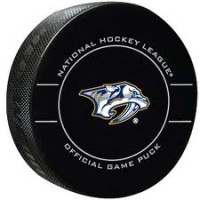 Nashville, TN – The Nashville Predators started strong and never let up tonight against the visiting Chicago Blackhawks, winning 5-2. Nashville got off to a 3-0 lead within the first five minutes of the game and Chicago could never recover.

After an embarrassing loss to the Arizona Coyotes on Thursday night, the Predators had a spirited practice session that lasted only thirty minutes to prepare for the Blackhawks. Coach Peter Laviolette said that the leaders in his locker room "took care of business" to get this team ready to play Predators hockey, and it showed tonight.

Predators GM David Poile announced earlier in the day that Filip Forsberg was being placed on the injured reserve list and would be out for the next 4-6 weeks. Forsberg joins a list of star players on injured reserve that includes P.K Subban, Viktor Arvidsson, and Kyle Turris. Forsberg reportedly has an upper body injury.

Kevin Fiala got the party started at 2:11 of the opening frame with a wrist shot that beat Blackhawks goalie Cam Ward for the early 1-0 lead.

Eeli Tolvanen gave Nashville the 2-0 lead at 3:32 of the first period with a sweet backhand that beat Ward over the shoulder.

Then Ryan Johansen put Nashville ahead 3-0 at 4:11 of the first with his backhand that had the Predators on a wicked tear, and had the Blackhawks realing.

Chicago wasn't going to go away though and Brandon Saad put the Hawks on the board at 12:20 of the first period and the score was 3-1.

Craig Smith would give the Predators their three goal cushion though at 13:35 of the opening period with his wrist shot and suddenly before the fans could all get seating in the arena, it was 4-1, Nashville.

The second period belonged to Chicago. They dominated the period, spending most of their time in the Predators end of the ice, and at 13:16 of the second frame, Artem Anisimov brought his team to within two goals, with a wrist shot that beat Rinne for the score.

That's all the Blackhawks would score on the night. The final score would come on an empty netter from Austin Watson at 17:06 of the final period, for the 5-2 final.

The Predators have had to fill some spots on the bench due to injuries and with the Forsberg announcement earlier, they also announced that they had recalled Anthony Richard from Milwaukee to fill the void.

Chicago's Duncan Keith was given a game misconduct penalty at 7:18 of the first period and never returned.

Pekka Rinne stopped 19 shots in goal for the Predators, while Cam Ward stopped 25. Nashville outshot the Blackhawks, 30-21.

Nashville will host the Buffalo Sabres on Monday night at Bridgestone Arena. The Sabres are coached by former Nashville coach, Phil Housley. Puck drops at 7:00pm.



Sections
Sports
Topics
Arizona Coyotes, Bridgestone Arena, Buffalo Sabres, Chicago Blackhawks, Craig Smith, David Poile, Filip Forsberg, Kyle Turris, Nashville Predators, Nashville TN, National Hockey League, NHL, Pekka Rinne, Peter laviolette, Predators, Ryan Johansen, Tennessee, Viktor Arvidsson