Blanchfield Army Community Hospital (BACH)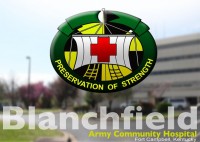 Fort Campbell, KY – Blanchfield Army Community Hospital's (BACH) primary care team recently hired against a much needed vacancy in an extremely difficult medical specialty position to fill — a developmental behavioral pediatrician.
"There remains a shortage of developmental behavioral pediatricians across the country, so we are extremely grateful to bring Dr. Jerry White into our organization," said Col. Troy Prairie, chief of BACH primary care.
"Carrying on from his Navy career, he is experienced in treating military families and we are grateful he selected to come to Fort Campbell to serve Army families and our patient population," Prairie stated.
After the former developmental pediatrician's retirement, parents' closest appointment availability was a drive to Nashville with an extended wait for their children to be seen. With a wait list of pediatric patients needing developmental appointments, Dr. White began one-by-one decreasing the wait list and helping to fill the much needed specialty service at BACH.
"I love supporting the military families," said White. "After serving as both active duty in the Navy and as a federal service civilian, I remain committed to assisting our families with special needs."
White has been serving in developmental behavioral pediatrics since 1994. Most recently he served in one of the Navy's premier medical centers, San Diego Naval Medical Center, where he was the senior developmental pediatrician, seeing more than 500 patients annually. White supports patients with autism, developmental delay with ADHD, Cerebral Palsy and other complex neurodevelopmental conditions.
Although White is aggressively working to decrease the wait time for appointments, parents are asked to be patient as he continues to support individuals who had been waiting a few months to be seen prior to his position being filled.
Parents may inquire through their child's primary care manager if a development pediatrician appointment is appropriate.