#9/9 Tennessee Lady Vols (8-0) vs. #11/11 Stanford Cardinal (7-1)
Tuesday, December 18th, 2018 | 5:02pm CT
Knoxville, TN | Thompson-Boling Arena | TV: SEC Network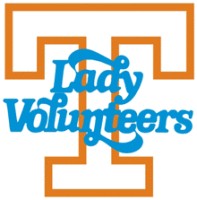 Knoxville, TN – In one of women's basketball's classic rivalries, No. 9/9 Tennessee (8-0) and No. 11/11 Stanford (7-1) face off Tuesday, December 18th in the 36th meeting between these storied programs. Tip-off is slated for 5:02pm CT at Thompson-Boling Arena, with the game available on the SEC Network and the Lady Vol Radio Network.
The Lady Vols will have gone eight complete days between games, entering with the momentum of an 88-82 victory over No. 12/12 Texas in Austin on December 9th. Stanford, meanwhile, comes to Knoxville after a 68-63 home win over No. 3/4 Baylor on Saturday.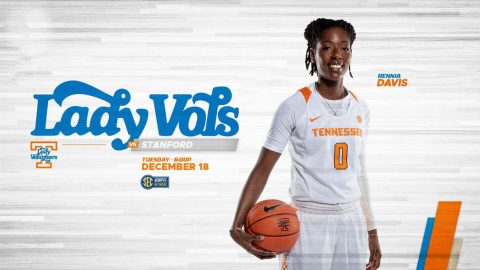 The Cardinal bounced back in strong fashion after falling at Gonzaga, 79-73, on November 25th.
UT has won two straight in the series and three of the past four, giving Holly Warlick a 3-3 record against one of college basketball's coaching giants.
Tennessee's Lou Brown (out for season/knee injury) and Stanford's Alanna Smith both hail from Melbourne, Australia. The duo played against one another while Brown was in the Pac-12 at Washington State before becoming a graduate transfer to UT. The Lady Vols' Kasiyahna Kushkituah and the Cardinal's Maya Dodson were high school teammates at St. Francis High School in suburban Atlanta, GA.
Broadcast Information
Pam Ward (play-by-play) and Carolyn Peck (analyst) will describe the action for the SEC Network.
Mickey Dearstone is handling the call for IMG College/Lady Vol Network radio/online broadcasts for the 20th season. A link to the live audio stream can be found on each game's Hoops Central page or the Lady Vol schedule on UTSports.com.
Air time for games on the Lady Vol Radio Network generally occurs 30 minutes prior to tip-off.
For UT home games (after football season has concluded), the Lady Vol Network has a low-power transmitter that makes the game available on the radio at 99.3 FM.
Game Promotions
Tuesday night is designated as an ORANGE OUT game! Wear your best Tennessee Orange!
The UT-Stanford contest will feature a $2.00 Tuesday promotion, with $2.00 Petros OR $2.00 drinks. Fans must get a voucher at participating concession stands inside Thompson-Boling Arena.
There will be $2.00 off any TeamShop purchase at the Arena on game day. No voucher necessary. $5.00 minimum purchase required.
Halftime performance by The Knoxville Pipes & Drums.
Kids 12 & younger can pick up a wristband at the Fan HQ table on the concourse to participate in the pregame high-five tunnel. Wristbands are limited. To purchase discount group tickets and reserve wristbands for your team, call 865.946.7000.
It's the Twelve Names of Volidays! This game features the second and third names of Volidays! If your name is Carol or Jack, receive a complimentary ticket to the game at the ticket window with ID.
Help us Spark the Summitt during introductions at the game! Download our free light-up app, courtesy of Coca-Cola. Once downloaded, simply open your Hoops Hype app when the lights go out, and let your phone do the rest.
Tickets are available for as low as $10.00 at AllVols.com.
There will be free parking & shuttle service available from UT's Ag Campus. Shuttles begin two hours prior to tip-off.
UT Lady Vols – Stanford Series Notes
This is the 36th all-time meeting between these programs, and the Lady Vols own a 25-10 record vs. the Cardinal in a series that dates back to December 18th, 1988.
This will mark the 32nd time these teams have played when both schools are ranked in the top 15 of at least one of the polls.
There have been 14 occasions when both programs were ranked in the top five of either the AP or coaches polls and 25 top-10 match-ups, pending the teams' December 17th and 18th poll positions.
Tennessee is 13-2 in Knoxville vs. Stanford, 6-0 at neutral sites and 6-8 at Maples Pavilion.
One of those neutral site wins for Tennessee, came in the Lady Vols' run to NCAA Championship trophy number eight, when the Lady Vols defeated Stanford, 64-48, on April 8, 2008, in Tampa, FL.
The programs have combined for 10 National Championships (UT 8, SU 2), 31 NCAA Final Fours (UT 18, SU 13) and 2,419 victories (UT 1,352, SU 1,067).
The Lady Vols have won two straight in the series and three of the past four meetings.
Last season, the Lady Vols defeated Stanford, 83-71, on December 21st, 2017, for UT's first victory at Maples Pavilion since a 74-67 win on December 4th, 2005.
In the last meeting in Knoxville, an unranked UT squad toppled a No. 10 Cardinal club, 59-51, on December 18th, 2016.
Tennessee won 11 games in a row over their West Coast foes from 1997-2006, but the series has been even (6-6) since then, with UT posting a 4-1 mark in Knoxville during that time.
UT and SU have needed overtime to settle scores in six contests, with the club from Rocky Top holding a 4-2 record. Tennessee is 2-0 in OT games played in Knoxville, 1-2 at Stanford and 1-0 at neutral sites.
UT is 68-20 all-time vs. schools currently in the Pac-12 Conference, forging a 1-1 record in 2017-18 with a road win over Stanford and a home loss to Oregon State in the NCAA Tournament.
About the UT Lady Vols
Consecutive 20s
Point guard Evina Westbrook has scored 20+ points in three straight games, the most by a Lady Vol since Diamond DeShields put together three in a row in 2016-17. The only other Warlick-era players to drop three 20s in a row were Meighan Simmons twice in 2013-14 and Isabelle Harrison once that season. The last UT player to produce four in a row was Candace Parker during the first four games of 2007-08.
Let It Fly, M3M3!
Meme Jackson had herself a day at Texas on December 9th, firing in a career-high 33 points and helping key a UT victory. She leads the Lady Vols with 18 three-pointers after knocking down a season-best-tying four vs. the Longhorns.
London Calling
Cheridene "London" Green is gaining confidence with each outing. The redshirt senior had five double-figure scoring efforts all last season and already has four in eight games this year.
Facing Ranked Foes
Tennessee is 42-35 vs. ranked foes during the Holly Warlick era, including 20-10 at home. UT was 7-6 vs. ranked teams in 2017-18, including a win at Stanford.
Winning Board Battles
UT has out-rebounded all of its foes except a taller Texas team, which held a 41-35 advantage with Lady Vol Kasi Kushkituah out due to injury.
Rebounding Rankings

Tennessee ranks No. 7 nationally in reb. margin (13.3), No. 13 in rebs. per game (45.8) and No. 14 in off. rebs. per game (17).
Match-Up On The Glass
As noted, the Lady Vols rank as a strong rebounding team. Stanford is solid as well, ranking No. 10 in rebound margin per game at 12.4.
A Game of Keep Away
UT ranks No. 26 in turnovers forced (22.5) and No. 28 in steals (12.0) per game, while Stanford is No. 5 in fewest turnovers (13.3) and has allowed only 6.4 steals per contest (no rank).
Tennessee Lady Vols Last Game
Senior Meme Jackson fired in a career-high 33 points to lift the No. 9/9 Lady Vols to an 88-82 victory over No. 12/12 Texas at the Frank Erwin Center in Austin on December 9th.
Sophomore Evina Westbrook posted 23 points for her third straight 20+ point performance. Cheridene Green was also in double figures for Tennessee (8-0), adding 10 points and six rebounds.
Texas (7-2) was led in scoring by Audrey Warren with 21 points. Danni Williams, Destiny Littleton and Sug Sutton were also in double digits for the Longhorns with 14, 13 and 11, respectively.
In the 40th meeting between the two teams, the win moved Tennessee's record to 25-15 all-time against Texas and 4-3 under Holly Warlick. UT has won the last two meetings.
About the Standford Cardinal
Stanford is the No. 6 all-time winningest women's college basketball program and is directed by one of the game's all-time greatest coaches in Tara VanDerveer.
VanDerveer owns an 891-192 record in her 33rd season at the helm of the Cardinal and is 1,043-243 in 40 seasons as a head coach.
Stanford returned 12 letterwinners from a year ago, including three players who were starters the majority of the season (Alanna Smith, Kiana Williams and Marta Sniezek).
Stanford overcome a 6-6 start to finish 24-11 overall last season and place second in the Pac-12 with a 14-3 league mark.
The Cardinal fell in the NCAA Sweet 16 to Louisville, 86-59.
Brittany McPhee led SU in scoring at 16.7 ppg.
Stanford's Last Game
Alanna Smith had 21 points and eight rebounds, Shannon Coffee made a key 3-pointer late in the fourth quarter and No. 11 Stanford held on to beat previously undefeated #3/4 Baylor, 68-63, on Saturday afternoon.
Kiana Williams had 13 points and five assists, DiJonai Carrington scored 10 points, and the Cardinal (7-1) ended the Bears' 36-game winning streak in the regular season. The 6-foot-5 Coffee set season highs with nine points and 19 minutes.
Stanford led 58-42 entering the final stanza and had to withstand a 21-10 fourth-quarter blitz by the Bears to earn the victory. BU was eight of 12 from the field for 66.7 percent in the fourth.
Last Meeting: UT Lady Vols – Stanford

Senior Jaime Nared posted a 28-point effort to lead the No. 7 Lady Vols to an 83-71 victory on the road against No. 18 Stanford (6-6) on December 21st, 2017.
The win improved Tennessee to 12-0 on the season and broke a five-game Tennessee losing streak at Maples Pavilion dating back to December 4th, 2005. That season also marked the last time UT opened a campaign with 12 straight wins.
Senior Mercedes Russell contributed a double-double with 11 points and 10 rebounds on the night, while freshman Evina Westbrook posted a (then) career high of 17 points. In addition to a season-high 28 points, Nared also posted a career-best seven steals.
Brittany McPhee was Stanford's leading scorer and the only Cardinal in double digits, notching 27 points on the night.
Next Up for UT Lady Vols

After the Stanford game, the UT Lady Vols will play host to East Tennessee State on Friday, December 21st at 6:00pm (SECN+) in the final contest before winter break. Following a six-day respite from the action, the Tennessee Lady Vols return to host Murray State and Belmont on December 28th and 30th, respectively, to close out 2018.
The ETSU contest is a "School's Out" game. All Kids 12 & younger receive complimentary admission at any arena ticket window.
The game vs. ETSU also is a "Big Orange Friday" contest. Download a Buy One/Get One free ticket voucher available exclusively at BigOrangeFriday.com.