#3 Tennessee Volunteers (8-1) vs. Samford (10-0)
Wednesday, December 19th, 2018| 6:01pm CT
Knoxville, TN | Thompson-Boling Arena | TV: SEC Network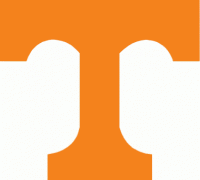 Knoxville, TN – Tennessee Vols Basketball returns to Thompson-Boling Arena Wednesday night for a matchup against Samford, marking the first of a four-game homestand for the Vols.
The game will tip at 6:00pm CT and can be streamed online through SEC Network+ and WatchESPN. Fans can also listen live on their local Vol Network affiliate to hear Bob Kesling and Bert Bertelkamp describing the action. Tickets for Wednesday and most remaining Tennessee home games are available at AllVols.com.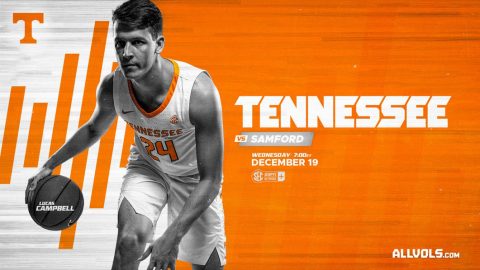 Tennessee (8-1) is coming off its first true road game of the season, topping in-state foe Memphis in front of a sell-out crowd, 102-92.
It was the first time since Appalachian State in 2016 that UT had eclipsed to 100-point margin in a game.
Through nine games, the Vols have scored at least 85 points in six games and average 84.9 points per game, which ranks 19th in the country
Samford boasts a 10-2 record on the season, with its lone losses coming against Ohio State on the road and Belmont in overtime. The Bulldogs defeated Houston Baptist Monday, 85-61, to cap its best start after 12 games since the 1960-61 season. The offense has scored at least 75 points in seven games, including three performances with more than 90
Admiral Schofield enters the game on a hot streak, scoring 30 and 29 points in back-to-back games to fuel UT's offense. The efforts earned him SEC Player of the Week accolades twice. The senior wing is the first Vol to score 25 points in consecutive games since Kevin Punter Jr. did so in 2016.
The Series
Tennessee won its only previous meeting with Samford, as the Vols posted an 83-79 home win on November 28th, 1977, at Stokely Athletics Center.]
The Vols are 93-17 all-time against current members of the Southern Conference.
A Win Would
Extend Tennessee's win streak to five games.
Extend UT's home win streak to 14 games. It's the longest such streak of the Barnes era.
Preserve Tennessee's perfect record this season at Thompson-Boling Arena.
Storylines
Samford is a private Christian university founded in 1841 and located in Homewood, Alabama. Wednesday's contest vs. Samford marks the start of a four-game homestand that extends through the first week of January.
Many UT students are gone now that Fall exams concluded last week. Tickets for most remaining Tennessee home games are available at
AllVols.com
. In Tennessee's last two games, junior wing
Admiral Schofield
has totaled 59 points, with 10 made 3-pointers.
Senior forward Kyle Alexander needs just one block to move into the top five on Tennessee's all-time blocks list.
Layups
According to KenPom, Tennessee ranks in the top 20 in both offensive efficiency (10th) and defensive efficiency (18th).
Tennessee ranks second in the country with 21.1 assists per game and also ranks among the top 10 nationally in assist/turnover ratio (9th, 1.68) and blocks (10th, 6.0 bpg).
Grant Williams leads the SEC in scoring (19.8 ppg), ranks second in field-goal percentage (.571), fourth in rebounding (8.7 rpg) and seventh in assists (4.7 apg). He also owns the team's best plus-minus (per 40) rating at +21.91.
Reigning SEC Player of the Week Admiral Schofield is the SEC's second-leading scorer (19.1 ppg). He has made multiple 3-pointers in each of UT's last six games, with 20 total makes during that span.
Guard Lamonté Turner remains sidelined with a left shoulder injury and has appeared in only three games this season.
About the Samford Bulldogs

The Bulldogs' 2018-19 roster looks almost completely different from last season's squad, as Samford's top five scorers are gone.
Josh Sharkey is one of just three returners who saw action last year. Sharkey, along with Stefan Lakic and Kevion Nolan, combined for a total of 15 starts and accounted for just 18 percent of the Bulldogs' total scoring last season.
With significant turnover, former first-round NBA Draft pick and Kentucky standout Scott Padgett brought in one of the most touted recruiting classes in program history, signing seven players.
To go along with the large class, a pair of transfers from last season will be eligible to play this year, including Brandon Austin from Alabama.
Sharkey (14.7 ppg, 6.0 apg, 3.4 rpg, 2.6 spg) and Austin (11.6 ppg, 4.5 rpg) are two of four Bulldogs averaging double-digit scoring per game. Junior college transfer Myron Gordon (11.8 ppg) has been a solid addition for Samford this year.
However, the biggest impact has been from redshirt senior Ruben Guerrero. The 7-foot center transferred from USF last year but was forced to sit out. This season, he leads the Bulldogs in scoring (15.0 ppg), rebounding (8.4 rpg), blocks (1.9 bpg) and shooting percentage (.664).
Samford boasts a 10-2 record on the season, with its lone losses coming against Ohio State on the road and Belmont in overtime. The Bulldogs opened the season with a five-game winning streak. The offense has scored at least 75 points in seven games, including three performances with more than 90.
Last Meeting vs. Samford
Acting Tennessee head coach Cliff Wettig—filling in for the legendary Ray Mears, who sat out the season due to nervous exhaustion—led the Volunteers to an 83-79 win over Samford at UT's Stokely Athletics Center on Nov. 28, 1977.
Tennessee took a 38-34 lead into halftime.
Reggie Johnson led the Vols with 22 points—11 in each half—and eight rebounds. Point guard Johnny Darden added 18 points and eight assists, while Terry Crosby scored 17.
Bert Bertelkamp, who now serves as the color analyst for Tennessee games on the Vol Network, 10 points, six rebounds and an assist in the win.
Guard Ervin Terry was the Bulldogs' top performer, totaling 22 points, seven assists and four rebounds.
Sid Hankins was the official timer for that game, and he will be serving in the same capacity Wednesday night.
Austin Has Faced UT Before
Samford redshirt junior guard Brandon Austin faced Tennessee during his time at Alabama.
In Alabama's win over the Vols in Tuscaloosa on January 26th, 2016, Austin played four minutes off the bench and was 0-for-1 from the field.
After two seasons with the Crimson Tide, Austin transferred to Samford.
Tennessee Duo Among Top 80 On NCAA Scoring Leaderboard
Tennessee's imposing duo of Grant Williams (19.8 ppg) and Admiral Schofield (19.1 ppg) make the Vols one of only four teams with two players ranked among the top 80 scorers in Division I.

TEAM PLAYERS PPG
South Dakota St. M. Daum/D. Jenkins 45.9
Duke RJ Barrett/Z. Williamson 44.6
Coll. of Charleston G. Riller/J. Brantley 42.8
Tennessee G. Williams/A. Schofield 38.9