#9/8 Tennessee Lady Vols (8-1) vs. East Tennessee State Buccaneers (2-12)
Friday, December 21st, 2018 | 6:02pm CT
Knoxville, TN | Thompson-Boling Arena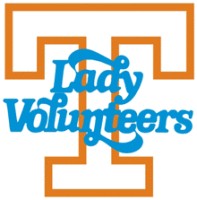 Knoxville, TN – No. 9/8 Tennessee Lady Vols basketball team (8-1) plays its final game before winter break, taking on in-state foe East Tennessee State University (2-12) on Friday evening, December 21st at Thompson-Boling Arena. Tip-off is slated for 6:02pm CT, with the game available on SECN+ and the Lady Vol Radio Network.
The Lady Vols return to The Summitt after dropping their first contest of the season on Tuesday night, falling at home, 95-85, to No. 8/9 Stanford in a top-10 match-up of traditional women's basketball national powers.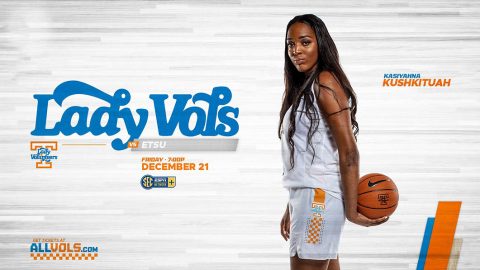 ETSU enters on the heels of a 66-58 loss to Duquesne in Pittsburgh on Sunday. The Buccaneers, who are played a challenging non-conference slate (Michigan State, South Carolina, Rutgers and Tennessee among others), have won twice in their last six games after opening 0-8.
In facing the Bucs, UT is meeting the first of three straight regional opponents, with Murray State (December 28th) and Belmont (December 30th) ahead to close out the pre-conference slate.
Broadcast Information
Bob Kesling (play-by-play), Madison Blevins (analyst) and Kasey Funderburg (sideline) will describe the action for SECN+.
Mickey Dearstone is handling the call for IMG College/Lady Vol Network radio/online broadcasts for the 20th season. A link to the live audio stream can be found on each game's Hoops Central page or the Lady Vol schedule on UTSports.com.
Air time for games on the Lady Vol Radio Network generally occurs 30 minutes prior to tip-off.
For UT home games (after football season has concluded), the Lady Vol Network has a low-power transmitter that makes the game available on the radio at 99.3 FM.
Game Promotions
School's Out! All kids 12 & younger receive complimentary admission at any arena ticket window.
It's also Big Orange Friday! Download a Buy One/Get One free ticket voucher available exclusively at BigOrangeFriday.com.
Halftime performance by the Arts in Motion Studio of Dance and Choreography.
Kids 12 & younger can pick up a wristband at the Fan HQ table on the concourse to participate in the pre-game high-five tunnel. Wristbands are limited. To purchase discounted group tickets and reserve wristbands for your team, call 865.946.7000.
Help us Spark the Summitt during introductions at the game! Download our new free light-up app, courtesy of Coca-Cola. Once downloaded, simply open your Hoops Hype app when the lights go out, and let your phone do the rest.
Tickets are available for as low as $5.00 at AllVols.com.
It's the Twelve Names of Volidays! Friday night features the sixth name of Volidays! If your name is Kevin, receive a complimentary ticket to the game at the ticket window with ID.
Free parking & shuttle service are available from UT's Ag Campus. Shuttles begin two hours prior to tip-off.
Tennessee Lady Vols-ETSU Series Notes
Tennessee leads the all-time series with the Buccaneers, 21-2-1.
UT's records include games played in 1924 (ETSU, 22-16 in Knoxville), 1925 (25-all in Johnson City) and 1926 (UT, 50-16 in Knoxville), when the orange-clad players were called Volettes.
Since losing 62-56 in Johnson City on February 12th, 1971, the Lady Vols have won 19 in a row in the series
Tennessee holds a 15-1 home record vs. ETSU, with the lone Buc victory coming in the first meeting at Knoxville in 1924.
The Tennessee Lady Vols have a 6-1-1 record when playing at ETSU, winning their past six games there.
These teams last met on Nov. 12, 2017, with #14/18 UT taking an 87-49 victory at Thompson-Boling Arena.
Since Y2K, UT has a +37.0 scoring margin vs. ETSU (89.3-52.3).
The Lady Vols have reached the 100-point plateau three times vs. ETSU, doing so in 2010 (102) and twice in 1977 (100, 102) with Holly Warlick playing in those later two games.
The Tennessee Lady Vols are 62-20-1 all-time vs. schools from the Southern Conference.
The UT women are 242-60-1 all-time vs. four-year college teams from the Volunteer State.
ETSU redshirt sophomore guard Micah Sheetz played at Knoxville's Webb School for former Lady Vol point guard and graduate assistant Shelley (Sexton) Collier, the long-time head coach there.
Bucs coach Brittney Ezell, a native of Franklin, Tenn., played her college ball (basketball and softball) at Alabama, graduating in 1999. As a Crimson Tide alum, she has that in common with UT assistant coach Sharrona Reaves, a 1995 UA grad.
Noting The Tennessee Lady Vols
Consecutive 20s
Point guard Evina Westbrook has scored 20+ points in four straight games, the most by a Lady Vol since Candace Parker produced four in a row from March 2nd to March 9th, 2008. Parker is the most recent UT player to score 20 in five or more, getting seven in a row from Feb. 5 to Feb. 25, 2007.
Dos Double-Doubles
UT had a pair of double-doubles vs. Stanford. Evina Westbrook had her first, carding 29 points and 10 assists, making her the 14th Lady Vol to earn one in those categories. Rennia Davis (14 pts./10 rebs.) had her second D-D of the season and 11th of her career.
"Attaway" Zaay
Freshman guard Zaay Green got her fourth consecutive start and scored 14 points with no turnovers vs. Stanford. During that four-game stretch, Green is averaging 11.8 points per contest and has elevated her season average to 9.7. That number ranks fourth on the team. She has four double-figure scoring games this season so far.
Taking Care Of The Ball
UT committed a season-low eight turnovers vs. No. 8/9 Stanford. UT had only three games last season with fewer than 10 turnovers.
Scoring The Basketball
The Lady Vols enter the ETSU game averaging 81.2 points per game after tallying 85 vs. Stanford. It was the highest point total UT has scored vs. the Cardinal since hitting 98 in 1998.
Finding Another Gear
Tennessee appears to be growing offensively. The Lady Vols have averaged 86.5 points the past two games vs. ranked foes Texas and Stanford after putting up only 73.0 per contest in a quartet of games vs. Clemson, UAB, Oklahoma State and Stetson.
Turning 'em Over
UT has forced five of nine foes, including Stanford, to commit 20 or more turnovers. Lady Vol opponents are averaging 22.2 miscues per game with UT grabbing 11.6 steals. ETSU enters averaging 21.9 turnovers and surrendering 10.6 steals per contest.
In A Good Crowd
With a .745 career winning pct., Holly Warlick ranks ahead of such WBB notables as Jody Conradt (Texas, .744), Andy Landers (Georgia, .742), Joe Ciampi (Auburn, .740), Sylvia Hatchell, (UNC, .720), Dawn Staley (South Carolina, .714), C. Vivian Stringer (Rutgers, .713) and Gary Blair (Texas A&M, .710).
Last Time Out For The Lady Vols
Sophomore guard Evina Westbrook tallied a career-high-tying 29 points and dished out a season-best 10 assists, but No. 9/8 Tennessee Lady Vols fell 95-85 to No. 8/9 Stanford at Thompson-Boling Arena on Tuesday night.
Sophomore forward Rennia Davis joined Westbrook in notching a double-double (14 points and 10 rebounds), carding her second of the season and 11th of her career. Senior guard/forward Meme Jackson (17) and freshman guard Zaay Green (14) were the other Tennessee players with double-digit points in the contest.
Westbrook became the first Lady Vol since Candace Parker in 2007-08 to register four-straight 20-point games.
Stanford (8-1) was led by a 33-point and 13-rebound performance by DiJonai Carrington, as the Cardinal hit 58 percent of their three-point shots (14 of 24). Four other Stanford players scored in double figures, including Alanna Smith and Kiana Williams with 16 each, fueled by 3-of-4 shooting from three-point range. Lacie Hull tossed in 14, hitting four of five treys, while Maya Dodson chipped in 10.
Noting The Bucs
ETSU returned three starters and eight letterwinners from last season's WNIT Tournament squad.
The Bucs welcomed seven newcomers, including four freshmen and three transfers.
Leading scorer Tianna Tarter (17.7 ppg.) departed, but No. 2 scorer Erica Haynes-Overton returned after averaging 14.5 ppg. and collecting 108 steals to rank No. 6 in the nation in steals per game and No. 8 in total steals.
Head coach Brittney Ezell is in her sixth season in Johnson City, sporting an 84-86 record.
The Bucs finished 20-13 overall and 11-3 in the Southern Conference last season, falling in the first round of the WNIT to James Madison, 60-52.
Departed senior Tianna Tarter was named first-team All-SoCon.
Erica Haynes-Overton was the 2018 SoCon Freshman of the Year and Defensive Player of the Year and was named to the All-Freshman Team and the All-SoCon Second Team.
Last Time Out For East Tennessee State
The ETSU women's basketball team faced another daunting task in Pittsburgh, PA, against Duquesne Sunday afternoon but came up just short in its quest for a road win with a 66-58 setback.
The Bucs (2-12) started strong with an 18-12 lead to open the contest but fell behind in the second quarter and could not regain the lead. Trailing by as many as 12 points late in the third quarter, ETSU put together a fourth quarter comeback that had Duquesne (5-4) on the ropes with 1:06 remaining and the Dukes ahead 60-58. The home team held off ETSU in the final minute, forcing the Bucs to foul their way to the finish.
Sophomore guard Erica Haynes-Overton (Nashville) led ETSU with a steady 16 points in the contest, while Duquesne was led by senior Chassidy Omogrosso with 23, 20 of which came in an explosive first half.
The Last Time We Met
Double-doubles from All-SEC senior leaders Mercedes Russell and Jaime Nared helped the No. 14/18 Tennessee Lady Vols cruise to an 87-49 season-opening win over ETSU with 8,869 looking on at Thompson Boling Arena on November 12th, 2017.
Russell and Nared turned in solid effor­ts vs. the Buccaneers (1-1). Russell scored 20 points and corralled 10 rebounds, while Nared chipped in 13 points and 13 rebounds.
Freshman guard Anastasia Hayes came off the bench to contribute 17 points, the majority of which came on 12-for-13 shooting at the free-throw line.
Next Up For Tennessee Lady Vols

Following a six-day respite from the action for winter break, the Tennessee Lady Vols return to host Murray State and Belmont on December 28th (7:00pm) and 30th (2:00pm), respectively, to close out 2018.
The UT vs. Murray State contest is a Big Orange Friday game. Download a BOGO (Buy One Get One Free) ticket voucher, available exclusively at BigOrangeFriday.com.
The UT-Belmont match-up features at Hoops For Hunger promotion. Fans may donate two non-perishable food items and receive one complimentary ticket. Please donate at Gate C, Gate E or the ticket tent located on Phillip Fulmer Way prior to entering Thompson-Boling Arena. Donations benefit the Second Harvest Food Bank, helping feed East Tennessee families in need.