Austin Peay State University (APSU)

Clarksville, TN – In 2018, Austin Peay State University (APSU) continued to make headlines as the institution unveiled its first doctoral degree program, led the state in serving military-connected students and became the fastest-growing public university in Tennessee.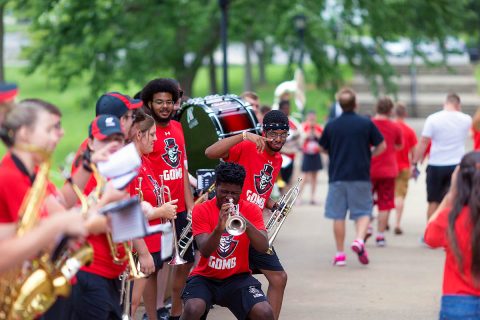 In the last 12 months, Austin Peay also established a free residency partnership with the Visual Arts at Chautauqua Institution in New York and saw its computer science students win big at state and regional hacking competitions.
The University hired a couple of retired generals – Brig. Gen. Scott Brower as APSU's military advisor in residence and Lt. Gen. Ronald Bailey as vice president of external affairs – along with a new athletic director, Gerald Harrison, and football coach, Mississippi State's Mark Hudspeth.
As this historic year comes to an end, here's a look back at some of the major stories to come out of Austin Peay in 2018.
Last fall, Austin Peay State University officially became the fastest-growing public university in the state when it enrolled a record 10,954 students. Austin Peay also enrolled more than 2,000 new freshmen for the first time in its history, and it experienced a 3 percent increase in undergraduate students, a 24 percent increase in graduate students, a 23 percent increase in out-of-state students and a 29 percent increase in undergraduate international students.
In July, the University launched its first-ever doctoral program a Doctor of Education degree in educational leadership for K-12 professionals. The move also raised Austin Peay to a doctoral-level classification with the Southern Association of Colleges and Schools Commission on Colleges.
Last summer, Austin Peay's Office of Advancement announced that it had raised $9.85 million during the second-highest giving year in university history.
In August, NASA honored Austin Peay with its Marshall Space Flight Center Group Achievement Award for the University's help during the 2017 Great American Eclipse. Austin Peay earned the award because of "exemplary implementation of the NASA core values of excellence, integrity, safety and teamwork in execution of activities associated with the 2017 total solar eclipse," according to NASA's citation that accompanied the award.
At the beginning of the semester, Austin Peay and the Clarksville-Montgomery County School System launched a major partnership to become the state's first public education institutions to offer both Japanese and Korean language courses to students. The new classes, funded by grants from The Japan Foundation and the ALLEX Foundation, were developed to better serve the Japanese- and Korean-owned businesses investing in this region.
Amy Sherald, the artist who painted former First Lady Michelle Obama's official portrait, spoke to a nearly filled Morgan University Center Ballroom last fall as part of the Center of Excellence for the Creative Arts Visiting Artist Speaker Series.
New freshman Mallory Fundora, a President's Emerging Leaders Program student, spent the last eight years overseeing Project Yesu, a nonprofit she founded that now feeds more than 500 school children in Uganda every weekday and is in the process of building a new school.
During its fall meeting, the APSU Board of Trustees unanimously voted to convert one of Austin Peay's College Street properties into a Military Family Resource Center. The repurposed building will have the potential to house in one location several of the University's existing academic and support programs in one location, including the Military Student Center, Veterans Upward Bound, the U.S. Department of Veteran Affairs' VetSuccess on Campus office, and Military-focused satellite offices for Career Services, Admissions, the Registrar and Student Financial Aid.
Last summer, the University unveiled one of the state's most ambitious parental leave policies in the state. The policy, which will begin for children born or adopted after January 2nd, 2019, provides six weeks of paid parental leave "to give parents additional flexibility to adjust to their new family situation and balance their professional obligations." Parental leave is available to APSU faculty and staff who are biological or adoptive parents and who have been continuously employed by the University for at least 12 months.
Austin Peay is on track to be the second university in North America to award a bachelor's-level Siemens Mechatronic Systems Certification Program, and the University hopes to launch the program as early as fall 2019. Several community colleges in Tennessee offer the first two levels in partnership with Siemens, but only Middle Tennessee State University offers the bachelor-level certificate program. In order to land Siemens as a partner, Austin Peay bought high-level mechatronics training equipment and sent faculty to Berlin, Germany, this summer to undergo Siemens training.