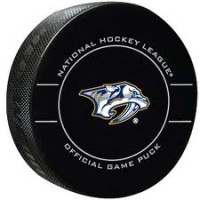 Washington, D.C. – The Nashville Predators finally broke through with a win today, defeating the reigning Stanley Cup Champion, Washington Capitals, 6-3.
The Predators had been on a bit of a slide, losing their last six games, and the victory today could be a sign of better things to come.
With their mothers in attendance, the Predators had an extra dose of motivation coming into today's game.
Washington got off to a quick start when Michal Kempny took the face off and whipped a wrist shot past Nashville goalie Pekka Rinne for the early 1-0 lead. The score came at the 4:33 mark of the opening frame.
John Carlson then make an unbelievable pass to Jakub Vrana as he was falling down, and Vrana buried the shot and suddenly the Capitals were leading, 2-0.
Rocco Grimaldi scored the first goal of the game for the Predators at 9:08 of the first period, taking a Zac Rinaldo pass and chipping the puck past Braden Holtby to bring the Predators to within a goal, 2-1.
Washington would then take another two goal lead at 8:22 of the second period when a two on one fast break caught the Predators on a line change, and Chandler Stephenson tapped in the easy marker and the Capitals took a 3-1 lead.
That's when things got interesting.
Mikka Salomaki took a Nick Bonino feed at 9:57 of the second period to pull to within a goal to make the score, 3-2 in favor of the Capitals.
Ryan Johansen then took a Roman Josi rebound to tie the game, 3-3, at 11:59 of the middle frame, and the Predators had all of the momentum.
Washington never let up and continued to apply pressure on Nashville goalie Pekka Rinne, but the reigning Vezina Trophy winner stood tall in net, blocking 22 shots on goal to keep the Predators in the game.
Nashville was far from done scoring as Frederick Gaudreau chipped in another rebound off of Holtby to score the third straight Predators goal and Nashville finally took their first and final lead of the game, 4-3. It would prove to be the winning goal at 14:30 of the second period.
Ryan Ellis would add to the Predators lead at 10:35 of the third period on a snapshot to put the Predators ahead, 5-3. Viktor Arvidsson would put the final touches on this one at 18:00 of the third on a wrist shot and that would be the final line, 6-3.
Nashville, who had not had any trouble putting shots on net of late, finally broke through today scoring their six goals on 34 shots. Washington only had 25 shots on goal and Alex Ovechkin was a non event in today's contest.
The Predators return home on Thursday night to host the Philadelphia Flyers at the Bridgestone Arena. Puck drops at 7:00pm.