APSU Sports Information

Clarksville, TN – Austin Peay State University (APSU) men's basketball team wasted no time making a strong statement in Ohio Valley Conference play.
You don't want to trifle with the Governors this year.
Behind exceptional shooting nights, including a career day from one of the newer faces on the roster, Austin Peay (9-5, 1-0 OVC) dispatched Eastern Kentucky (7-7, 0-1) in a wire-to-wire 93-75 victory in the Dunn Center.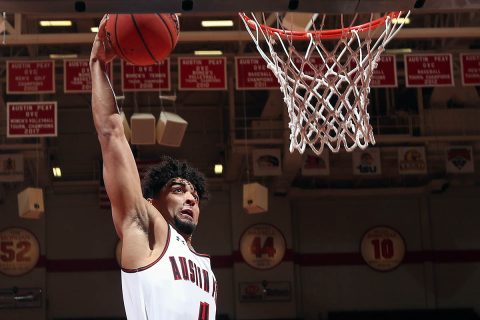 The Govs planned to make it a long night for the Colonels from the opening tip and that plan was executed flawlessly.
Thanks to four early three-pointers from grad transfer Jarrett Givens, Austin Peay found itself off to a 16-8 lead by the first media timeout, and built on its momentum from there.
The lead mushroomed to 21 points, with Austin Peay hitting an incredible 17 of its first 23 shots, including 8-of-11 from beyond the arc.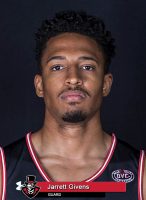 Eastern Kentucky cut the lead to 15, once, with 5:25 to go after back-to-back threes by Dujuanta Weaver. A frustrated Austin Peay head coach Matt Figger called timeout, and the Govs outscored the Colonels 12-6 the rest of the half, with Eastern Kentucky hitting just one more shot from the floor over the final 5:25.
Givens was the story in the first half, though. The Tempe, Arizona native hit his first six three point attempts and scored 20 points over the first 20 minutes; it was a career night for him before he even re-entered the locker room at halftime.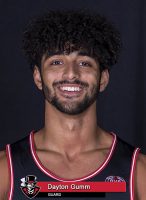 Givens started the second half with a three; he'd finish with a career-high 25 points. Dayton Gumm sliced the lane time and again for dunks, and when he wasn't doing that, he popped from the outside.
In his first game as a Gov, junior Isaiah Hart sank a pair of threes, including a banker as the shot clock expired with 13:32 to play in the game. The lead ballooned to 28 points with under seven minutes to go.
The addition of Hart gave Figger a bit more of a bench to play with, and perhaps that helped contribute to a late 13-3 run by the Colonels to make the final margin a bit more narrow. Regardless, the Govs made a strong opening statement to the rest of the league on opening night of conference play.
The Difference
Givens, Gumm and Hart may have found the range from deep, but the crucial space created by them simply gave Austin Peay more room to work in the paint.
Between slashing to the rim, running out in transition and the generally stellar play of sophomore Terry Taylor (24 points, six rebounds), the Govs piled up a 52-36 advantage against the Colonels in the paint.
APSU Notably
The Govs won their third straight against the Colonels for the first time since 2010-11.
Givens' 20-point first-half was the first 20-point half by a Gov during the 2018-19 season. His seven three-pointers, meanwhile, were the most by a Gov since the 2016 OVC Tournament (J. Savage vs. UT Martin, March 5th, 2016). His 9-of-11 (81.8 percent) from the floor and 7-of-8 (87.5 percent) from three are both career-bests as a Gov.
Austin Peay hit 52.4 percent (11-of-21) from deep as a team, its first team-wide 50 percent or better showing since another 52.4 percent showing last season against Eastern Illinois in the OVC Tournament quarterfinals.
Twenty-three EKU turnovers turned into 32 Austin Peay points, the Governors most against a Division I foe since Miami U., November 26th, 2017 (31).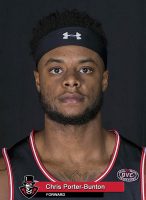 Senior Chris Porter-Bunton equaled a career-high with seven assists. He also tied Taylor with a team-high six rebounds, and is now averaging 8.2 rebounds per game over the last six contests.
With 11 three-pointers, the Govs have now reached double-digits from beyond the arc five times this season; Austin Peay did that just four times in all of 2017-18.
Austin Peay won its OVC opener in back-to-back seasons for the first time since winning five straight from 2006-10.
As a team, the Govs finished with 22 assists, their first 20-assist night against a Division I opponent since February 3rd, 2018 (Southeast Missouri, 23).
Austin Peay's bench is now averaging 31.7 points over the last six games, thanks in no small part to Gumm—his 15 points against the Colonels pushed his average during that stretch to 11.8 points.
Speaking of Gumm, he's now shooting 58.5 percent (31-of-53) since moving to a reserve role in the Troy contest.
The Govs finished with a season-low 11 fouls committed.
Freshman Antwuan Butler posted a career-high nine assists, all while committing just one turnover; his season assist-to-turnover ratio sits at 3-to-1 after that performance. He also chipped in with a career-best five rebounds.
The Govs are now 4-0 at home for the first time since 2005-06.
The Givens-Taylor-Zach Glotta–Steve Harris-Porter-Bunton starting lineup is now 7-1 on the season.
Coaching Quotables with APSU Head Coach Matt Figger
On Givens and Gumm
"He got us going, and I've been waiting on that. I told him I'd been waiting on him to make a couple of threes to open the game up for us. Everybody pays so much attention to Zach Glotta, and I'll tell you this: since Dayton has been checking in off the bench, he's been playing really well."
On the state of the team
"We're in a good place. We've won seven of our last eight and we're comfortable with the lineup we've got, everybody is starting to identify and learn their roles."
Up Next for APSU Govs
The back end of the opening weekend of conference play finds the Govs hosting Morehead State, Saturday, January 5th; that contest, which follows the women's game against the Eagles, is tentatively scheduled for 4:00pm.