APSU Sports Information

Clarksville, TN – Another one. That's about all you can say about Austin Peay State University men's basketball right now. Another opponent. Another home game. Another Ohio Valley Conference contest.
Another win. The Govs broke out early and never looked back, dispatching Morehead State 81-67 in the Dunn Center to sweep the opening weekend of OVC play.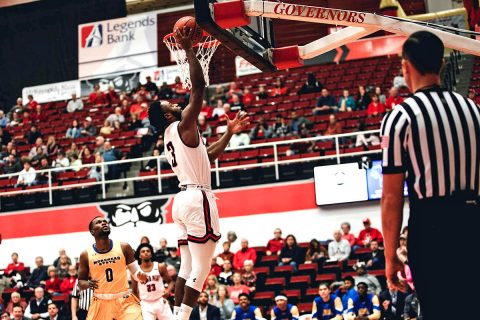 Prior to tipoff, the refs made senior Chris Porter-Bunton remove his headband, citing a violation of rules.
Sufficiently annoyed at the slight, Porter-Bunton proceeded to score 11 points in the first seven minutes of play, part of a solid offensive start for both teams—the Govs hit five of their first six shots (Porter-Bunton was 4-of-4) and Morehead State (4-11, 0-2 OVC) was no slouch in the early going itself, hitting five of its first eight offerings from the floor.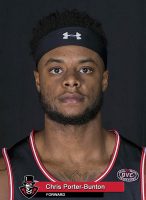 While the Govs cooled slightly after their (in fairness, mostly Porter-Bunton's) hot start, Austin Peay (10-5, 2-0) still managed to shoot a more than respectable 55.2 percent (16-of-29) for the half.
Morehead State was not as fortunate; the Eagles went from pretty good to lukewarm to ice-cold, finishing the half at 29.0 percent (9-of-31) and missing nine of their final 10 shots from the floor.
Foul trouble caught up to the Govs early in the second half—by the first media timeout, Austin Peay had already been whistled for five fouls, with both Porter-Bunton and grad transfer Jarrett Givens hitting the pine after picking up their third personals.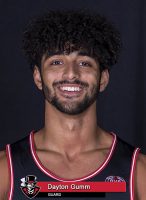 The "next man up" mentality that has defined this team for much of the year came to the forefront once more.
With two of the starters missing a large chunk of action early in the second half, it was a good opportunity for Dayton Gumm to take over, and so he did. A three-pointer from the left wing kicked off a 10-2 run, of which the sharpshooting sophomore contributed six points—he also converted an old-fashioned three-point play to increase the lead to 22 points.
Contributing alongside Gumm was grad transfer Jabari McGhee; the Albany, Georgia native scored nine points and pulled down seven rebounds in the second half alone.
The Gumm-McGhee duo battled Morehead State's Malek Green to help Austin Peay reestablish control of the boards in the second half, with Gumm and McGhee pulling down 14 of Austin Peay's 22 second-half rebounds.
Morehead State turned up its intensity on the offensive end late, outscoring the Govs 40-35 in the second half, and Austin Peay went 3-for-13 from the floor with three turnovers from the 18:12 mark in the second half until 9:44 remained.
Despite that, Austin Peay's lead actually increased during that stretch—from 17 points at its start to 20 at its end—and the Eagles never got closer than the 14-point margin the game ultimately settled at.
The Difference
Basketball can be a remarkably simple game sometimes. You shoot better than the other team, you win. When you shoot 45.0 percent (27-of-60) from the floor as the Govs did, and hold your opponent to 34.9 percent (22-of-63), as the Govs also did, a lot would have to go wrong to lose and that did not happen to the Govs on Saturday.
The Govs are now 9-0 when outshooting their opponents this season.
APSU Notably
In earning victory No. 10 in the season's 15th contest, this is the fastest an Austin Peay squad has reached double-digits in victories since 2000-01 (13 games).
Austin Peay's reserves are now averaging 32.3 points over the last seven games, going 6-1 in those games.
Gumm is a big reason the reserve unit has been so effective; he's averaging 13.3 points during the last seven games, and hitting a ridiculous 58.1 percent (36-of-62) from the floor since shifting into his new role as instant offense for the second unit.
The win gives Austin Peay back-to-back victories against Morehead State for the first time since 2010. Austin Peay is now 47-18 all-time at home against Morehead State.
The Govs imposed their will on the interior, blocking nine shots as a team—their most since a program-record 17 blocks against Berea, November 16th, 2014. Sophomore Terry Taylor led the way with a career-high tying three blocks, the best individual effort by a Gov this season.
Gumm (20 points, 10 rebounds) and McGhee (14 points, 13 boards) are the first Governor teammates with double-doubles in the same game since Taylor and Averyl Ugba in last season's CIT quarterfinals.
Taylor was 3-of-3 at the charity stripe and has now hit 11 straight dating back to the December 22nd contest against Liberty.
For the second year in a row, Austin Peay is off to a 2-0 start in league play.
McGhee's 13 rebounds were a career-high as a Governor. His double-double was the first of his Austin Peay career.
Gumm's 20-point showing was his first this season and the fourth of his career. Two of those four have been against Morehead State, with the last coming in last season's January 27th contest in the Dunn Center.
His 10 rebounds eclipsed his previous career-high by three and made him the first Gov guard since Khalil Davis (December 28th, 2015) with a 20-point, 10-rebound game. As if that weren't enough, he tied his career-high with four three-pointers and now needs one point for 500 in his career.
Senior Zach Glotta played his 2,000th career minute and also hit a three-pointer; he now needs six to break into the top-10 all-time in career three-pointers by a Gov.
Porter-Bunton finished with 19 points on 7-of-11 shooting, his 30th career double-digit scoring effort; he needs to average 15.3 points over the final 16 regular season games to reach 1,000 points in his career.
For the first time this season, the Govs won despite committing more turnovers than their opponent (11 for the Govs, nine for Morehead State).
The Govs outscored Morehead State 12-9 in points off turnover despite securing a season-low one steal.
Senior Steve Harris scored 12 points and has reached double digits in three of the last four games, averaging 12.3 points during that time.
This is Austin Peay's first 5-0 start to the home schedule since 2005-06.
Coaching Quotables with APSU Head Coach Matt Figger
Overall Thoughts
"We won. We defended pretty well after the first media timeout. We got another great game from Dayton Gumm off the bench. I think Dayton's gotten really comfortable with his role. He understands it, and he's really mature."
On Jabari McGhee
"He gave us a big lift in rebounding and things like that. He and Dayton came and gave us a big spark. As good as Jarrett (Givens) was against Eastern, he had an off-night and Zach continues to struggle with his game—on the offensive end, not so much defensively—those guys (McGhee and Gumm) gave us really good minutes.
Up Next for APSU Govs
As Austin Peay continues to prove impervious at home, it's back on the road once more, this time a four-game jaunt beginning Thursday, January 10th, 2019 at Southeast Missouri.