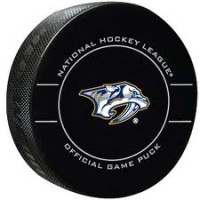 Toronto, Ontario, Canada – The Nashville Predators continue to roll on this ambitious road trip, defeating the Toronto Maple Leafs, 4-0. That gives the Predators five out of a possible six points in their last three games.
Nashville used a stiff defense tonight and a brick wall in net, Pekka Rinne, to thwart the Leafs.
After a scoreless first period, Mattias Ekholm got the Predators on the board at 4:08 of the second period, hammering a slap shot from the point and the power play goal gave Nashville the 1-0 lead. Craig Smith and Kevin Fiala had the assists. Fiala has 7 points in his last six games.
P.K Subban then gave the Predators a 2-0 lead at 13:11 of the second frame when he took the face-off win from Matt Irwin and blasted the puck past Toronto goaltender, Michael Hutchinson.
It was all Nashville going into the third period as a frustrated Toronto squad just couldn't hit the net, even though they had several open net opportunities.
Colton Sissons put his name on the scorecard at 17:23 of the final period with a beautiful backhand shot in front of the net and Nashville would seal this one away at 3-0.
The final tally would come from Kevin Fiala at 19:22 of the third period on a wrist shot for the final score of 4-0.
Nashville put 32 shots on goal to Toronto's 18. Pekka Rinne records the shut-out and Predators fans all get a free Frosty for their support.
Nashville will travel to the windy city of Chicago for a Wednesday night matchup with the Blackhawks, then turn right around and play the Columbus Blue Jackets on Thursday.
The Predators hold the top spot in the Western Conference over the Winnipeg Jets. Nashville returns home on January 15th to host the Washington Capitals.