UT Athletics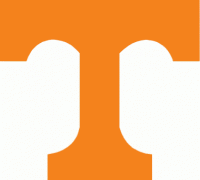 Columbia, MO – No. 3 Tennessee Vols Basketball rebounded from a slow start to cruise to an 87-63 win at Missouri Tuesday night at Mizzou Arena.

The Vols (13-1, 2-0 SEC) extended their winning streak to nine games with the victory. UT's 87 points were the most the Tigers (9-4, 0-1 SEC) had allowed this season.

After going down by nine early on, the Tennessee Vols rallied to the 24-point win on the road. Kyle Alexander posted another strong performance in the paint, recording 14 points, a career-high 17 rebounds and three blocks for his third double-double of the season–and second in a row.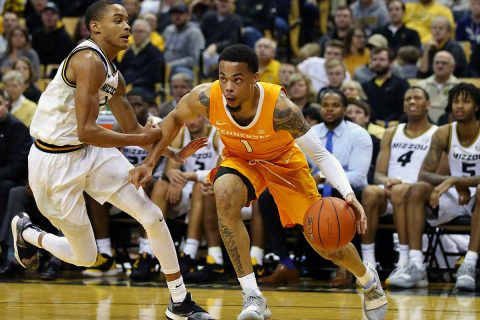 Jordan Bowden
dropped a game-high 20 points on 7-of-12 shooting in 26 minutes of play.
Jordan Bone
added 17 points, five rebounds and five assists.
Admiral Schofield
posted an all-around performance with 16 points, nine rebounds, four assists and two steals.
For the sixth consecutive game, Tennessee scored 80 points and shot better than 50 percent (31-of-58) from the floor to find the win column.
Mizzou had all the momentum to begin the game, taking a 27-18 lead behind five 3-pointers. However, the rowdy crowd wouldn't rattle the Tennessee Vols, who answered with a 13-0 run of its own to retake the lead.
After a 10-of-19 shooting start for MU, the Big Orange settled in on defense and didn't allow a basket during the final 7:04 of the half. UT knocked down eight of its final 12 shots and ended the period on a 24-4 run to lead 42-31 going into halftime.
Bone led all scorers at the break with 15 points on 4-of-6 shooting from the floor, while Bowden chipped in 10 points on his own. Alexander grabbed nine rebounds in the half to go along with six points.
Hot Half For Jordans
Jordan Bone and Jordan Bowden combined for 25 points in the first half to spark Tennessee's offense after a slow start. Bone dropped 15 points behind a pair of threes, while Bowden scored 10. The duo scored 20 of UT's final 31 points in the half to give the Vols a 42-31 lead at the break.
Alexander The Great
For second game in a row, Kyle Alexander went off in the paint for a double-double. He finished with 14 points and a career-high 17 rebounds. It was his third double-double of the season and the fifth of his career. Alexander became the first Vol since Jarnell Stokes (18 vs. Mercer, 3/23/14) to record at least 15 rebounds in a game.
Shooter's Rim (Cont.)
Over the course of its past six games—contests against Memphis, Samford, Wake Forest, Tennessee Tech, Georgia and Missouri—Tennessee shot a combined 194-for-349 (56 percent) from the field. The Vols have eclipsed 50-percent shooting during each of those six wins.
Up Next for Tennessee Vols
After Tuesday's showdown, Tennessee will face another challenging road test by taking on the Florida Gators in Gainesville. That game will take place Saturday at 5:00pm CT and will be televised on ESPN.