#13 Tennessee Lady Vols (12-2, 1-1 SEC) vs. #16 Kentucky (14-2, 1-1 SEC)
Thursday, January 10th, 2019 | 6:02pm CT
Knoxville, TN | Thompson-Boling Arena | TV: SEC Network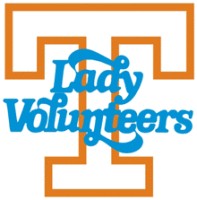 Knoxville, TN – The No. 13/13 Tennessee Lady Vols (12-2, 1-1 SEC) closes out a two-game home stand with a Thursday night clash in Knoxville against border rival No. 16/16 Kentucky (14-2, 1-1 SEC). Tip-off is slated for 6:02pm CT at Thompson-Boling Arena, with the game being carried by the SEC Network, the Lady Vol Radio Network and SiriusXM.
This marks the 67th meeting between these programs in a series that ranks behind only UT-Vanderbilt (80 games) and now ties with UT-Georgia (67 games) for most times played.
The Tennessee Lady Vols will try to bounce back from a Sunday setback on The Summitt, as Missouri upset Tennessee, 66-64, with a 6-for-9 three-point barrage in the second half providing the catalyst.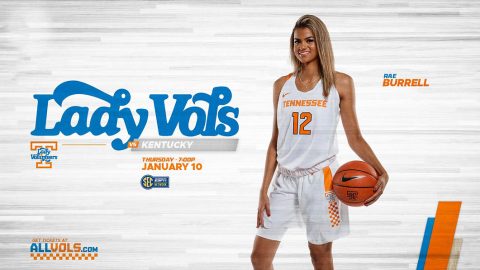 The UT-MU contest was a back-and-forth affair the whole game, with the Tigers using 4-of-6 long-range shooting in the third stanza to win the period 24-21 and forge a two-point margin they were able to maintain despite repeated UT responses.
Kentucky also will attempt to get back in the win column after falling in Starkville to (then) No. 7/6 Mississippi State on Sunday, 86-71.
The UK-MSU game also was a back-and-forth battle over the final three periods, with each team winning a quarter and tying in the final one.
The Bulldogs, however, built a 15-point edge in a 26-11 first quarter that the Wildcats were never able to trim.
Tennessee enters with a 7-2 home record, its only losses to No. 8/9 Stanford and to Mizzou. Kentucky is playing only its third road game of the season and stands 0-2 with losses at No. 2/2 Louisville (80-75 on December 9th) and Sunday at No. 7/6 Mississippi State.
UT and UK both have played Murray State, with the Tennessee Lady Vols winning 98-77 on December 28th and the Wildcats defeating the Racers, 88-49, on December 21st.
Broadcast Information
Paul Sunderland (play-by-play) and Debbie Antonelli (analyst) will describe the action for the SEC Network.
Mickey Dearstone is handling the call for IMG College/Lady Vol Network radio/online broadcasts for the 20th season. A link to the live audio stream can be found on each game's Hoops Central page or the Tennessee Lady Vols schedule on UTSports.com.
Air time for games on the Lady Vol Radio Network generally occurs 30 minutes prior to tip-off.
For UT home games, the Lady Vol Network has a low-power transmitter that makes the game available on the radio at 99.3 FM.
The game also can be found on Sirius 94, XM 190 and on SiriusXM app 961.
Game Promotions
Kids 12 & younger can pick up a wristband at the Fan HQ table on the concourse to participate in the pregame high-five tunnel. Wristbands are limited. To purchase discounted group tickets and reserve wristbands for your team, call 865.946.7000.
Help us Spark the Summitt during introductions at the game. Download our new free light-up app, courtesy of Coca-Cola. Once downloaded, simply open your Hoops Hype app when the lights go out, and let your phone do the rest.
Tickets are available for as low as $10.00 at AllVols.com.
There is free parking & shuttle service available from UT's Ag Campus. Shuttles begin two hours prior to tip-off.
UT-Kentucky Series Notes
This marks the 67th edition of UT vs. UK, with the Lady Vols leading the series, 55-11.
UT has faced only two other teams more times than the Wildcats – Vanderbilt in 80 meetings and Georgia in 67 games. This game will tie the UGA series, but the Lady Vols face Georgia in game 68 on Sunday.
The Lady Vols own a 24-3 mark against UK in games played in Knoxville, with the Wildcats only winning on Rocky Top in 1983, 1985 and 2014.
Tennessee is 21-8 vs. UK in Lexington and 10-0 at neutral sites. The Lady Vols are 9-0 in postseason games.
UT is 3-1 in overtime games vs. Kentucky, including 3-0 in Lexington and 0-1 in Knoxville, with the last OT contest in the series coming in 1994.
Holly Warlick is 6-3 as head coach vs. Kentucky, including 2-1 in games played on The Summitt, and was 7-1 as a player vs. Kentucky from 1976-80, going 3-0 in Knoxville vs. the Wildcats.
The Tennessee Lady Vols have won two straight and six of the past seven games vs. Kentucky.
About the Tennessee Lady Vols
Hot Shots
Rennia Davis (14-23/.609) and Cheridene Green (8-13/.615) are both off to great shooting starts from the field, sizzling the nets for 61 percent accuracy. Zaay Green is hitting 50 percent (8-16).
Working The Glass
UT has been led in rebounding the past two games by Rennia Davis (11.5 rpg.) and Cheridene Green (9.0), with Zaay Green (6.0) right behind them. UT is +10.5 on the boards, with an average tally of 42.0 to 31.5 in two league contests.
Free Throw Accuracy
Meme Jackson (8-8/1.000) and Rennia Davis (8-9/.889) have set the tone from the charity stripe in SEC play, and Zaay Green (3-3/1.000) appears to be following their lead.
As Jackson Goes
In the 12 games UT has won,
Meme Jackson
has averaged 14.7 points per game (58-122 FG, .475). In the Lady Vols' two losses, the senior has averaged 9.5 ppg. (4-23 FG, .174).
We Like Road Gyms
Wait. What? Everyone likes playing in their home gym and having the home crowd behind them, but thus far the Lady Vols actually shoot better on the road in all categories. UT is shooting .439 (FG), .341 (3FG) and .687 (FT) in nine home games and is shooting .489 (FG), .392 (3FG) and .727 (FT) in three road contests.
Defending The Three
The Tennessee Lady Vols have lost two games, and the common denominator in those setbacks was UT allowing double figures in three-pointers made. UT gave up 14 to Stanford and 10 by Missouri. UK comes in shooting .401 and averaging 8.1 threes per contest.
More Assists=More Points
UT managed only seven assists vs. Missouri on 22 made baskets. The result was only 64 points and a loss. Tennessee's second lowest point total this season (65 vs. Stetson) came when the Lady Vols tallied only nine assists on 19 made baskets.
Last Time Out For The Tennessee Lady Vols

No. 10/10 Tennessee Lady Vols was edged out by Missouri, 66-64, in its SEC home opener Sunday afternoon at Thompson-Boling Arena in front of a season-high crowd of 9,113.
Tennessee trailed by five points with less than 90 seconds remaining but fought back and had a shot to win at the buzzer. Rennia Davis' runner in the lane fell short.
Davis and Evina Westbrook led the way for Tennessee (12-2, 1-1 SEC) with 16 points each. Cheridene Green finished with 13 points and 14 rebounds, her second double-double of the season and a career-high mark on the boards.
Missouri (13-3, 2-0 SEC) was paced by senior guard Sophie Cunningham, who finished with 20 points, six rebounds and six assists.
The contest was back-and-forth for the entire game, as the lead changed 13 times and neither team ever held a lead larger than five points.
About the Kentucky Wildcats

Kentucky returned 11 letterwinners, including three starters from a year ago.
Seniors Maci Morris (16.2 ppg.) and Taylor Murray (13.1) have picked up where they left off last season, and freshman Rhyne Howard (Cleveland, Tennessee) has started every game and leads UK in scoring (17.4) and rebounding (7.0).
KeKe McKinney (Knoxville, Tennessee/Fulton H.S.) is the other returning starter (5.3 ppg., 4.9 rpg.).
Murray is the SEC active career leader in steals (243) and assists (394), while Morris is fourth in scoring (1,468) and Murray is eighth (1,171).
Howard is the SEC's No. 6 scorer at 17.4 ppg.
Wildcats head coach Matthew Mitchell was on the UT staff in 1999-2000 as a graduate assistant.
UK Associate Head Coach Kyra Elzy played at Tennessee from 1996-2001 and was an assistant coach and associate head coach at UT from 2012-16 in between stints working with Mitchell at Kentucky as an assistant coach and associate head coach (2008-12, 2016-present).
Kentucky assistant Niya Butts played at Tennessee from 1996-2000, while Amber Smith, who played at Kentucky from 2008-12 and was a graduate assistant in 2013-14 at Tennessee, also is a UK assistant.
Lin Dunn, assistant to the head coach, earned her master's degree from Tennessee in 1970 after completing her undergraduate work at UT-Martin.
A youthful UK team finished 15-17 overall and 6-10 in SEC play, good for ninth, in 2017-18.
Maci Morris was named All-SEC Second Team and Taylor Murray made the SEC All-Defensive Team.
Kentucky Wildcats Last Game
Maci Morris scored 20 points and Rhyne Howard added 15, but it was not enough as 16th-ranked Kentucky lost to seventh-ranked Mississippi State, 86-71, on Sunday at Humphrey Coliseum.
Mississippi State (14-1, 2-0 SEC) took advantage of its superior size, controlling the paint for most of the game. The Bulldogs had a 48-24 advantage on the boards, outscored Kentucky 25-12 in second-chance points and scored 48 points in the paint compared to Kentucky's 22.
The Last Time We Met
The No. 7/7 Tennessee Lady Vols improved to 13-0 overall and 1-0 in the SEC on December 31st, 2017, defeating UK (8-7, 0-1 SEC) 63-49 in front of a crowd of 8,921 at Rupp Arena.
The victory was UT's first in the venue in three tries.
The Tennessee Lady Vols were led in scoring by freshman Evina Westbrook, who tied her career high with 17 points. Maci Morris led Kentucky with 18.
Last Time UT and UK Played in Knoxville
Redshirt junior Diamond DeShields made a huge return to the hardwood in Tennessee's 72-65 home win over No. 17/23 Kentucky on January 1st, 2017.
After missing the last previous two games, DeShields scored 21 points on 50 percent (8-of-16) shooting. Fellow redshirt junior Mercedes Russell scored 22 points and grabbed nine boards.
Taylor Murray finished with 23 points for the Cats.
Coming Up for Tennessee Lady Vols
After hosting UK, the Tennessee Lady Vols hit the road for games at Georgia on Sunday (3:00pm CT/ESPN) and at Alabama next Thursday (8:00pm CT/9:00pm ET/SEC Network).