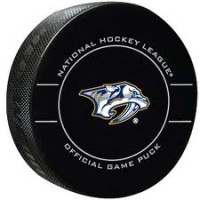 Chicago, IL – The Nashville Predators almost let this one slip away tonight in Chicago, but Filip Forsberg saved the day with his overtime winner to defeat the Chicago Blackhawks, 4-3.
Nashville had led the entire game and looked poised to win the game when Artem Anisimov sent the game to overtime with the goal at 17:39 of the third period.
Pekka Rinne was superb in net, as always, keeping the Predators in the game, stopping 34 of 37 shots on goal. The Predators had 31 shots on goal on the night.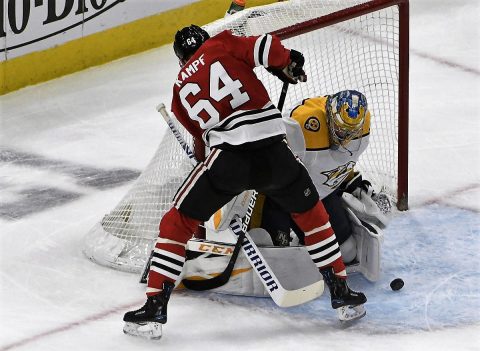 Colton Sissons took a sweet pass from Kevin Fiala for the opening score with a hard one timer to put the Predators ahead 1-0 at 6:49 of the opening frame.
Alex DeBrincat then took a perfect feed from Patrick Kane to score the power-play goal for Chicago at 17:51 and the Blackhawks drew even at 1-1.
Then it was Viktor Arvidsson who was off to the races. Just 8 seconds after the Chicago goal, "Arvi" took a pinpoint pass from P.K Subban on the breakaway and scored on a beautiful backhand shot and the Predators regained the lead at 2-1.
In the second period, Filip Forsberg showed that he was back in full form after his injury, firing a wrist shot from above the circle that beat Chicago goalie, Collin Delia at 16:26 and the Predators had a two goal lead, 3-1.
The two goal cushion didn't last long though. Jonathan Toews took a Marcus Kruger pass and fired a shot over the shoulder of Rinne and the Blackhawks were within a goal, 3-2.
With time winding down on the contest, Chicago took advantage of a sloppy play by the Predators, turning the puck over in their own zone and Anisimov scored the tying goal, and suddenly the game was headed to overtime, tied at 3-3.
But that's when Forsberg showed why he is one of the elite players in the NHL. As the Predators controlled the puck in the entire overtime period, "Flip" managed to slip the game winner over the shoulder of Delia and it was game over.
The six game road trip is proving to be a productive one for Nashville, with wins in their last four games. Nashville will travel to Columbus for a Thursday night match-up with the Blue Jackets, and former teammate, Seth Jones.
The Predators return to Bridgestone Arena on Tuesday where they'll host the Washington Capitals. Puck drops at 7pm.