APSU Sports Information

Boston, MA – Austin Peay State University (APSU) sophomore men's basketball player Terry Taylor has been named to the 2018-19 Lou Henson Award Mid-Season Watch List, announced Wednesday.
The Lou Henson Award is presented annually to the nation's top mid-major player in Division I college basketball.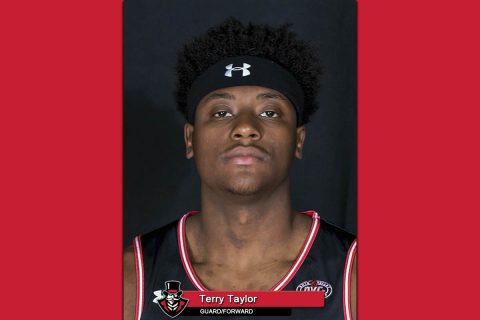 Taylor has certainly earned his place among the nation's top mid-major players. At the season's midway point, Taylor is averaging 17.1 points and 8.3 rebounds on 52.6 percent shooting from the floor and 72.3 percent at the charity stripe.
He's also protecting the rim, averaging 1.1 block per contest. He's the first Governor in the 10-year history of the award to earn a spot on the mid-season watch list.
Three times this season, Taylor has earned Ohio Valley Conference Player of the Week honors. The first time coincided with the first three games of Jamaica Classic, during which Taylor averaged 19.7 points, 13.0 rebounds and 1.3 blocks on 51.2 percent shooting.
His second honor came after a 32-point, 11-rebound outburst against Purdue Fort Wayne, setting career-highs in scoring, made field goals (14) and assists (five); in addition to his OVC honor, Taylor also took home Tennessee Sports Writers Association Player of the Week.
He showed his prowess during tournament play a month after Jamaica at the St. Pete Shootout, with his 32-point outburst against Liberty earning him Tournament MVP honors and a second OVC Player of the Week accolade.
The sophomore ranks among the league-leaders in scoring (fourth, 17.1 ppg), rebounds (sixth, 8.3 rpg), field goal percentage (eighth, 52.6 percent), blocks (sixth, 1.1 bpg), offensive rebounds (first, 3.7 orpg) and defensive rebounds (11th, 4.6 drpg). His offensive rebounds number ranks 13th in the nation entering Thursday's game against Southeast Missouri.
Taylor is on pace to reach the 1,000-point mark in just his second season, a rarity only five other Govs—James Williams, Howard Wright, Kenny Geralds, Lawrence Mitchell and Travis Betran—can claim. At his current pace, he would reach that mark in the February 23rd contest against UT Martin.
Among his peers on the Lou Henson Watch List, Taylor is a rarity; the Bowling Green native is one of just nine underclassmen (freshman and sophomore) on the 50-player list. Three others OVC players—Belmont's Dylan Windler, Eastern Kentucky's Nick Mayo and Murray State's Ja Morant—also made the list.