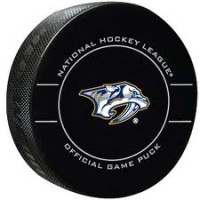 Columbus, OH – The Nashville Predators fought back from a two goal deficit in the third period tonight only to fall short in overtime to the Columbus Blue Jackets, 4-3.
An unfortunate penalty in the OT by Viktor Arvidsson sealed the deal for Columbus as they took advantage of the power play to score the winning goal at 1:22 of the extra period.
The Predators were playing this game with Pekka Rinne in net with the absence of Juuse Saros who was unavailable for the contest. Rinne doesn't normally play in back-to-back games, but was forced into action tonight.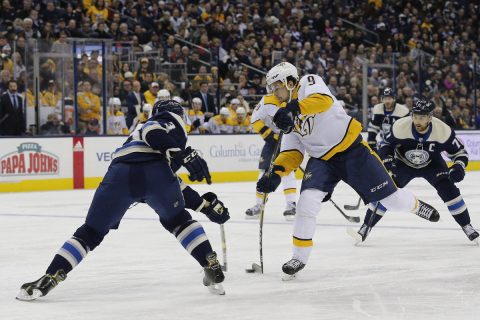 Nashville was behind the proverbial "8-ball" most of the night, as Columbus took the early lead at 6:26 of the opening fram, when Boone Jenner took a pass from Josh Anderson and put a backhanded shot past Rinne for the early 1-0 lead.
The two teams played even throughout the second period with the 1-0 score holding up into the intermission.
But that's when the fireworks of the third period were lit.
Nashville's Nick Bonino brought the Predators even at 4:31 of the final period, taking a feed from Mattias Ekholm and drilling home the one-timer for the equalizer, 1-1.
Artemi Panarin brought Columbus back to the scoreboard at 13:32 of the third period though, taking a Zach Werenski pass and firing a rocket past Pekka Rinne and the Blue Jackets took a 2-1 lead.
Just eleven seconds late though at 13:43, Boone Jenner grabbed a loose puck in front of Rinne and drove home a wrister and suddenly there was a two goal Columbus lead, 3-1.
But wait, we're not done yet!
At 15:07 of the third period, Viktor Arvidsson took a Roman Josi rebound in front of the Columbus net and scored bringing Nashville to within a goal, 3-2.
Then at 15:45, Mattias Ekholm blocked a Columbus shot on goal, then sped down ice to join Colton Sissons on the odd-man rush and scored the tying goal to make it 3-3.
In the overtime period, Columbus controlled the puck and that's when Arvidsson picked up an unfortunate tripping penalty to put the Blue Jackets on the overtime power play. Within seconds of the face-off, Artemi Panarin closed the door on the Predators with a heavy wrister that beat Rinne for the final score, 4-3.
Nashville managed to at least pick up a point on the night and still leads the division over Winnipeg.
The Predators have a high noon contest on Sunday against the Carolina Hurricanes, before returning to Nashville to host the Washington Capitals on Tuesday night.