APSU Sports Information

Martin, TN – That was a close one. Austin Peay State University (APSU) men's basketball team weathered a power outage, several UT Martin onslaughts and a last-gasp shot at the buzzer to prevail in a 72-70 slugfest at the Elam Center, Saturday.
The hard-fought win keeps Austin Peay (12-5, 4-0 OVC) unbeaten in Ohio Valley Conference play, while UT Martin (5-10, 0-4) once more emerged as a hard-luck loser after surrendering late leads against both Southeast Missouri and Eastern Illinois last weekend.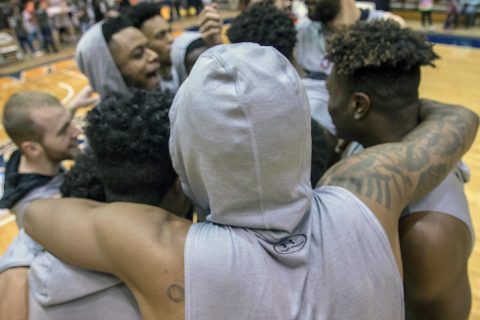 Once more, Jarrett Givens provided an early spark for Austin Peay, sinking four early three-pointers as the Govs raced out to a 16-11 lead, expanding it to 24-16 with less than 11 minutes to play in the half.
Early returns had the Govs handling this contest as well as they had in their previous three league outings.
Then the power went out.
With 8:01 remaining in the half, at 3:59pm, a bank of lights went out in the Elam Center. Shades of last season's home finale against Murray State ensued as coaches, officials and administrators worked to restore power and debated the best way to move forward. Twenty-four minutes later, the ball was in play once more.
Play might have resumed, but it was clear the Govs were off-put by the delay. However, Jabari McGhee took over late in the half, scoring eight of Austin Peay's final 13 points to send the Govs into the break with a 41-38 lead.
The second half was a war for the Governors, who never trailed but also never led by more than five points. Every time the Skyhawks got within a possession, another Gov would step up with a bucket. Often it was sophomore Terry Taylor, who scored 12 of his game-high 20 points in the second half; five of his six second-half buckets came in answer to a UT Martin field goal to make it a one- or two-point game.
In games like this, it's imperative for upperclassmen to come up big in the big moments and Austin Peay was fortunate to have a pair on hand late. After a Quintin Dove dunk at the five-minute mark once again drew the Skyhawks to within two, senior Chris Porter-Bunton willed his way into the paint and sank a jumper.
With 55 seconds to go another senior, Zach Glotta, sank a three to take a one-point game to a four-point game and then Porter-Bunton sank two crucial free-throws with 16 seconds to play—the last of his 13 points on the day, with nine coming in the second half.
Following Porter-Bunton's freebies, Kevin Little drove the length of the floor unabated and dished to Dove for a lay-up to make it a two-point game again; the Govs then missed two free throws to give the Skyhawks a glimmer of hope, but Taylor met Little at the rim this time and blocked his shot to secure the Austin Peay victory.
The Difference
Austin Peay shot 58.0 percent (29-of-50) from the floor and UT Martin shot 43.3 percent (26-of-60). That should be enough of an explainer in itself, but it's crucial to note how much of Austin Peay's success came at or near the rim; the Govs scored 44 points in the paint, compared to just 26 for the Skyhawks, as Austin Peay controlled the interior on both ends of the floor.
APSU Notably
The win is Austin Peay's third straight against UT Martin, their first three-game winning streak against the Skyhawks since 2013-14.
Over the last nine games, the Govs are shooting 51.9 percent (286-of-551) from the floor; they've won eight of those contests.
McGhee finished with 14 points and 10 rebounds, his second double-double in four OVC games. Since the Purdue Fort Wayne game, he's averaging 10.6 points and 6.8 rebounds and hitting 67.3 percent (33-of-49) from the floor.
Austin Peay now owns back-to-back wins in the Elam Center for the first time since winning six straight from 2006-12. It also means Austin Peay is off to a 2-0 start in OVC road play for the first time since 2010-11.
In three of their first four OVC games, the Govs have equaled their season low with eight made free-throws. Today's outing included a season-low 47.1 percent (8-of-17) mark at the line.
Glotta is inching ever-closer to breaking into the top-10 in career three-pointers; he's now two away with 147.
Austin Peay is unbeaten (9-0) when leading at the half in 2018-19.
The Govs have now outrebounded three of their four Ohio Valley Conference opponents and are at plus-nine (plus-2.3/game) in league play.
After blocking three shots in a game just once in his first 47 career games, Taylor has now done it twice in his last four.
The last time Austin Peay started January at 4-0 was 2006-07—the Govs won an OVC regular season championship that year.
Coaching Quotables with APSU Head Coach Matt Figger
On the win
"We didn't deserve it. I told Anthony (Stewart, UT Martin head coach) that we didn't deserve it, they deserved to win. All we did was self-inflict—missed free throws, didn't guard, didn't guard the three-point line, a gazillion turnovers… I'm thankful we got out of here with a win but we didn't deserve to win."
On Porter-Bunton and Glotta
"I trust those guys. Zach wasn't playing great, but I knew to call his number when the game was on the line."
Up Next for the Govs
The road swing continues next Thursday, January 17th as Austin Peay travels to SIU Edwardsville and the Vadalabene Center for a 7:30pm (CT) contest against the Cougars.