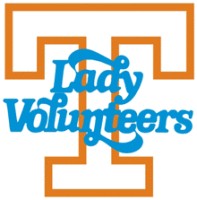 Knoxville, TN – No. 13/13 Tennessee Lady Vols Basketball (12-3, 1-2 SEC) faces back-to-back road games in a five-day span, beginning with a Sunday matinee at Georgia (11-5, 2-1 SEC) on Jan. 13th. Tip-off is slated for 2:02pmCT at Stegeman Coliseum in Athens, with the game being carried by ESPN, the Lady Vol Radio Network and SiriusXM.
This marks the 68th meeting between these programs in a series that ranks behind only UT-Vanderbilt (80 games) for most times played by Big Orange women's hoops. The Lady Vols will try to respond in positive fashion from back-to-back home losses to Missouri (66-64) and #16/16 Kentucky (73-71).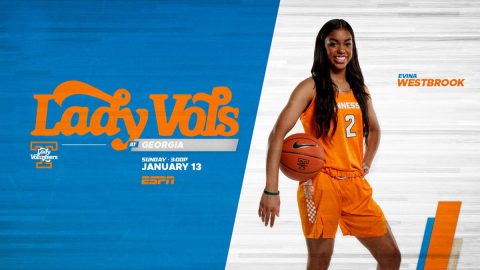 UT has demonstrated an ability to play in tough environments already this season, defeating #12/12 Texas in Austin, 88-82, as well as winning at Oklahoma State (76-63) and Auburn (78-69) to stand 3-0 in true road contests.
Counting a 2-0 mark in winning the Junkanoo Division title at the Junkanoo Jam in the Bahamas, the Lady Vols are 5-0 away from Thompson-Boling Arena this season.
Georgia also will attempt to get back in the win column after falling in Starkville to No. 7/6 Mississippi State on Thursday night, 80-71. The Lady Bulldogs took the lead, 66-63, in the fourth quarter before MSU used a 13-2 run to put the game away and move to 15-1, 3-0 SEC. UGA is 9-0 at home this season with its closest margin there being a 67-60 win over Mercer on Nov. 28th.
UT and Georgia both have played Presbyterian, with the Lady Vols opening the season on Nov. 11th with a 97-49 win in Knoxville. The Lady Bulldogs claimed victory over the Blue Hose in Athens on December 28th, 83-59.
Broadcast Information
Pam Ward (play-by-play) and Carolyn Peck (analyst) will describe the action for ESPN.
Mickey Dearstone is handling the call for IMG College/Lady Vol Network radio/online broadcasts for the 20th season. A link to the live audio stream can be found on each game's Hoops Central page or the Lady Vol schedule on UTSports.com.
Air time for games on the Lady Vol Radio Network generally occurs 30 minutes prior to tip-off.
For UT home games, the Lady Vol Network has a low-power transmitter that makes the game available on the radio at 99.3 FM.
The game also can be found on Sirius 94, XM 190 and on SiriusXM app 961.
Tennessee-Georgia Series Notes
This marks the 67th edition of UT vs. UK, with the Lady Vols leading the series, 55-11.
UT enters Sunday's contest with a 51-16 advantage in the series, having won 18 of the last 20.
The Lady Vols are 14-9 vs. Georgia in Athens all-time, including a loss there in 2017. UT is 22-4 in Knoxville and 15-3 at neutral sites vs. the Lady Bulldogs.
Tennessee is 1-3 vs. UGA in overtime games.
The Lady Vols have a 14-3 postseason record against Georgia after winning in the 2015 SEC quarterfinals.
Holly Warlick is 7-1 vs. Georgia (2-1 vs. Joni Taylor) as head coach. She was 5-0 vs. Andy Landers, Taylor's predecessor.
These programs have met 53 times when both teams were ranked and twice with neither team ranked. This is the 12th occasion when only one was ranked.
Tennessee and Georgia rank No. 1 and No. 2 in SEC regular season championships, with the Lady Vols owning 18 and the Lady Bulldogs having seven.
Tennessee and Georgia met in the 1996 NCAA Championship game in Charlotte, with the Lady Vols prevailing, 83-64, in the first of three straight national championship seasons.
Dawn Marsh dished out a Lady Vol record 18 assists vs. Georgia on March 6th, 1988.
Noting the Tennessee Lady Vols
Davis On The Rise
In three SEC games, sophomore Rennia Davis, a member of the Wooden Award Midseason Top 25 has upped her game. During league play, she's leading UT at 17.0 ppg. and 10.7 rpg. during that span and hitting 54% on FGs, 56% on 3FGs and 80% on FTs. For the season, she's averaging 15.3 ppg. and 8.4 rpg. while hitting 49% on FGs, 49% on 3FGs and 83% on FTs.
London Calling
Senior Cheridene Green has found her groove, averaging 11.0 rpg. and nine ppg. while hitting 48% on FGs in three SEC games. She has posted career high carom totals of 14 vs. Mizzou and 15 vs. Kentucky the past two games..
Get Yourself 20, E!
Sophomore point guard Evina Westbrook led UT with 20 points vs. Kentucky. It marked her seventh 20+ point performance of the season and the ninth time in the past 10 games a Lady Vol has scored 20+.
Pounding The Glass
UT has won the rebounding battle in 13 of 15 games this season. UT pulled down 50 rebounds vs. UK on Thursday night, marking its fifth 50+ carom game of the season. The Lady Vols tied their season high with 28 offensive rebounds.
Friendly Road Rims

Everyone likes playing in their home gym and having the home crowd behind them, but thus far the Lady Vols actually shoot better on the road in all categories. UT is shooting .433 (FG), .335 (3FG) and .675 (FT) in 10 home games and is shooting .489 (FG), .392 (3FG) and .727 (FT) in three road contests.
Gotta Make The Freebies
UT is doing a great job getting to the free throw line (342 times/No. 11 NCAA/No. 3 SEC) and making them (229/No. 21 NCAA/No. 5 SEC). It just needs to knock down a higher percentage of shots at the charity stripe (67.0/No. 219 NCAA/No. 12 SEC).
Warlick's 100TH SEC Game
Sunday's match-up marks the 100th conference regular season game for Holly Warlick, who stands 72-27 (.727) in SEC contests.
Last Time Out for Tennessee Lady Vols
The No. 13-ranked Tennessee Lady Vols fell, 73-71, to the 16th-ranked Kentucky Wildcats on Thursday night at Thompson-Boling Arena.
The Lady Vols (12-3, 1-2 SEC) overcame a 17-point first-quarter deficit and a 16-point third-quarter deficit to pull within two points after a pair of free throws from Meme Jackson with one minute remaining. A three-pointer from Wildcats guard Jaida Roper, however, put the game out of reach for the Big Orange.
Sophomore point guard Evina Westbrook led the charge offensively for the Lady Vols with 20 points, marking her seventh performance of the season of 20 or more points, and added six rebounds. Sophomore Rennia Davis (12 points) and freshman Mimi Collins (career-high-tying 11 points) were the other Tennessee players with double-digit scoring. Senior Cheridene Green dominated the glass with a career-high 15 rebounds, including eight offensively.
Kentucky (15-2, 2-1 SEC) was propelled by a 27-point night from senior guard Maci Morris, who connected at a 4-of-6 clip from deep range and shot over 60 percent from the field.
Noting Georgia
UGA returned nine letterwinners, including three starters from last season.
Caliyah Robinson, Georgia's lone senior, leads the team in scoring (13.6 ppg) and rebounding (8.0 rpg).
Sophomore Gabby Connally is averaging 13.3 ppg on the season and is the team's leading scorer in SEC play at 18.3 ppg, shooting 47 percent from the floor and 56 percent from 3-point range.
Redshirt junior Taja Cole is averaging 11.1 ppg and ranks first in the SEC and seventh nationally with 6.7 assists per game.
Georgia went 26-7 overall and 12-4 in SEC play to finish second in the league in 2017-18.
In the SEC Tournament the Lady Bulldogs defeated Missouri, 55-41, in the quarterfinals before falling in the semifinals to eventual champion South Carolina, 71-49.
Caliya Robinson and Mackenzie Engram each earned All-SEC Second Team honors while Que Morrison made the All-Freshman Team.
Georgia lost in the NCAA Second Round to Duke.
Georgia's Last Game
The Georgia Lady Bulldogs (11-5, 2-1 SEC) built a fourth quarter lead but could not withstand a furious No. 6/7 Mississippi State (15-1, 3-0 SEC) comeback in an 80-71 loss late Thursday night at Humphrey Coliseum.
Down by nine at the half, Georgia came out and hit timely shots to grab a 66-63 lead with just over six minutes remaining.
Caliya Robinson led the Lady Bulldogs with a game-high 26 points.
MSU's Chloe Bibby had a career-best 24 points to lead Mississippi State, while All-America center Teaira McCowan had 18 points and 21 rebounds.
The Last Time We Met
No. 11/11 Tennessee improved to 21-4 overall and 9-3 in SEC play, defeating No. 18/18 UGA (21-4, 9-3 SEC) 62-46 in Thompson-Boling Arena on Feb. 11, 2018.
Redshirt-senior Mercedes Russell recorded 13 points and a game-high 15 rebounds, collecting her 1,000th career rebound and becoming just the sixth Lady Vol to reach that mark.
Senior forward Jaime Nared contributed 15 points for the Lady Vols, while Meme Jackson and Rennia Davis added 11 apiece.
Taja Cole and Mackenzie Engram scored 12 each to lead the Lady Bulldogs.
Last Time They Played in Athens
Despite a season-high 34 points from Diamond DeShields, #RV/25 Tennessee fell short in double overtime against Georgia, 81-78, at Stegeman Coliseum.
Redshirt junior Mercedes Russell posted a double-double with 24 points and a career-high 17 rebounds
Caliya Robinson led the Lady Bulldogs (12-11, 4-6 SEC) with 28 points on 13-of-17 shooting from the field. Mackenzie Engram finished with 18 points and 13 rebounds.
Coming Up for Tennessee Lady Vols
UT plays its second road game in five days on Thursday, January 17th, as the Lady Vols face Alabama at Coleman Coliseum. Tipoff is at 8:00pm CT/9:00pm ET with the SEC Network televising.