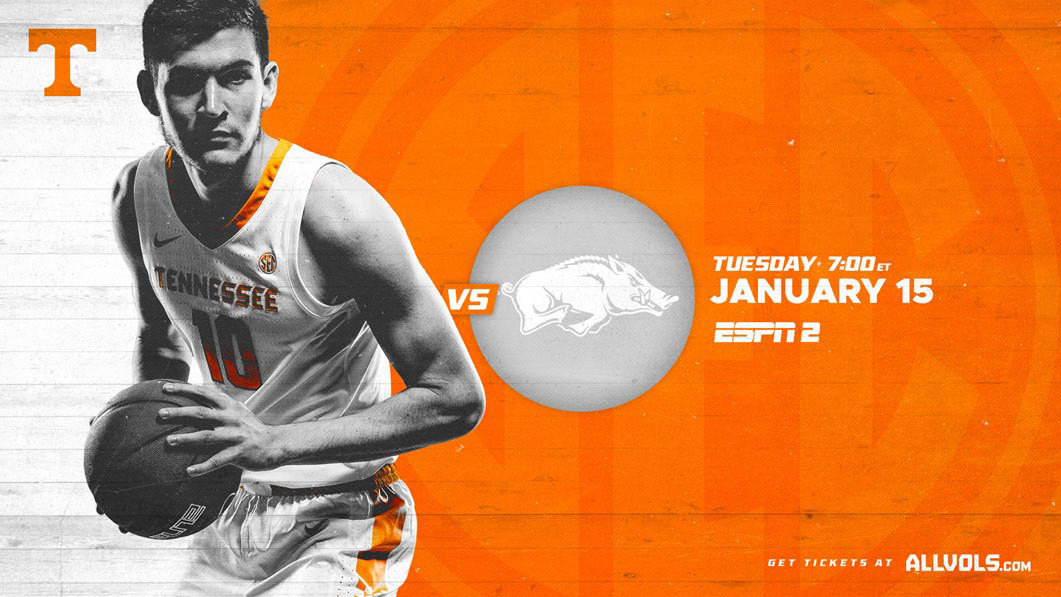 #3 Tennessee Vols (14-1 | 3-0 SEC) vs. Arkansas (10-5 | 1-2 SEC)
Tuesday, January 15th, 2019 | 6:01pm CT
Knoxville, TN | Thompson-Boling Arena | TV: ESPN2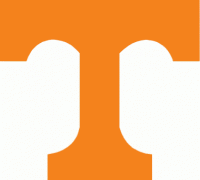 Knoxville, TN – No. 3 Tennessee Vols Basketball returns home Tuesday night after a pair of road games last week to face the Arkansas Razorbacks in Thompson-Boling Arena.
The game will tip at 6:00pm CT and will be televised on ESPN2 and can also be viewed online through WatchESPN. Fans can listen live on their local Vol Network affiliate to hear Bob Kesling and Bert Bertelkamp describing the action.
There are still tickets available for the game. You can visit AllVols.com to purchase tickets for Tuesday's game or any of the other weekday games for the rest of the season.
"Without question, this is the best fanbase I have ever been around," said head coach Rick Barnes. "You talk about 21,000 fans for Tennessee Tech and almost 20,000 for Wake Forest both around the holidays. We already have some games sold out. I can tell you this is the best fanbase I have been around. I can tell you we appreciate it as a program. I know our players love it too."
Tennessee (14-1, 3-0 SEC) enters the matchup riding a 10-game winning streak. Last week, the Vols bested two of the country's top 35 defenses, defeating Florida and Missouri by double digits on their home floors.
Jordan Bowden had an impressive week and was crucial to both of the victories, averaging 18.5 points per game while shooting 52 percent from the field. Against the Gators, he scored 14 of his 17 points in the second half, including a stretch of 12 consecutive points to snap a 4:17 scoreless drought for the Vols.
The scoring spree was capped off by a 3-pointer followed by a steal at midcourt for a one-handed slam at the other end to give UT a 65-63 lead that Tennessee wouldn't relinquish for the rest of the game. It was the Big Orange's first win in Gainesville since 2012.
Arkansas (10-5, 1-2 SEC) is one of the youngest teams in the country with no seniors and only one uppperclassmen on scholarship. Anchoring the group is All-SEC forward and projected first-round draft pick Daniel Gafford, leading the team in scoring (17.5 ppg), rebounding (9.5 rpg) and blocks (2.2 bpg). He ranks 11th in the country in field-goal percentage, shooting an impressive .658 clip. The 6-11 sophomore is a monster in the paint with seven double-doubles to pace the SEC and will be a good matchup for Grant Williams.
After Tuesday's showdown, the Vols host Alabama in Thompson-Boling Arena on Saturday at 2 p.m. ET in front of a sold-out crowd. The game will be broadcasted on ESPN2 and can be streamed online at WatchESPN.
The Series
Tennessee's all-time series with Arkansas is tied, 20-20, dating to 1936.
The Vols have an 11-4 edge when the series is played in Knoxville.
The Razorbacks had won six straight over the Vols before UT posted an 84-66 win in the SEC Tournament last season.
A Win Would
Extend Tennessee's win streak to 11 games. The Vols' last 11-game win streak came during the 2007-08 campaign, when UT reeled off 11 straight victories from November 27th through January 19th.
Stretch the Vols' home win streak to 18 games, dating to last season (this is the longest home win streak of the Barnes era).
Give Tennessee a winning record in its all-time series with the Razorbacks.
Storylines
The Volunteers are receiving 13 first-place votes in this week's AP Top 25 poll.
Tennessee's SEC margin of victory through three league games stands at a robust 27 points.
This is Rick Barnes' longest win streak since he led Texas to 11 straight victories from January 11th-February 16th, 2011.
The Vols have shot 50 percent or better in 12 games this season (and nine of their last 10).
Tennessee has yet to face a double-digit deficit this season.
Tennessee is off to its best 15-game start since also starting the season 14-1 in 2007-08.
With an average attendance of 17,499, Tennessee ranks fourth nationally.
Junior point guard Jordan Bone totaled 124 assists in 35 games last season. He's got 93 assists through 15 games this year.
Layups
Grant Williams leads the SEC in scoring (18.9 ppg), ranks second in field-goal percentage (.583), seventh in assists (3.9 apg) and eighth in rebounding (7.9 rpg).
Admiral Schofield is the SEC's second-leading scorer (17.7 ppg), and is shooting .446 from 3-point range.
Williams and Schofield both earned a spot on the 25-man Wooden Award Midseason Watch List.
Kyle Alexander is the SEC's top rebounder during conference play, as he averages 12.0 rebounds per game.
Jordan Bowden leads the Vols and ranks third in the SEC with 19.0 points per game during league play. And he's doing it off the bench.
Junior guard Lamonté Turner, last season's SEC Co-Sixth Man of the Year, returned from a left shoulder injury just in time for SEC play. He's averaging 9.0 points per game against league opponents.
About the Arkansas Razorbacks
The Arkansas Razorbacks (10-5, 1-2 SEC) lost a lot of talent from last year's squad, as the team's top two scorers both graduated. Now, Mike Anderson is trying to rebuild the program with 13 underclassmen and no seniors on the roster.
Anchoring the group is All-SEC forward and projected first-round draft pick Daniel Gafford, leading the team in scoring (17.5 ppg), rebounding (9.5 rpg) and blocks (2.2 bpg). He ranks 11th in the country in field-goal percentage, shooting an impressive .658 clip. The 6-11 sophomore is a monster in the paint with seven double-doubles to pace the SEC.
Mason Jones is another player to keep an eye on. The sophomore guard ranks second on the team in scoring (14.8 ppg), rebounding (4.9 rpg) and assists (3.1 apg).
Freshman guard Isaiah Joe (14.1 ppg, 1.5 spg) rounds out the double-digits scorers for the Razorbacks. Joe is the team's best 3-point shooter, ranking second in the SEC with a .432 3-point field-goal percentage. On the season, he's knocked down 51 shots from beyond the arc.
Jalen Harris (8.8 ppg, 6.5 apg) is the reason the Razorbacks rank second in the SEC in assist/turnover ratio (1.32). The redshirt sophomore is fifth in the nation in that category with a 4.45 ratio.
Tennessee Vols Last Meeting vs. Arkansas
Hot shooting propelled No. 2 seed Tennessee to an impressive 84-66 wire-to-wire victory over the sixth-seeded Arkansas in the semifinals of the SEC Tournament on March 10, 2018, at Scottrade Center.
The Vols advanced to their first SEC Tournament Championship Game since 2009 and will face the fourth-seeded Kentucky Wildcats on March 11th.
Jordan Bone fueled the Big Orange offense Saturday with 19 points and four assists on the day. He was one of five different Volunteers to score in double figures. Admiral Schofield posted another strong performance with 16 points, seven boards and two assists.
Kyle Alexander
,
James Daniel III
and
Grant Williams
all added 12 points apiece. Alexander also finished with seven rebounds and two blocks, while Williams had five boards, four assists and a block.
The Vols put on a show offensively, shooting 57.1 percent (28-of-49) from the field. That percentage just narrowly missed Tennessee's season-high of 57.5 percent at South Carolina on January 20th, 2018. UT did surpass its season-high for 3-point shooting, making 64.7 percent (11-of-17) from deep.
Despite Arkansas facing a 19-point deficit at the break, the Hogs (23-11) didn't go away quietly. An 8-0 run pulled the Razorbacks within 11 points with 15:24 remaining in the game. To begin the second half, UT was 1-of-8 from the floor.
Tennessee would not relinquish its lead, though, converting on 14 of its 16 trips to the free-throw line during the frame to halt any possible comeback by the Razorbacks.
Memorable Vol Performances Against Arkansas
Bristol, Tennessee, native Bobby Hogsett scored eight points and added 10 rebounds as Tennessee won its first-ever game against Arkansas, 77-57, on December 27th, 1963, in Shreveport, Louisiana.
In front of 21,237 Orange-clad fans, UT knocked off Nolan Richardson's fifth-ranked Razorbacks 83-81 in Knoxville on February 5th, 1992. Lang Wiseman and Allan Houston both scored 26 points.
The Vols upset No. 13 Arkansas in Fayetteville, 101-91, on February 16th, 1993, thanks to a double-double by LaMarcus Golden (22 points, 11 rebounds).
Cleveland, Tennessee, native JaJuan Smith dropped 32 points on the Hogs during a 93-71 win over Arkansas in Knoxville on February 5th, 2008.
Jordan McRae powered Tennessee to an 81-74 win over Arkansas on January 22nd, 2014, exploding for 34 points—including UT's final 13—at Thompson-Boling Arena.
The Last Time Tennessee Vols Lost
When Tennessee tips off vs. Arkansas Tuesday, 52 days will have elapsed since the Vols last lost a game (that lone loss came on November 23rd against Kansas).
The federal government was operational the last time Tennessee lost.
K-State and UCLA both were ranked in the top 20.
College football coach Manny Diaz has held three different jobs since Tennessee's last loss (Miami's defensive coordinator, Temple's head coach, Miami's head coach).
Tennessee's Field-Gold Percentage Through The Roof
During last season's SEC title run, Tennessee shot better than 50 percent from the field in nine games.
This season, the Vols have shot better than 50 percent in 12 games—including nine of the last 10.
Tennessee's top shooting performance this season came against Tennessee Tech on December 29th, when the Big Orange shot .638 (37-58).