Austin Peay State University Sports Information

Murfreesboro, TN – Austin Peay State University (APSU) men's tennis team fell in their season opener to Middle Tennessee, Wednesday, at the Adams Tennis Complex.
The Governors (0-1) went 2-3 in matches against the Blue Raiders (1-0) in tournament play in the fall, but did not have that same success today.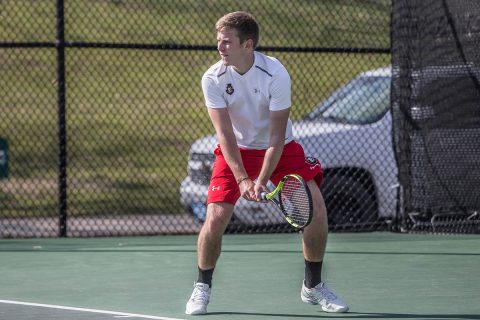 The Blue Raiders quickly went ahead and claimed the doubles point after winning at No. 1 and No. 3 doubles.
MTSU then went on to claim the first three singles matches, winning in straight sets at No. 2, No. 4, and No. 5 singles en route to winning the match.
The Govs return to action with their home opener against Southern Utah, 12:00pm, Saturday, January 19th.
Results
Doubles
1. Chris Edge/Tom Moonen (MTSU) def. Almantas Ozelis/Anton Damberg (APSU) 6-2
2. Gonzalo Morell/Luis Morillo Diaz (MTSU) vs. Christian Edison/Chad Woodham (APSU) 5-3, unfinished
3. Daniel Stormon/Stijn Slump (MTSU) def. Timo Kiesslich/Jacob Lorino (APSU) 6-4
Singles
1. Gonzalo Morell (MTSU) def. Almantas Ozelis (APSU) 6-4, 6-1
2. Stijn Slump (MTSU) def. Christian Edison (APSU) 6-2, 6-3
3. Tom Moonen (MTSU) def. Timo Kiesslich (APSU) 6-2, 6-3
4. Max Rauch (MTSU) def. Anton Damberg (APSU) 6-1, 6-1
5. Chris Edge (MTSU) def. Jacob Lorino (APSU) 6-1, 6-1
6. Pavel Motl (MTSU) def. Chad Woodham (APSU) 6-4, 6-1
Order of finish: Doubles (1,3); Singles (5, 4, 2, 3, 1, 6)