#3 Tennessee Vols (15-1 | 4-0 SEC) vs. Alabama (11-5 | 2-2 SEC)
Saturday, January 19th, 2019 | 1:05pm CT
Knoxville, TN | Thompson-Boling Arena | TV: ESPN2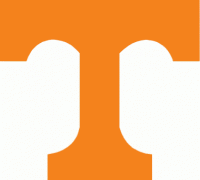 Knoxville, TN – Now riding an 11-game win streak, No. 3 Tennessee Vols Basketball team will host Alabama at Thompson-Boling Arena in front of a sold-out crowd Saturday.
The game will tip at 1:00pm CT and will be televised on ESPN2 and can also be viewed online through WatchESPN. Fans can listen live on their local Vol Network affiliate to hear Bob Kesling and Bert Bertelkamp describing the action.
Tennessee (15-1, 4-0 SEC) boasts one of the nation's top scoring offenses, averaging 87.1 points per game to rank eighth in the country.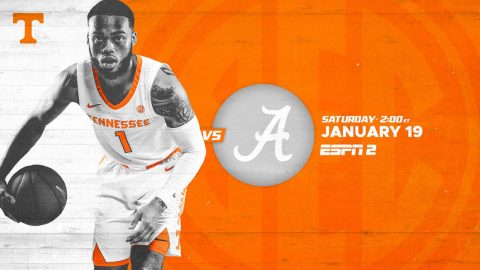 The Tennessee Vols have eclipsed 85 points in nine games this year, and they are coming off an offensive explosion. On Tuesday night, UT defeated the Razorbacks, 106-87, to mark the first 100-point game against an SEC foe since 2008 against Florida.
It was the second time this season that Tennessee breach the 100-point margin, doing so in the game at Memphis (102) as well.
Alabama (11-5, 2-2 SEC) has played well thus far in Avery Johnson's fourth year at the helm of the program. In conference play, UA boast wins over Kentucky and Missouri. During the non-conference slate, the Crimson Tide picked up victories against Arizona, Murray State, Penn State, Stephen F. Austin and Wichita State. Freshman guard Kira Lewis Jr. (14.4 ppg, 2.8 apg) and Donta Hall (11.1 ppg, 8.8 rpg, 2.1 bpg) are the top two scorers for the Crimson Tide and are key pieces to the flow of the team on both ends of the floor.
The anticipation by the fans for this exciting season was felt early on when the Kentucky and West Virginia games sold out shortly after single-game tickets went on sale. Now, all Saturday home games are sold out and limited tickets are left for the remainder of Tennessee's home slate. Visit AllVols.com soon if you're interested in buying tickets for one of our remaining conference games.
"Without question, this is the best fanbase I have ever been around," said head coach Rick Barnes. "You talk about 21,000 fans for Tennessee Tech and almost 20,000 for Wake Forest both around the holidays. We already have some games sold out. I can tell you this is the best fanbase I have been around. I can tell you we appreciate it as a program. I know our players love it too."
The Series
Tennessee trails the all-time series with Alabama, 68-79, dating to 1914.
The Vols have an 46-22 edge when the series is played in Knoxville.
The Tennessee Vols has never been ranked higher than No. 4 in the AP poll (2001) for a clash against Alabama.
A Win Would
Extend Tennessee's win streak to 12 games. The Vols' last 12-game win streak came during the 1976-77 campaign, when UT reeled off 12 straight victories from Dec. 11 through January 30th.

Stretch the Vols' home win streak to 19 games, dating to last season (this is the longest home win streak of the Barnes era).

Give the Tennessee Vols a nine-game win streak in regular-season SEC games.
Storylines
The Volunteers are receiving 13 first-place votes in this week's AP Top 25 poll.
Tennessee's SEC margin of victory through four league games stands at a robust 25 points.
This is Rick Barnes' longest win streak since he led Texas to a 17-0 record to open the 2009-10 season.
Tennessee is off to its best 16-game start since also starting the season 15-1 in 2007-08.
The Vols have shot 50 percent or better in 13 games this season (and 10 of their last 11).
The Tennessee Vols has yet to face a double-digit deficit this season.
Six Vols currently average more than 10 points per game.
With an average attendance of 17,677, Tennessee ranks fourth nationally.
Junior point guard Jordan Bone totaled 124 assists in 35 games last season. He's got 101 assists through 16 games this year.
Layups
Grant Williams leads the SEC in scoring (18.8 ppg), ranks second in field-goal percentage (.571), seventh in assists (3.9 apg) and seventh in rebounding (7.8 rpg).

Admiral Schofield is the SEC's second-leading scorer (17.7 ppg), and is shooting .462 from 3-point range.

Williams and Schofield both earned a spot on the 25-man Wooden Award Midseason Watch List.

Kyle Alexander is the SEC's second-leading rebounder during conference play, as he averages 10.3 rebounds per game.

Jordan Bowden leads the Vols and ranks third in the SEC with 19.0 points per game during league play. And he's doing it off the bench.

Junior guard Lamonté Turner, last season's SEC Co-Sixth Man of the Year, returned from a left shoulder injury just in time for SEC play. He's averaging 12.0 points per game against league opponents.
About the Alabama Crimson Tide
Alabama (11-5, 2-2 SEC) has played well thus far in Avery Johnson's fourth year at the helm of the program. In conference play, UA boast wins over Kentucky and Missouri. During the non-conference slate, the Crimson Tide picked up victories against Arizona, Murray State, Penn State, Stephen F. Austin and Wichita State.
Freshman guard Kira Lewis Jr. is a key part of the Tide's offense, leading them in scoring (14.4 ppg) and assists (2.8 apg). Lewis (26 3FG) is one of three players on the team who have more than 20 3-pointers on the season, joining John Petty (31) and Tevin Mack (23).
Petty (10.9 ppg, 4.9 rpg, 1.7 apg) is one of the SEC's most dangerous scorers. Last year, he had 14 points and three 3-pointers to help the Crimson Tide hand the Vols their worst loss of the season.
Donta Hall (11.1 ppg, 8.8 rpg, 2.1 bpg) also had his way with Tennessee last season, posting 17 points on 8-of-10 shooting, 11 rebounds, three blocks and two steals. This season, he's one of the most physical post players UT will face. He has eight double-doubles in 16 games, including three during SEC play.
Like Petty, Mack (9.3 ppg) is also a great 3-point shooter that can catch fire at any moment. Against Kentucky, he dropped 22 points on 8-of-12 shooting and six 3-pointers to fuel the Crimson Tide's upset win.
Tennessee Vols Last Meeting vs. Alabama
No. 15 Tennessee Vols struggled to find any rhythm on offense, and its six-game winning streak was snapped by Alabama in a 78-50 loss at Coleman Coliseum on February 10th, 2018.

The 28-point game was UT's worst loss of the season, as the Vols shot a season-low 28 percent (16-of-58) from the floor. In the final 10 minutes of the game, Tennessee made only one basket.

Alabama started the second half on a 15-7 run to help extend its lead to 18 points, converting on four straight trips down the floor. The Crimson Tide had the hot hand and would never look back in the game, knocking down nine of its 12 shots before the under-16 media timeout.

Grant Williams led the way for Tennessee with 16 points and four boards. Admiral Schofield finished with seven points and seven rebounds. Freshman Derrick Walker also added seven rebounds off the bench for UT.

Alabama forward Donta Hall finished with a double-double, posting 17 points and 11 rebounds. The Tide owned the paint with a 50-18 scoring advantage over UT.

The Vols began the game with a cold hand, shooting 2-of-11 from the floor compared to Alabama's 7-of-10 shooting. During the stretch, the Tide jumped out to a 17-6 lead.

UT struggled to guard the paint in the opening frame, being outscored 26-8 by the Tide. Hall dominated down low in the first half, tallying 10 points, eight boards and two blocks to give Alabama a 37-27 lead at the break.

Heading into intermission, UT was shooting 31 percent (9-of-29) from the field, while the Tide converted on 55 percent (16-of-29) of its shots. Schofield led UT with six points and four rebounds during the period.
Memorable Tennessee Vol Performances Against Alabama
Bill Hann dished an incredible school-record 19 assists against the Tide on January 6th, 1968, leading UT to an 82-63 win in Tuscaloosa.
Grand Junction, Tennessee, native Steve Hamer posted a memorable 31-point, 21-rebound effort against the Tide in the 1996 SEC Tournament in New Orleans. The Vols won 77-65.
The legendary Bernard King recorded 37 points and 18 rebounds against Alabama on January 31st, 1975, as ninth-ranked Tennessee downed No. 11 Alabama 80-74 in Knoxville.
Dyron Nix holds UT's single-game scoring record against Alabama, as he dropped 38 points on the Tide on March 2nd, 1988, in Knoxville.
Barnes Was A 'Bama Assistant
Rick Barnes spent the 1985-86 season as an assistant coach at Alabama under Wimp Sanderson. It was Barnes' first taste of "major" college basketball.
The Crimson Tide went 24-9 (13-5 SEC) that year and finished third in the conference. Bama earned a No. 5 seed in the NCAA Tournament and defeated Xavier and Illinois before falling to Southeast No. 1 seed Kentucky in the Sweet Sixteen.
That Alabama team featured 15-year NBA veteran Derrick McKey, one-time Alabama head coach Mark Gottfried, five-year NBA veteran Jim Farmer and seven-year NBA veteran Buck Johnson (team's top scorer).
After Barnes' lone season in Tuscaloosa, he moved on to Ohio State to work as an assistant coach under Gary Williams.
As a head coach, Barnes is 5-7 against schools at which he once worked (he's 1-3 vs. Alabama, 0-1 vs. Ohio State, 2-0 vs. Providence, 0-1 vs. Clemson, 2-2 vs. Tennessee).
Breathing Rare Air
According to ESPN Stats & Info, Tennessee is only the third major conference team in the last 20 years to outscore its first four conference opponents by 100+ points.
The Tennessee Vols' have outscored their first four SEC foes 367-267 (91.8 ppg to 66.8 ppg).
The other teams to that were Duke in 2000-01 (National Champions) and Florida in 2012-13 (Elite Eight).
Admiral Taking "Good" Shots
During Tennessee's current 11-game win streak, senior wing Admiral Schofield has shot 50 percent from the field or better nine times—including victories over Gonzaga and Memphis and all four SEC wins.
Schofield ranks third in the SEC in overall field-goal percentage (.526) and ranks fifth during league games with a field-goal percentage of .568.
Coming Up Next for Tennessee Vols
After Saturday's showdown, the Tennessee Vols travel to in-state rival Vanderbilt on Wednesday, January 23rd. That game will tip at 6:00pm CT and will be broadcasted on ESPN2 and can be streamed online at WatchESPN.
Sections
Sports
Topics
Admiral Schofield, Alabama, Arizona, Bert Bertelkamp, Bob Kesling, Crimson Tide, Derrick Walker, ESPN2, Florida, Grant Williams, Jordan Bone, Kentucky, Kira Lewis Jr., Knoxville TN, Kyle Alexander, Lamonte Turner, Memphis, Missouri, Murray State, Penn State, Rick Barnes, SEC, Southeastern Conference, Stephen F. Austin, Tennessee, Tennessee Tech, Tennessee Vols, Thompson-Boling Arena, UT, UT Basketball, UT Men's Basketball, UT Vols, Vanderbilt, Vols, Volunteers, Wake Forest, West Virginia, Wichita State