Downtown Commons Winter Ice Rink
Montgomery County, TN – Soon the green space at Downtown Commons will be open again as we bid farewell to the outdoor ice rink for the 2018-2019 season. The second year of skating at the Downtown Commons Winter Ice Rink ended this week. It was another successful season with thousands of skaters who were able to take advantage of an uncommon outdoor activity for our community. The tear down process will begin by the end of this week.
After looking at trends from the 2017-2018 ice skating season, changes were made in 2018-2019 that included fewer days and hours for optimum use.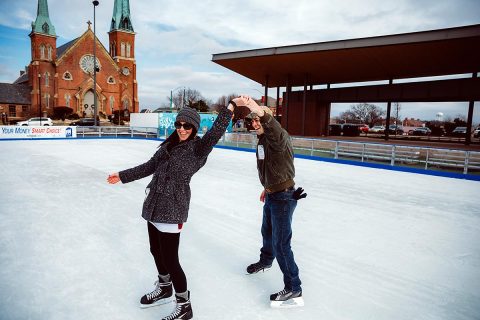 The rink was significantly larger this season, the number of activities increased to include more themed events, private parties and outdoor holiday movies.
Outdoor patio heaters were also an addition and anyone wanting a hot drink did not have to walk any further than the stage area to purchase one.
The event that is fast becoming a community favorite at the outdoor ice rink is the Mayor vs. General Broomball game. A big change at the game this year was involvement from City Mayor Joe Pitts who joined in the fun. This event shows the community spirit and connection between the City, County and Fort Campbell in a unique way.
"It brings me joy to see the community out having fun at the ice rink, especially the youth. I want Clarksville and Montgomery County to know we are committed to continuing the outdoor ice skating option for them. It's been a fantastic season and now it's time to look forward to events that will be offered at Downtown Commons for the rest of the year," commented Montgomery County Mayor Jim Durrett.
"I love planning for the outdoor ice skating rink and look forward to doing it again next year. There is much more to come as we finalize the Downtown @ Sundown concert series and other community activities. I'm excited about the entertainment we will be bringing to the Commons and about working with our local organizations on future projects," stated Downtown Commons Event Manager Paula Atkins.
Downtown Commons is open to the public from 9:00am to 10:00pm each day. To follow events at Downtown Commons visit www.facebook.com/downtowncommonstn or the Downtown Commons web page at www.downtowncommons.org