Clarksville Fire Rescue
Clarksville, TN – Clarksville Fire Rescue presented Certificates of Recognition to Mathews Nissan and shop foreman Erik Ranallo for helping the department extract a woman from a vehicle.
In late December, the woman, who was in the parking lot at Veterans Plaza, got her hand stuck in the front seat rails of her late-model Nissan Pathfinder. Try as she might, she could not free her hand, and a call was made and a Fire Rescue crew was dispatched.
While Clarksville Fire-Rescue personnel could have freed the woman's hand, it was likely the extraction tools would have caused some expensive damage to the vehicle.
Because the woman was not in distress, the rescue crew opted to call Mathews Nissan and ask for help.
Rodney Cottrell, the service adviser who took the call, alerted Ranallo to the situation. At the scene, he and CFR personnel carefully disassembled the seat and freed the woman from the vehicle.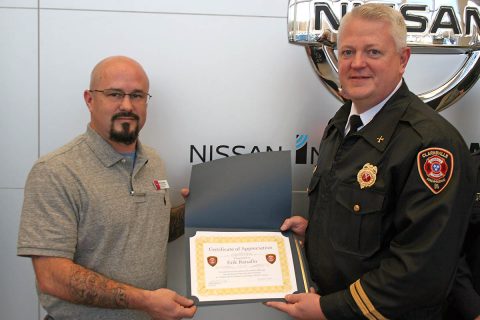 After the rescue, Ranallo urged the woman to take the vehicle to Mathews Nissan's service department, 185 State Hwy 76, Clarksville, where the Pathfinder was reassembled. Best of all, Ranallo and Mathews Nissan made the service call and reassembly free of charge, saving the woman an estimated $3,000.
"We really didn't want to tear up the woman's vehicle, so we're very thankful that Ranallo and Mathews Nissan were community minded and willing to help out," District Chief Daniel Moore said.