Austin Peay State University (APSU)

Clarksville, TN – Kevin Lyons and Connar Bielinski are learning as they go. The Austin Peay State University (APSU) computer science students are helping establish a virtual reality drone laboratory at the APSU GIS Center on campus, and they're having to learn new coding and technology along the way.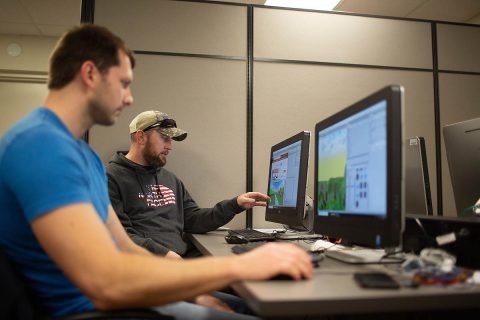 "Instead of buying off-the-shelf software, I wanted to take computer science students and have them program in Unity a virtual reality scene with the end state being it becomes a virtual reality simulator for teaching people how to fly drones," Doug Catellier, GIS Center project manager, said.
"Right now, it's not a class that's being taught, so they're teaching themselves as they go," he added. "They've surpassed any expectations I had for them just because they have something on the screen."
The students have immersed themselves in the project.
"It's a great learning opportunity," Bielinski said. "I think it's good for scripting and coding. It's a challenge – coding is not my favorite thing to do. Maybe I can get more familiar with it, get some real-world experience, giving myself a problem and then trying to figure it out."
TBR Grant Funds New Lab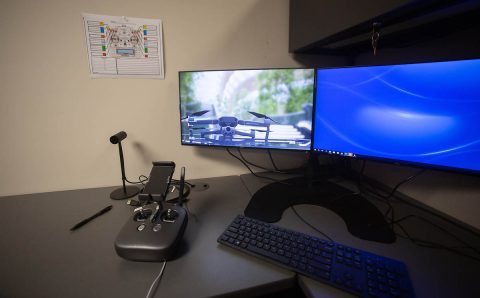 GIS Center officials secured a one-year $25,000 Tennessee Board of Regents grant to build and equip the lab. The grant started last July.
"We bought two VR machines," Catellier said. "We have an Oculus Rift VR system. We found these Oculus Gos. We've installed some simulators to fly the drones."
The students are "programming and learning how to use Unity (a cross-platform game engine used to create three- and two-dimensional games and simulations) and program in virtual reality," he said. "We have found all sorts of uses for the virtual reality."
Catellier also is working on a virtual tour, for example, of the APSU Farm and Environmental Education Center.
"We're looking at creating realistic buildings, which we can do, we'll just have to go into the GIS side a little bit and build a three-dimensional model and embed that into the virtual reality and go from there," Catellier said. "It can be done, there's just that learning curve of getting it done."
'We Just Jumped Right In'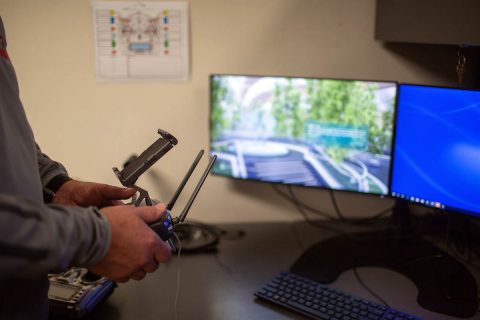 Lyons has big goals this semester.
"What I want it to look like is I want to be able to import a Google map and be able to fly and see maybe the Austin Peay campus," he said. "We could fly through Clarksville or the Austin Peay campus."
Bielinski's goals are smaller.
"I want to get to one point where we can fly a track and then, hopefully, be able to take what we know and implement in different maps easier," he said. "But my initial goal is to just get one working in the Oculus or VR setting."
Lyons and Bielinski spend a few hours three days a week working on their simulations.
"I know Connar and I are pretty eager to learn something new," Lyons said. "I'm surprised we've come this far, honestly.
"The first day, Doug broke it down for us, showed us the machines, got us started in the program, and we just jumped right in."
Get Involved
If you're interested in helping with this project, especially in programming and working with Unity or with virtual reality animation, contact Doug Catellier at catellierd@apsu.edu.
Learn More
For more about the GIS Center, visit www.apsugis.org
For more about the Austin Peay State University Department of Computer Science and Information Technology, go to www.apsu.edu/csci/